Gang Chain (Slave Chain)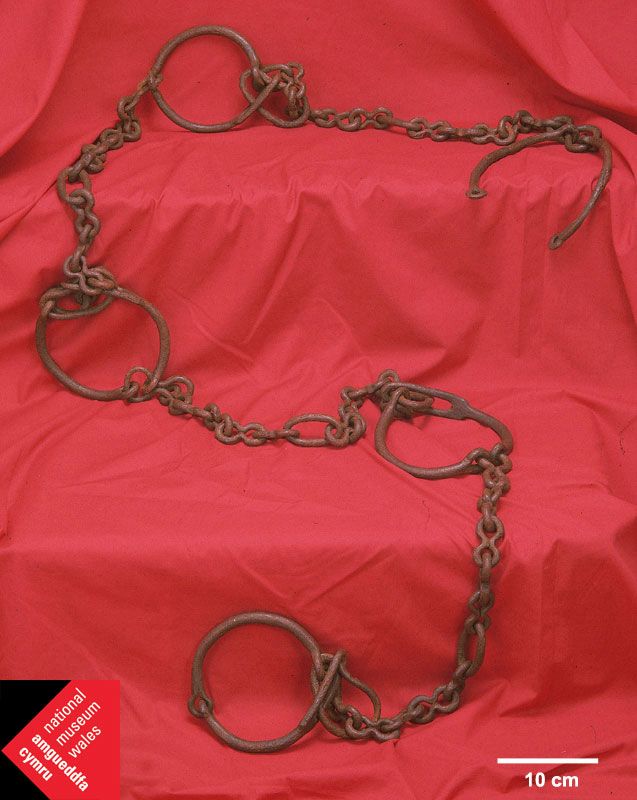 This iron chain is composed of five sets of neck shackles, joined to each other by series of 'figure of eight' shaped links.
The gang chain may have been used for slaves, criminals or sacrifices, during the Late Iron Age or Roman conquest period (100BC-AD78).
The chain was one of a pair found at Llyn Cerrig Bach. It remained so strong, that it was used to drag vehicles out of boggy ground, by the builders of the airfield during the 1940s.
The Llyn Cerrig Bach gang chains are unique finds in Wales. So far, nearly all examples have been found in south eastern England suggesting that slave trading may have been most common here during the Late Iron Age. The classical writer Strabo, tells us that slaves were exported from Britain to the Roman world in the first century BC.
Could this discovery at Llyn Cerrig Bach be somehow linked to the religious nature of this locality? Julius Caesar, discussing the Celts in Gaul, records that they gathered up trophies for sacrifice at religious places after victories in battle. Could these chains have been taken from the Romans after conflict on the mainland?
The chain is 3m long, with a distance of 0.6m separating each neck shackle. It is very heavy and weighs more than 6 bags of sugar (6660g).