Mineral Database
Georgeite
Crystal System:
Amorphous
Status of Occurrence:
Confirmed Occurrence - 1st UK recording
Chemical Composition:
Copper carbonate hydroxide hydrate
Method(s) of Verification:
georgeite is X-ray amorphous, but material from Britannia Mine has been shown to be identical to that from the type locality (Gaines et al., 1997). Pollard et al. (1989) noted that the IR spectrum corresponds with that listed by Bridge et al. (1979).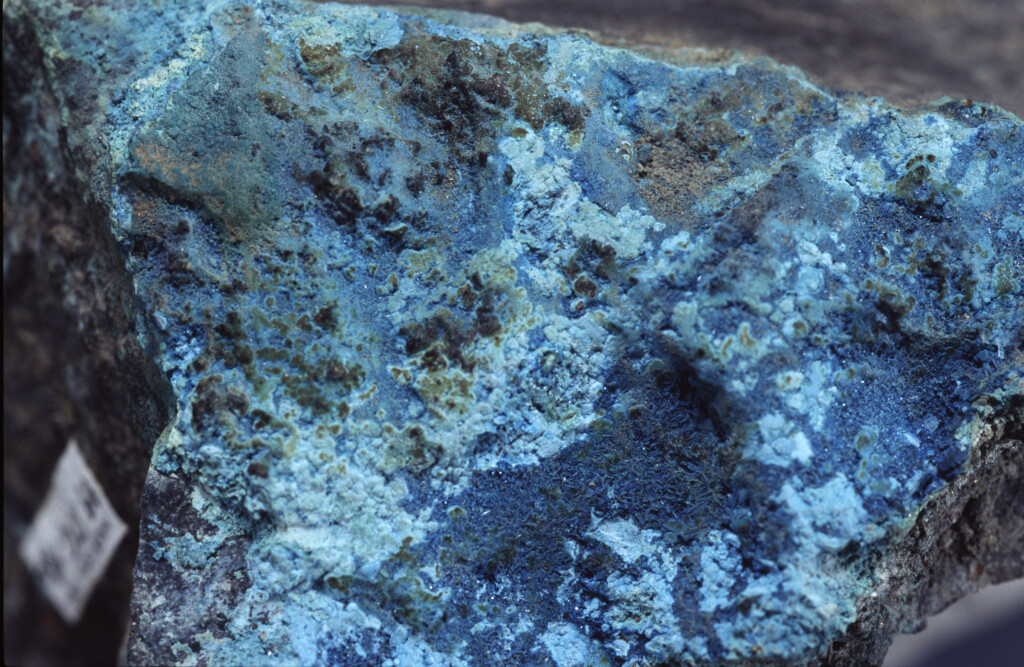 Chemical Group:
Geological Context:
Supergene : post-mining oxidation & weathering deposits
Introduction:
georgeite is the amorphous analogue of malachite, forming as an extremely rare secondary mineral in weathered copper-bearing orebodies
Occurrence in Wales:
Pollard et al. (1989) produced only the second worldwide occurrence of georgeite in describing the mineral from Sneyd's Level, at Britannia Mine in Snowdonia.
Key Localities:
Britannia Mine, Snowdonia, Gwynedd:

amorphous pale blue georgeite is overgrown by flattened acicular carbonation connellite and associated with spherical malachite aggregates. It occurs in oxidized vein material immediately adjacent to the lanthanite-(Ce) locality described by Bevins et al. (1985) in Sneyd's Level.
References:
2(CO3)3.8H2O, a new mineral from Wales, U.K. American Mineralogist, 70, 411-413.
Lanthanite-(Ce), (Ce,La,Nd)
Georgeite, a new amorphous copper carbonate from the Carr Boyd mine, Western Australia. Mineralogical Magazine, 43, 97-98.
Dana's New Mineralogy. The System of Mineralogy of James Dwight Dana and Edward Salisbury Dana. 8th Edition. John Wiley & sons, inc. 1819 pp.
Carbonatian connellite, a new variety, from the Britannia Mine, North Wales, and from the Botallack Mine, Cornwall. Journal of the Russell Society. 2 (2), 23-27.