What is a Mineral?
'In general terms, a mineral is an element or chemical compound that is normally crystalline and which has been formed as a result of geological processes' - E.H. Nickel (1995)
However, this definition means that some minerals, such as those found in cavities in weathered smelter-slags or encrusting building-rubble, are no longer regarded as minerals. The distinction is based on the notion that Man has had too much involvement in their formation because the matrix or host-material is itself man-made. At present such minerals continue to be included within The Mineralogy of Wales database as do a few organic compounds.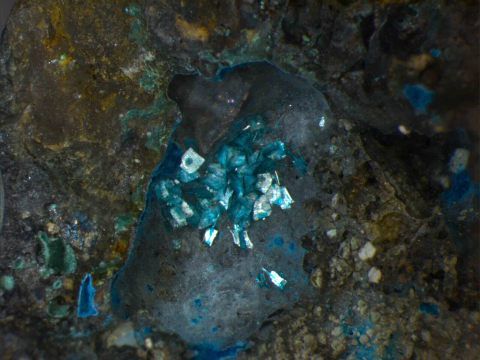 How are minerals names officially approved?
The Commission on New Minerals, Nomenclature and Classification (CNMNC), part of the International Mineralogical Association (IMA), provides authoritative judgement on the status of both existing and newly discovered minerals. A rigorous set of rules is used to decide which names and definitions of minerals are valid and which should be abandoned. The categories that may be seen in the literature are:
A (approved data) – for both newly discovered and known minerals which have been reviewed by the CNMNC and approved.
D (discredited data) – where the basis for this mineral name has been rejected by CNMNC, usually a mineral with these features already exists.
G ('grandfather' mineral) – a name used before CNMNC approval was introduced. An unapproved name but used widely by the mineralogical community.
Q (questionable status) – this is not a discredited mineral but is one about which authors have some questions regarding how it has been defined.