Mineral Database
Quartz
Status of Occurrence:
Confirmed Occurrence
Chemical Composition:
Silicon dioxide
Method(s) of Verification:
all cited examples have all been identified visually with confidence.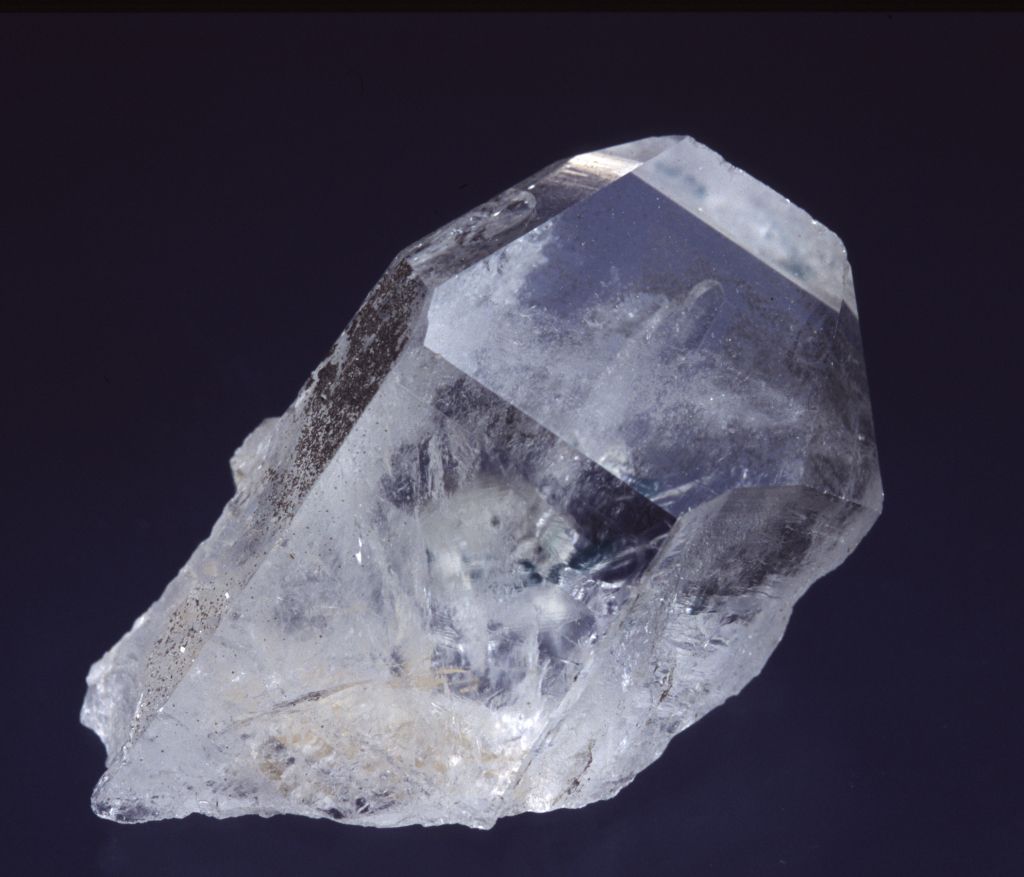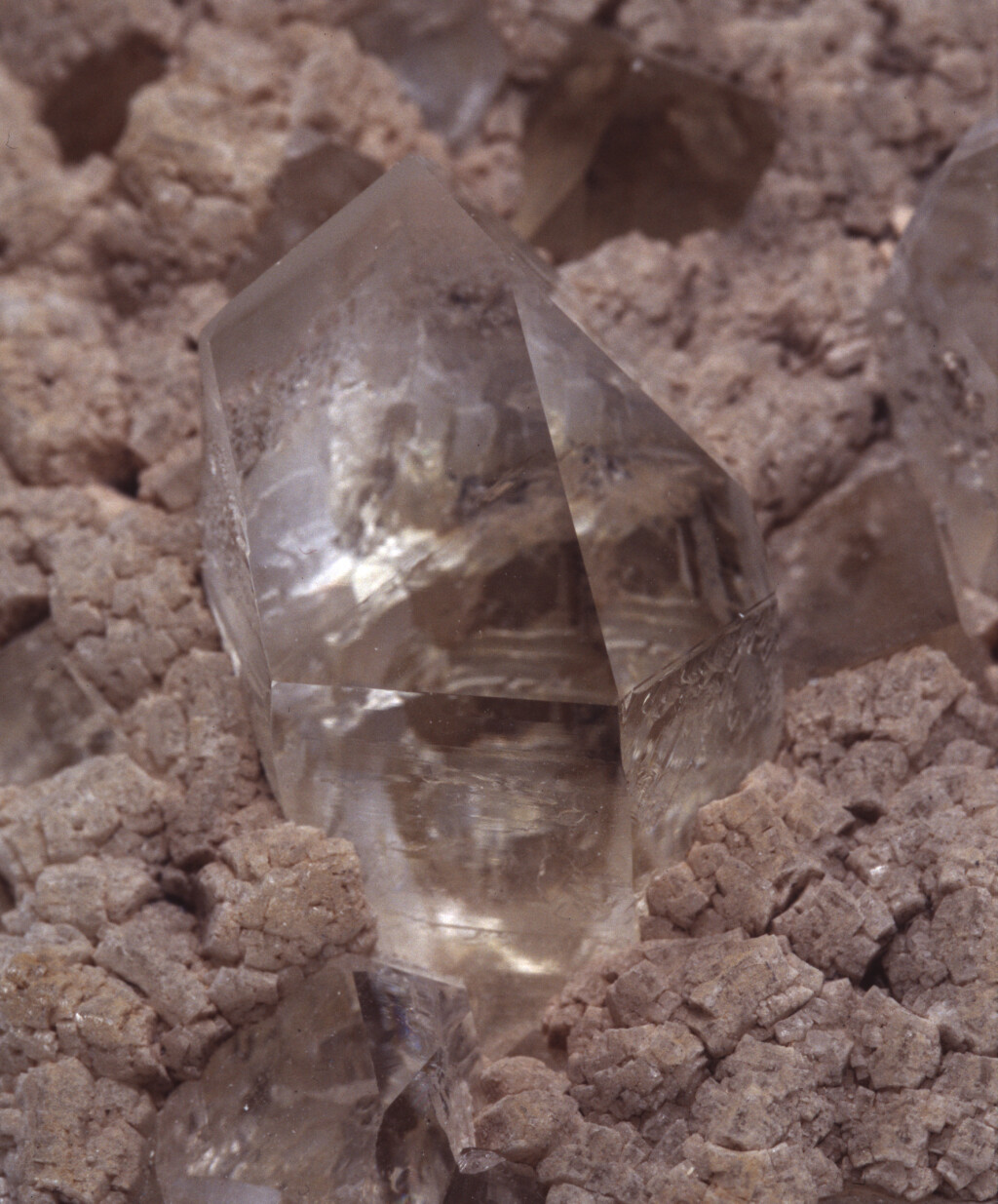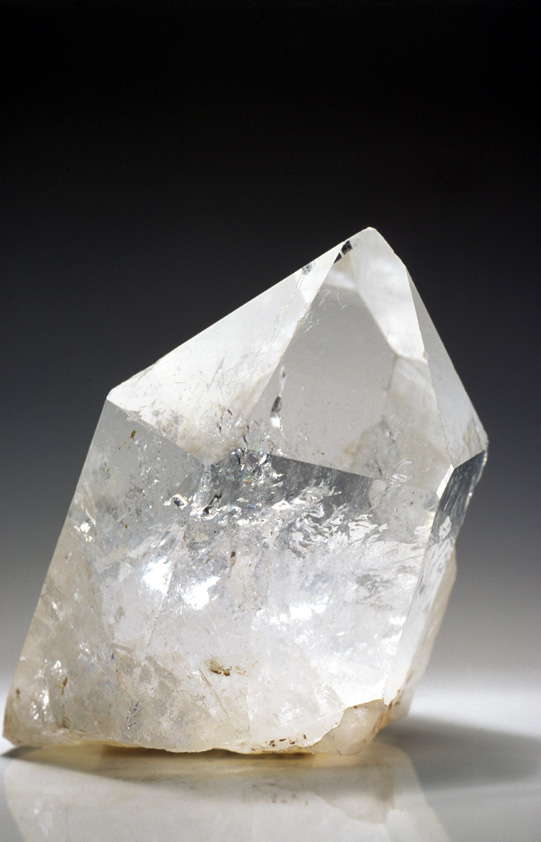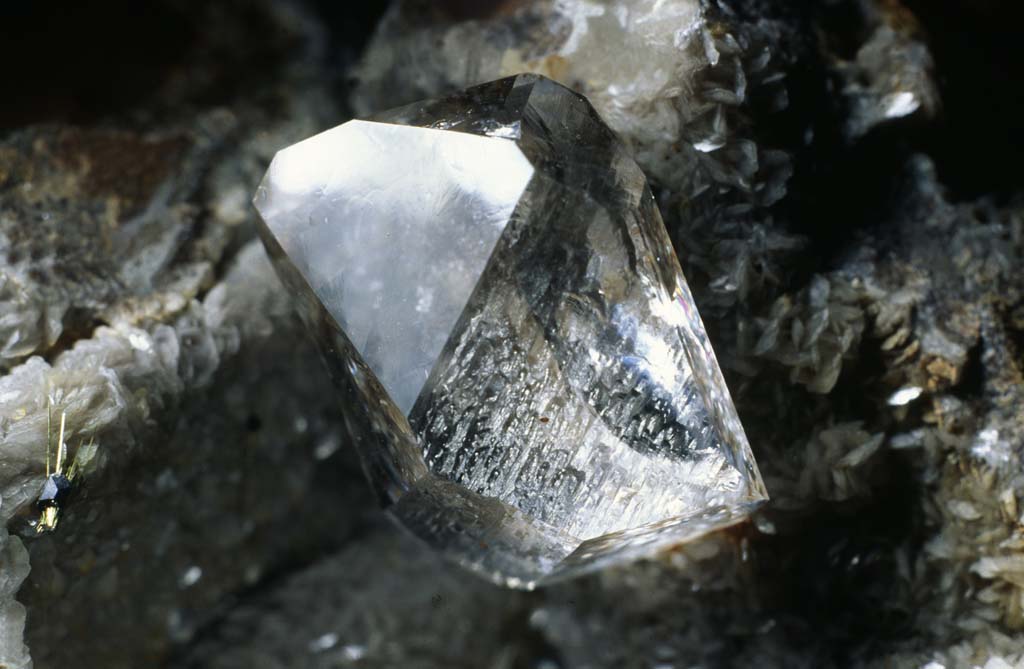 Chemical Group:
Geological Context:
Igneous
Hydrothermal : alpine type veins
Hydrothermal : Mississippi Valley Type veins
Hydrothermal : mesothermal polymetallic veins
Hydrothermal : epithermal polymetallic veins & pipes
Hydrothermal : volcanogenic massive sulphides
Sedimentary
Hydrothermal : sedimentary exhalative deposits
Hydrothermal : limestone hosted hematite deposits
Hydrothermal : porphyry-type mineralization
Metamorphic
Introduction:
perhaps the most familiar mineral to many (because it is so frequently met with), quartz brings to mind images of rock crystal, amethyst, smoky and rose-coloured varieties and the cryptocrystalline varieties typified by jasper, agate and chalcedony. Yet much quartz goes unseen, occurring in countless millions of small grains, cemented together in sedimentary rocks. Quartz is hard and highly resistant to both physical and chemical weathering and thus it survives in abundance in sedimentary environments: in some sedimentary rocks such as sandstones the grains may be large enough to see while in others, such as the Triassic red marls of South Wales (composed primarily of quartz and iron oxides), they are microscopic in size. Quartz is also an important rock-forming mineral in igneous and metamorphic rocks. It is additionally an extremely frequent component of mineral veins of all types, with or without carbonates and sulphides. The hardness and crystal morphology of quartz make it an easy mineral to identify in hand specimens: its resistance to acids is also notable (with the exception of hydrofluoric acid, which dissolves it). Quartz is particularly useful when investigating mineral deposits as the textures in thin section yield information about subsequent deformation (see images below) and it is also particularly adept at trapping and preserving inclusions of the original mineralizing fluids (so-called fluid inclusions) which, when analysed, can tell us a great deal about the temperature and composition of the fluid and the pressure at which the mineral crystallized. This in turn helps us to work out how a particular mineral deposit was formed.
Occurrence in Wales:
quartz is present in one form or another everywhere in Wales: it is true to say that virtually every square metre of the surface of the Welsh landscape has some quartz present, and in some places (e.g. parts of Snowdonia) it is so abundant in veins as to give rock outcrops a white-streaked appearance. This abundance contrasts strongly with the distribution of some of the minerals categorized as 'rare' in this database, some of which are only known from one or maybe two specimens! Outside of the myriad rockforming occurrences, some fine specimens of quartz are also known from Wales. Rock crystal from North Wales used to be sold, as long ago as the early 19th Century, as 'Snowdon Diamonds', which were bought as curios by tourists. Since then, many fine specimens have surfaced, with many of the best, in terms of form and clarity, coming from the alpine fissure-type veins of Snowdonia. The metalliferous hydrothermal lodes of the various Welsh orefields have likewise produced large numbers of quartz specimens which make up in size what they lack in clarity. In Central Wales, the later (A2) stage of vein mineralization includes an assemblage in which coarsely-crystalline quartz is a major feature (Mason, 1997). Coloured varieties of crystalline quartz are less of a feature but hydrothermal lodes in South, Central and North Wales have all locally produced smoky or amethystine crystal groups. The cryptocrystalline varieties are less of a feature, with the exception of jasper which is particularly abundant on the LlÅ·n Peninsula (Matley, 1928); agate only occurs sporadically as in the 'Potato Stones' occurring in Triassic rocks in South Wales and as rare, small vesicle fillings in Lower Palaeozoic lavas in some areas. Because it is so widespread, only sites that have produced fine specimens of quartz are listed.
Key Localities:
Bog Mine, Ponterwyd, Ceredigion:

notable as mineralized breccia boulders very rarely contain cavities lined with small (<1 cm) smoky quartz crystals (National Museum of Wales specimen collected during Minescan fieldwork in 1996).

Broad Haven, Pembrokeshire:

quartz crystals similar to, but less well-formed than, those described from the Saundersfoot area (see below) occur in mineralized joints in Upper Carboniferous sandstones outcropping along this section of the Pembrokeshire coast.

Brynyrafr Mine, Ponterwyd, Ceredigion:

beds of quartz crystals, some containing sulphide inclusions, are common at this site, and are often interlayered with bands of marcasite. Noted by Jones & Moreton (1977).

Cefngwyn Mine, Bontgoch, Ceredigion:

large specimens consisting of beds of 2-3 cm pyramidal quartz crystals overgrowing large rhombs of calcite were obtained at this mine during the 1970s and 1980s (illustrated by Mason, 1997).

Coast between Saundersfoot and Wiseman's Bridge, Saundersfoot, Carmarthenshire:

quartz crystals, similar to those occurring at Nant Helen Opencast, have been obtained from mineralized joints in folded Upper Carboniferous sandstones, but many are shattered due to tectonic disturbance. Gemmy, doubly terminated slightly smoky crystals to several centimetres were formerly obtained by a private collector, but the site is now largely barren.

Cwmorthin Quarry, Blaenau Ffestiniog, Gwynedd:

gemmy waterclear quartz crystals to several centimetres in length occur in rare cavities in alpine fissure-type veins hosted by striped grey/white tuff-turbidites. The occurrence was discovered during Minescan follow-up work in 2001 (National Museum of Wales/Manchester Museum, unpublished data).

Cyfarthfa Mine, Penegoes, Powys:

beds of white pyramidal quartz crystals to 2 cm forming attractive hand-specimens have been collected in the past from this locality in Central Wales (J.S. Mason, unpublished data).

Frongoch Mine, Devil's Bridge, Ceredigion:

large beds and single pyramidal crystals of quartz to 4 cm (exceptionally 10 cm) are known from this site and examples are still used as door-stops in the nearby village of Pontrhydygroes. Specimens are still occasionally found although the area of tips in which they mainly occurred was removed for hardcore years ago (Green et al., 1996).

Hendre Quarry, Glyn Ceiriog, Clwyd:

clear crystals to 2 cm were reported by Starkey et al. (1991), in association with a typical alpine fissure-type assemblage hosted by dolerite.

Hendrefelin Mine, Ysbyty Ystwyth, Ceredigion:

beds of quartz crystals to 3 cm were formerly common at this small mine and smaller examples are still plentiful. Most examples are heavily iron-stained (J.S. Mason, unpublished data).

Kenfig Sands, Porthcawl, South Wales:

quartz geodes to 12.5 cm in diameter occur on the beach and are lined with 2-3 mm clear to smoky quartz crystals which contain numerous minute goethite inclusions. Similar geodes, but of a lesser quality, occur in the Triassic breccias which outcrop along the beach, as noted by de la Beche (1846). It is possible that the origin of those found on the beach lies somewhere offshore.

Llanharry Iron Mine, Llantrisant, South Wales:

some fine crystallized quartz specimens were recovered during the working life of this large iron mine. The quartz was associated with (and often contained inclusions of) iron oxides, rendering it a smoky brown colour in some cases, while a 100 mm x 75 mm plate of crystals (to 20 mm) with a striking purple amethystine colouring was obtained from the mine manager prior to the mine's closure (A. Dean, unpublished data).

Llynnau Gamallt Mine, Ffestiniog, Gwynedd:

amethystine quartz, as purple stumpy crystals lining a vug in breccia, is present in a National Museum of Wales specimen (ex G.J. Williams Collection). White to clear quartz crystals are common in the vuggy lode worked at this mine, although fieldwork has indicated the scarcity of the amethystine variety.

Minera District, Flintshire:

quartz is an important ganue mineral in the Minera mines within the Carboniferous Limestone-hosted Halkyn-Minera Mississippi Valley Type Orefield. It typically forms beds of squat but clear crystals, often intergrown with crystalline sphalerite. Some excellent specimens showing this association are preserved in the National Museum of Wales Collection.

Mwyndy Mine, Llantrisant, South Wales:

in a similar occurrence to that at nearby Llanharry, well-crystallized quartz specimens, associated with (and often containing inclusions of) iron oxides, are known from this mine, especially in older collections. For example, Watson (1859) noted that 'we often have magnificent specimens of rock-crystal, enclosing minute but very perfectly formed specular ore'. Amethystine varieties also occurred and reddish or yellowish quartz (coloured by iron oxides) was common. The site is very overgrown today, but an extensive sample suite is preserved at the National Museum of Wales.

Mynydd Drws-y-Coed, Nantlle, Gwynedd:

the hillside above the Drws-y-Coed Copper Mine is riddled with quartz veins belonging to the alpine fissure category, from which some very fine crystals were collected many years ago. Single crystals in the National Museum of Wales Collection reach 7 cm in length. This is possibly the locality referred to by Greg & Lettsom (1858).

Nant Helen Opencast, Abercraf, South Wales:

this noteworthy locality, in the NW part of the South Wales Coalfield, deserves a special mention because of the abundance of fine quartz specimens during its working life. Fieldwork in the late 1990s produced many specimens (National Museum of Wales Collection) showing 2-4 cm clear, sometimes doubly terminated, quartz crystals perched on the surfaces of open joints in thick sandstone beds belonging to the Coal Measures. Well-crystallized ankerite was the chief associated species, together with minor chalcopyrite and millerite.

Nant-y-mwyn Mine, Rhandirmwyn, Carmarthenshire:

pyramidal quartz crystals are common on the extensive tips at this site. Most are small but rare examples may exceptionally reach 15 cm in height (Mason, 1997). They occur singly, and often with bruised terminations, indicating that the vugs in which they were found were shattered by blasting. Some of the larger crystals are strongly growth-zoned, with outer layers crowded with dendritic sulphide inclusions giving them a dark appearance.

Ogmore, South Wales:

agate nodules to 40 mm in diameter are occasionally found on the beach at Ogmore. These are generally banded red and grey; an exceptional specimen (by Welsh standards) is a sharply banded grey and white agate fragment, which was found in association with weathered chert bands on the coastal path, north of Black Rock (A. Dean Collection).

Prenteg, Tremadog, Gwynedd:

fine quartz crystals to 7 cm, often associated with albite, anatase and brookite, are well-known from this locality (Starkey & Robinson, 1992).

South Wales Coalfield:

this area is rightly renowned for the superb, waterclear quartz crystals (locally known as Merthyr Diamonds) both from septarian clay-ironstone nodules and from mineralized joint-veins hosted by massive sandstones. These can occasionally exceed 4 cm in length and often contain visible fluid inclusions with vapour bubbles. Firth (1971) described and illustrated some examples: sadly, samples are less easy to find today because so many coal-tips have been reclaimed.

St. David's Head, Pembrokeshire:

a find in the 1990s led to a number of quartz specimens appearing on the mineral market (illustrated in the UK Journal of Mines and Minerals, 20, p. 5). These revealed clear prismatic quartz crystals to about 5 cm, embedded in and protruding from pale greenish-white prehnite. The best of these rival some of the Snowdon specimens in size and clarity. The locality was a mineralized fissure in gabbro within the sea-cliffs. The specimens were found by a locally-based private collector and were heavily coated in iron oxides, which were removed by laboratory treatment.

Taff's Well Quarry, Pentyrch, South Wales:

quartz is present in association with the iron-oxide mineralization exposed on the upper benches of the quarry. Specimens show intergrown groups of transparent to translucent crystals to 15 mm. Pale smoky and amethystine varieties have been recorded, albeit infrequently. Some of the best specimens from this locality, however, show small (5 mm), gemmy bipyramidal crystals which show an internal phantom crystal - an earlier crystal overgrown by red or yellow iron oxide and overgrown again by clear quartz. A large suite of specimens from Taff's Well Quarry is held at the National Museum of Wales.

Tanygrisiau Station, Blaenau Ffestiniog, Gwynedd:

material obtained during blasting work in the 1970s included fine quartz crystals to 5 cm, often carrying inclusions of rutile and clinochlore (Green & Middleton, 1996).

Ton Mawr Quarry, Pentyrch, South Wales:

well-crystallized quartz occurs associated with iron oxides (especially goethite) and often carries inclusions of them which colour it smoky or even black: fine examples the latter were found in 1997 (National Museum of Wales specimens).

Votty and Bowydd Slate Quarries, Blaenau Ffestiniog, Gwynedd:

a small number of exceptional groups of long (10 cm) quartz crystals of high clarity are held in the National Museum of Wales Mineral Collection. They were acquired by the National Museum of Wales as part of the G.J. Williams Collection. Williams was the H.M. Inspector of Mines for North Wales in the early 20th Century and it is thought that the specimens were probably obtained during mining operations. Alpine Fissure-type vein mineralization is widespread in the Blaenau Ffestiniog area but these specimens surpass anything found in more recent times.
References:
On the formation of the Rocks of South Wales and South Western England. Memoirs of the Geological Survey, 1, 296pp.
The Mineralogy of the South Wales Coalfield. Unpublished Ph.D. thesis, University of Bristol.
Alpine-type vein minerals from Tanygrisiau, Gwynedd. U.K. U.K. Journal of Mines and Minerals, 16, 30-33.
Classic British mineral localities: Frongoch Mine, Dyfed. UK Journal of Mines & Minerals, 17, 29-38.
Manual of the Mineralogy of Great Britain and Ireland. John van Voorst, London, 483pp.
The Mines and Minerals of Mid-Wales 40pp.
Regional polyphase and polymetallic vein mineralisation in the Caledonides of the Central Wales Orefield. Transactions of the Institution of Mining and Metallurgy (Section B: Applied Earth Science), 106, B135-B144.
The Pre-Cambrian complex and associated rocks of south-western Lleyn (Carnarvonshire) Quarterly Journal of the Geological Society of London, 84, 440-504.
Famous mineral localities, Prenteg, Tremadog, Gwynedd, Wales. Mineralogical Record, 23, 391-399.
Mineralization at Hendre Quarry, Glyn Ceiriog, Clwyd, Wales. U.K. Journal of Mines and Minerals, No. 10, 48-51.
The haematitic deposits of Glamorgan. Geologist, 2, 241-256.