Mineral Database
Greenockite
Crystal System:
Hexagonal
Status of Occurrence:
Confirmed Occurrence
Chemical Composition:
Cadmium sulphide
Method(s) of Verification:
Central Wales - visual identification; Dolyhir Quarry - XRD, EMPA & reflected light microscopy.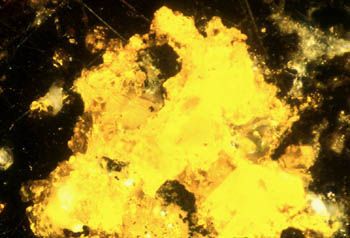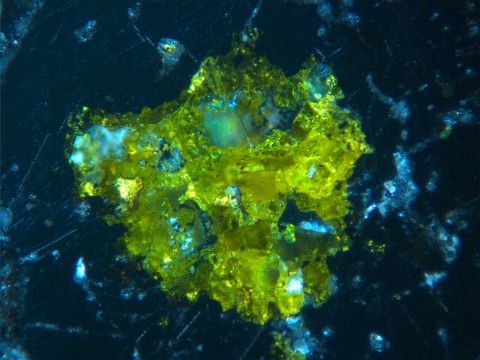 Chemical Group:
Geological Context:
Hydrothermal : amygdale infill & veins in volcanic rocks
Hydrothermal : epithermal polymetallic veins & pipes
Supergene : in situ natural oxidation & weathering deposits
Introduction:
greenockite may occur as a primary mineral, associated with other base-metal sulphides, in hydrothermal mineral veins, or associated with calcite, prehnite and other minerals in vesicles in altered basic lavas (as in the type locality near Greenock in Strathclyde, Scotland). Supergene greenockite is commonly found as powdery coatings on fractures in weathered sphalerite, the latter mineral often being a significant cadmium-bearer. Some caution is required when identifying greenockite because it has a cubic polymorph, hawleyite, which when forming earthy coatings is identical in appearance.
Occurrence in Wales:
the presence of 'greenockite' associated with weathered sphalerite in Central Wales has been generally known for some years (e.g. Jones & Moreton, 1977). However, specimens from the many localities require analytical confirmation to verify whether the substance present is greenockite or hawleyite, or even cadmium-stained smithsonite. Other similar localities have been noted in the Llangynog and Llanrwst lead-zinc (Pb-Zn) orefields. In the Halkyn-Minera MVT orefield there is a single record, but the smithsonite which commonly occurs in this area is sometimes a vivid yellow colour (see the smithsonite entry) due to the presence of cadmium. A more recent discovery was at Dolyhir Quarry in the 1990s: this is the most interesting (and the only confirmed) Welsh occurrence of greenockite in which the mineral occurs in a primary sulphide assemblage.
Key Localities:
Central Wales Orefield:

bright yellow stains on fracture surfaces in weathered sphalerite are not uncommon in this orefield but are rarely extensive. Localities include: Bwlchglas (Braithwaite, 1982); Mynyddgorddu; Frongoch; Cwmystwyth; Dylife and Van mines. At Dylife it has also been reported as yellow powdery coatings on hemimorphite (Jones & Moreton, 1977) while at Van, heavy 'cadmium staining' was found in 1992 on old wooden launders unearthed during site investigation work (J.S. Mason, unpublished data). Recent analysis of vivid yellow coatings on sphalerite from Cwmystwyth Mine has shown them to be smithsonite and not greenockite (T.F. Cotterell, unpublished data).

Dolyhir Quarry, Old Radnor, Powys:

primary greenockite occurs as small (<3 mm) aggregates or cleavages embedded in massive galena and tennantite from a Wenlock Limestone-hosted vein which was temporarily exposed in the mid-1990s. It contains small quantities of zinc: unusually, sphalerite is very rare at this locality. Greenockite is readily recognisable in polished sections of the sulphide 'ore' from Dolyhir due to its abundant bright yellow internal reflections. The mineralogy of Dolyhir Quarry is in the process of being described.

Gorlan Mine, Trefriw, Gwynedd:

'cadmium sulphide' was recorded by Bevins & Mason (1998) as occurring on weathered sphalerite at this, one of the Llanrwst Orefield mines.

Llangynog Mine, Llangynog, Powys:

greenockite has been recorded from this locality as thin encrustations on weathered sphalerite.

Pen-y-bryn shaft dumps, Halkyn, Clwyd:

reported from this locality by R.S.W. Braithwaite (personal communication).
References:
Welsh Metallophyte and metallogenic evaluation project: Results of a Minesite Survey of Gwynedd. National Museums of Wales, Cardiff.
Pyromorphite, wulfenite and other minerals from the Bwlch-Glas mine, Central Wales. Mineralogical Record, 13, 151-153.
The Mines and Minerals of Mid-Wales 40pp.