Mineral Database
Hatchettite
Crystal System:
Amorphous
Status of Occurrence:
Confirmed Occurrence
Distribution:
Locally Abundant
Chemical Composition:
Paraffin wax
Method(s) of Verification: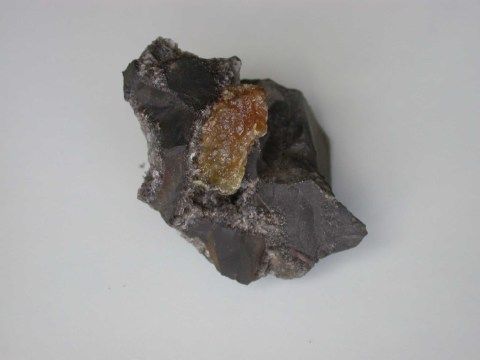 Chemical Group:
Introduction:
hatchettite is an organic compound, a yellow-white paraffin wax, and therefore not technically a mineral (this being most simply defined as a naturally occurring inorganic compound). Hatchettite has been included within this listing as it has a historical linkage with Wales and is cited and referred to in the literature relating to Welsh mineralogy. Conybeare (1821) first described hatchettite from clay ironstone nodules in the Merthyr Tydfil district and it was named hatchettine by Professor J.F.W. Johnson, in honour of the eminent English chemist Charles Hatchett (1765-1847). This name was later modified to hatchettite by Dana (1938), who gave the composition as C 85.91% and H 14.62%. Hatchettite fluoresces a bright lime green colour under long wave ultraviolet radiation.
Occurrence in Wales:
hatchettite has only been recorded in Wales from the Coal Measures strata in the South Wales Coalfield. North (1916) initially suggested that it was restricted in its occurrence to the eastern part of the Coalfield, but later considered that it was probably widespread (North & Howarth, 1928), a conclusion supported by subsequent workers (Firth, 1971; Firth & Eglinton, 1971). Small orange/red, translucent spheres, noted by North & Howarth (1928) at Bedwellty, and by others at Parc Colliery, and Cwm Parc, were originally thought to be related to hatchettine but Firth (1971) and Firth & Eglinton (1971) noted that they are amorphous, with a composition C 87.36%, H 10.40% and therefore cannot be considered to be hatchettine. In the east of the coalfield North & Howarth (1928) record hatchettine from; Newbridge, Bedwellty, Ogmore Vale, and Porth. Subsequently Firth (1971) and Firth & Eglinton (1971) provided a detailed account of hatchettine from the entire South Wales Coalfield citing occurrences from: Llanwynno tips, Tylorstown; Great Western Colliery, Pontypridd; Cymmer Colliery, Porth; Standard Colliery, Ynyshir; Hirwaun Common, East Opencast; Cwm Colliery, Beddau; Coed Ely Colliery, near Llantrisant; St. John's Colliery, Maesteg; Tylorstown Colliery, Rhondda Fach; Big Colliery, Blaenavon; and Wern Tarw Colliery, Pencoed. The localities listed below provide details of specimens held in the collections of the National Museum of Wales.
Key Localities:
Cymmer Colliery, Porth, South Wales:

hatchettite from Porth was sufficiently abundant for North & Howarth (1928) to note that: '..hatchettine collected from clay ironstone nodules at Porth yielded (to Mr. G.F. Martyn) a mass, now in the National Museum of Wales, as large as a hen's egg'. On closer inspection this sample (NMW 25.408.GR.2) is seen to consist of a honey-coloured waxy substance with a dark outer rind. The specimen has clearly been moulded by previous handling. The darker zone on another sample (NMW 25.554.GR.4) appears unmodified, although the temperature and light conditions under which this specimen has been stored since collection in the 1920s are unknown.

Great Western No 1 Colliery:

specimens from Great Western Colliery (e.g. NMW 29.145.GR.4) occur as irregular pale yellow flakes up to 5 mm across. These were collected during the 1920s and have been stored in a semi-sealed dark bottle, which may have preserved the pale colour.

Standard Colliery, Ynshir, South Wales:

a single specimen from this locality was derived from cavities in the rock above the Bute Seam. The hatchettite forms irregular lumps and flakes of honey-coloured wax.

Tylorstown Colliery, Tylorstown, South Wales:

a single specimen from this colliery (NMW 65.321.GR.1) forms a yellow translucent waxy mass.
References:
Description of a new substance found in ironstones. Annals of Philosophy, 1, 136-137.
A System of Mineralogy. 5th Edition. John Wiley, New York.
The Mineralogy of the South Wales Coalfield. Unpublished Ph.D. thesis, University of Bristol.
Hatchettine from the South Wales Coalfield. Advances in Organic Geochemistry, 613-628.
The minerals of Glamorgan. Transactions of the Cardiff Naturalists' Society, 49, 16-51.
On the occurrence of millerite and associated minerals in the Coal Measures of South Wales. Proceedings of the South Wales Institute of Engineers, 44, 325-348.