Mineral Database
Bechererite
Crystal System:
Hexagonal
Formula:
(Zn,Cu)
6
Zn
2
(OH)
1
3
[(S,Si)(O,OH)
4
]
2
Status of Occurrence:
Confirmed Occurrence - 1st UK recording
Chemical Composition:
Zinc copper sulphate silicate hydroxide
Method(s) of Verification:
Dylife - XRD (Natural History Museum, ref. 4143F); Esgairhir - XRD (Natural History Museum, ref. 7009F); Frongoch - SEM EDAX (Manchester Museum); Eaglebrook - SEM EDAX (Manchester Museum); Bwlchrhennaid - SEM EDAX (Manchester Museum).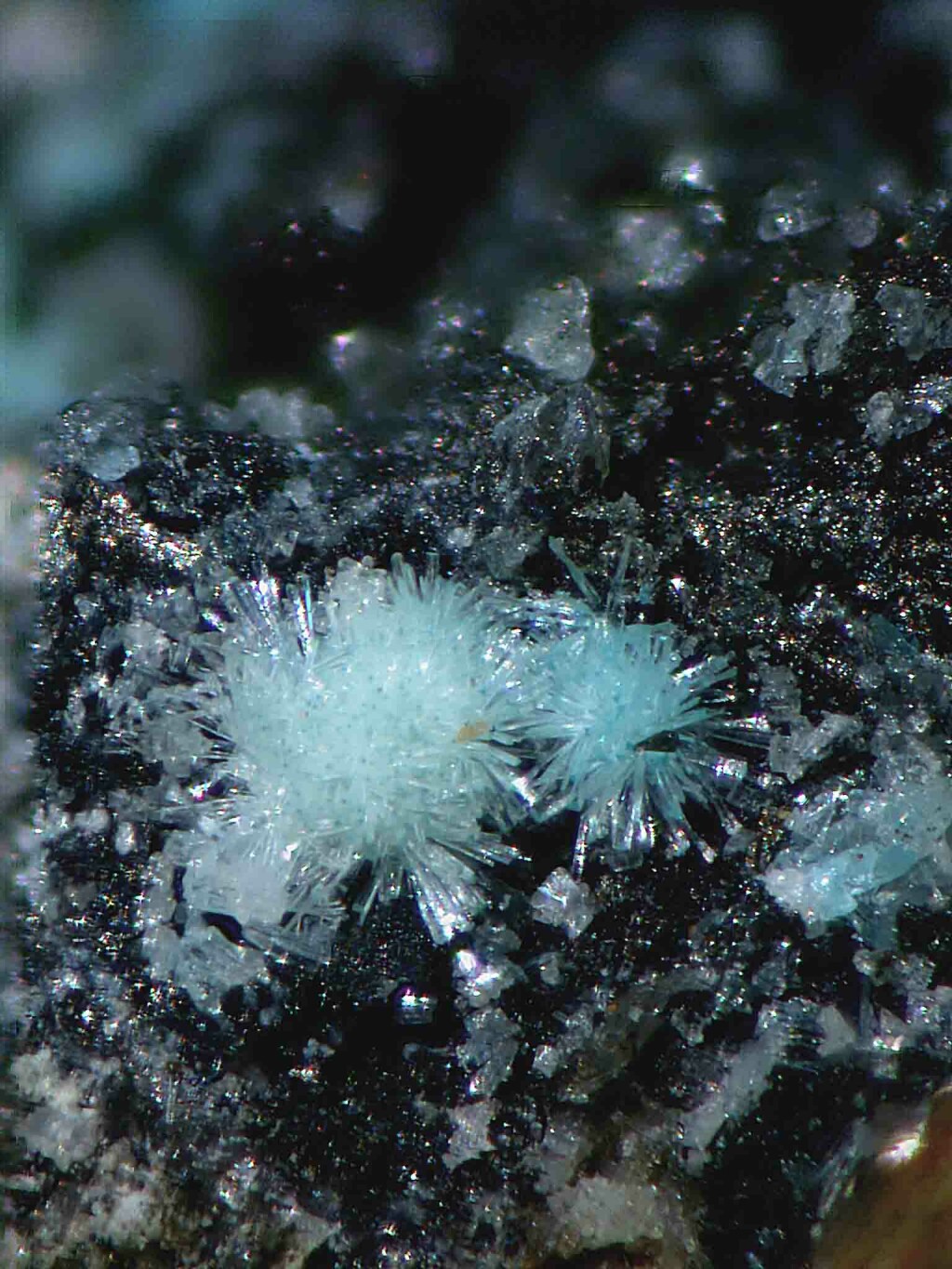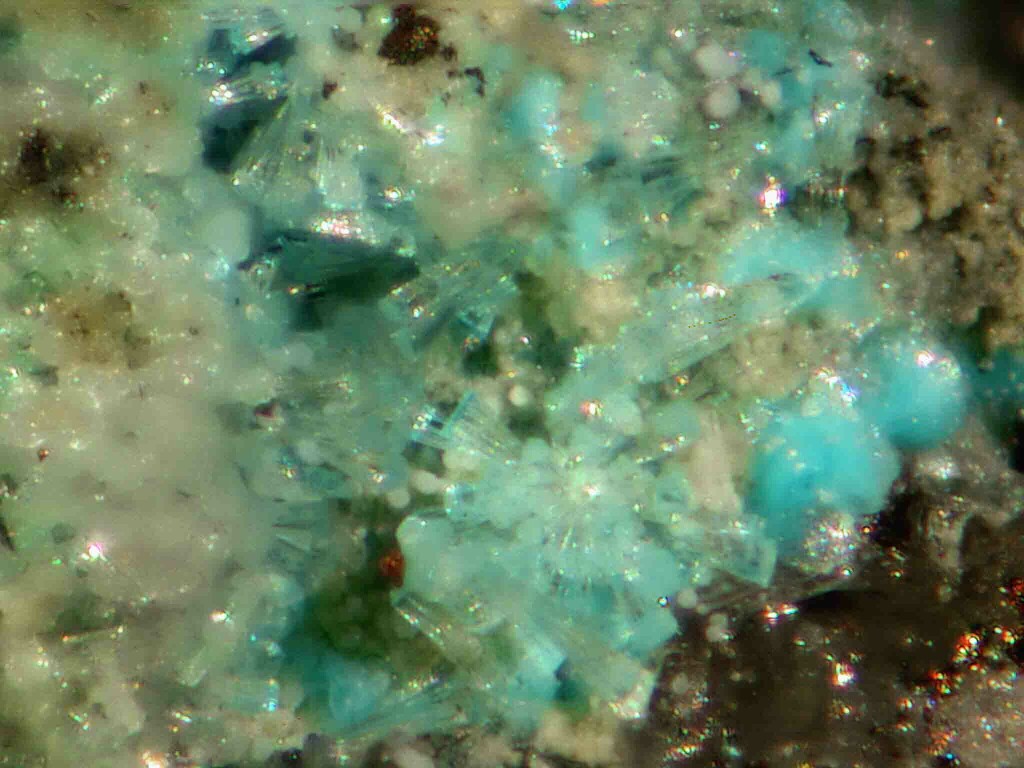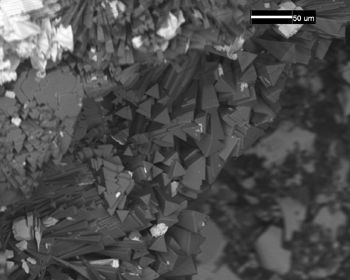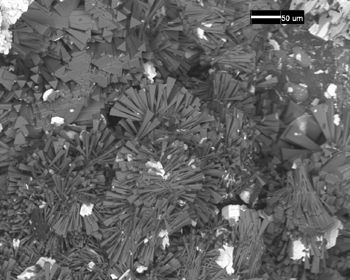 Chemical Group:
Geological Context:
Supergene : post-mining oxidation & weathering deposits
Introduction:
bechererite is restricted in its known occurrences to date to the post-mining supergene environment, forming within mine tips that contain base-metal sulphide-bearing debris. It may be associated with a diverse range of other supergene minerals, as is typical with post-mining assemblages, although hydrocerussite, caledonite and susannite are frequently observed on the same specimens. In terms of identification (which requires a binocular microscope), the morphology - inverted cone-shaped crystals - and the striking ice-blue colour are both diagnostic.
Occurrence in Wales:
the mineral that was later to be described as bechererite (Giester & Rieck, 1996) was found at several minesites in Central Wales by micromineral collectors during the 1980s and was noted, from available analytical data, as a 'pale blue unknown zinc silicate'. The type material was described from just four specimens found at the Tonopah-Belmont Mine, Arizona in the 1990s. The Central Wales occurrences, which include the second confirmed world occurrence, are notably richer in bechererite both in terms of abundance and crystal size.
Key Localities:
Bwlchrhennaid Mine, Goginan, Ceredigion:

bechererite is very rare at this locality occurring as groups of colourless to pale blue crystals up to 2 mm (Rust et al., 2003).

Dylife Mine, Penegoes, Powys:

bechererite was found here as long ago as the early 1980s, when it was described as an 'unknown' mineral (Rust & Rust, 1987). Specimens typically show scattered to aggregated crystals of characteristic 'inverted-cone' shape and ice-blue colour: individual crystals reached 0.7 mm in length. Associated post-mining minerals are caledonite, lautenthalite, langite, namuwite, schulenbergite, susannite and hydrocerussite.

Eaglebrook (Nantycagl) Mine, Ceulanymaesmawr, Ceredigion:

bechererite has been found on the Eastern Shaft dump in limited quantities. The microcrystals are associated with hemimorphite and susannite (Rust et al., 2003).

Esgairhir Mine, Tal-y-bont, Ceredigion:

bechererite occurs as colourless to blue-green prismatic crystals up to 1 mm, sometimes aggregated into divergent clusters (Rust et al., 2003). Associated species include hydrocerussite, susannite and schulenbergite.

Frongoch Mine, Devil's Bridge, Ceredigion:

the first published UK (and second world) occurrence was specimens collected at this locality (Green et al., 1996). Bechererite was found quite frequently during tip removal in the 1990s and some unusually rich samples were collected at that time, the best showing drusy crusts of microcrystals (to 0.8 mm) covering areas to 2 x 2 cm. Associated species are caledonite, susannite, hydrocerussite, schulenbergite, hemimorphite and cerussite.
References:
6Zn2(OH)13[(S,Si)(O,OH)4]2, a novel mineral species from the Belmont-Tonopah mine, Arizona. American Mineralogist, 81, 244-248.
Bechererite, (Zn,Cu)
Classic British mineral localities: Frongoch Mine, Dyfed. UK Journal of Mines & Minerals, 17, 29-38.
Micro-minerals from Dyfngwm Mine. U.K. Journal of Mines and Minerals, No. 2, 28-32.
The occurrence of bechererite in the British Isles. UK Journal of Mines and Minerals, 23, 37-38.