Mineral Database
Brookite
Crystal System:
Orthorhombic
Status of Occurrence:
Confirmed Occurrence - Type Locality In Wales
Chemical Composition:
Titanium oxide
Method(s) of Verification:
brookite has been identified visually at the localities listed.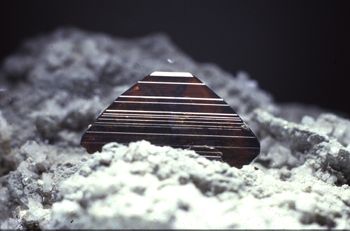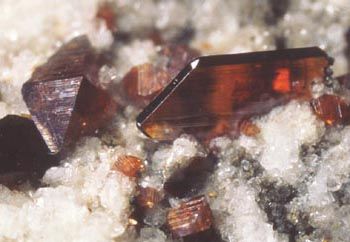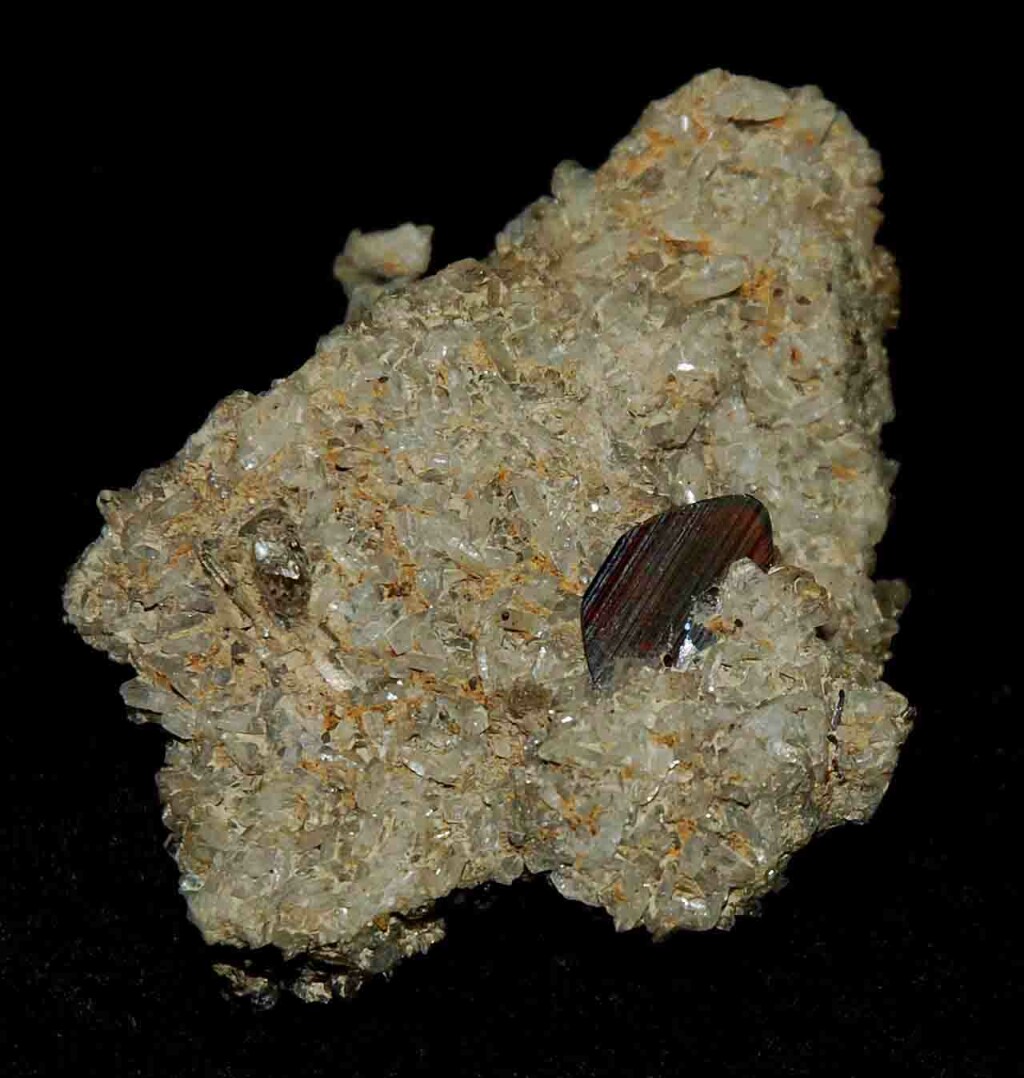 Chemical Group:
Geological Context:
Igneous
Sedimentary : allogenic (detrital)
Hydrothermal : alpine type veins
Introduction:
brookite occurs as an accessory mineral in igneous rocks, and in sedimentary rocks derived by their weathering, but is particularly well-known from alpine fissure-type veins. Here it commonly occurs with the other titanium oxides, anatase and rutile (both polymorphs of brookite); quartz and albite are other common associates. Brookite is readily identified when crystalline by its morphology and colour.
Occurrence in Wales:
brookite is justifiably a famous Welsh mineral, as both the type material and some of the world's finest crystals come from the hills of Snowdonia. J. Sowerby, in volume III of his book 'British Mineralogy' (1809), figured 'oxide of titanium': this is a brookite specimen that was collected from 'near Snowdon' by Wilson Lowry, and is now preserved in the Natural History Museum, London (specimen no. B.M. 31715). Brookite was described (Levy, 1825) using type material from Prenteg near Tremadog in North Wales. In 1838, G.B. Sowerby gave some more locality information about the figured specimen, stating that it came from 'the roadside between Beddgelert and Tremaddoc, Carnarvonshire, about 8 miles from Snowdon'. This is without doubt the famous locality at Prenteg. In recent years, further brookite occurrences have been documented in Wales, invariably in association with Alpine Fissure-type veins occurring in Lower Palaeozoic igneous rocks, but although crystals may be well-formed, none surpass the material from Prenteg in terms of size and quality. Brookite is also common as a detrital mineral in clastic sedimentary rocks, for example in the red beds on Anglesey (Greenly, 1919) and in Silurian turbidites on the Denbighshire moors (Warren et al., 1984). The listed localities below are where crystalline brookite has been found.
Key Localities:
Arenig Station Quarry, Llanycil, Gwynedd:

noted to occur here without detail (Bevins, 1994).

Bwlch-y-Cywion, Gwynedd:

noted to occur here without detail (Williams, 1930).

Cwmorthin Quarry, Blaenau Ffestiniog, Gwynedd:

rare tabular brookite crystals (<1 mm), associated with quartz, anatase, rutile, synchysite, xenotime and albite, were discovered during MINESCAN follow-up work in 2001 (NMW/Manchester Museum unpublished data). The occurrence is in alpine fissure-veins hosted by highly siliceous tuff-turbidites.

Gimlet Quarry, Pwllheli, Gwynedd:

noted without detail (Harrison, 1894; 1897).

Hendre Quarry, Glyn Ceiriog, Clwyd:

reddish-brown, well-formed tabular brookite crystals to 2.5 mm occur associated with quartz, albite, apatite, anatase, xenotime and monazite (Starkey et al., 1991). They are often coated by calcite that needs to be dissolved away carefully.

Manod Quarry, Blaenau Ffestiniog, Gwynedd:

deformed, part-broken brookite crystals are frequently observed embedded in clinochlore and associated with quartz, albite, anatase and rutile at this locality.

Prenteg, Tremadog, Gwynedd:

superb brookite crystals have been known from this, the type locality, since the early 19th Century. The best specimens rank among the world's finest for the species, with lustrous striated tabular crystals (15-30 mm) of reddish-brown brookite on altered dolerite matrix with quartz, albite, anatase, apatite and clinochlore (Starkey & Robinson, 1992). Calcite overgrowth is common. Many excellent specimens were recovered during the 19th and early 20th centuries but the site is now inaccessible to collectors.

Tanygrisiau Station, Blaenau Ffestiniog, Gwynedd:

very rare striated brownish brookite crystals occur associated with quartz, clinochlore, albite, apatite and anatase (Green & Middleton, 1996).

Treffgarne, Pembrokeshire:

brookite was described by Perceval (1866b), from Treffgarne Rocks, as small well-formed tabular brown to honey-coloured crystals. This was a correction for a misidentification of wulfenite (Perceval, 1866a).
References:
A Mineralogy of Wales National Museum of Wales, Geological Series No. 16, Cardiff, 146pp.
Alpine-type vein minerals from Tanygrisiau, Gwynedd. U.K. U.K. Journal of Mines and Minerals, 16, 30-33.
The Geology of Anglesey. Memoirs of the Geological Survey of Great Britain, 980pp (2 volumes).
New localities for the minerals brookite, natrolite and barytes. Geological Magazine, New Series, Decade 4, 1, 567.
An occurrence of prehnite in Wales. Mineralogical Magazine, 11, 198
An account of a new mineral. Annals of Philosophy, 9, 140-142.
Discovery of wulfenite, etc., in Pembrokeshire. Geological Magazine, 3, 377-378.
Correspondence. Geological Magazine, 3, 518.
Locality for brookite. Annals and Magazine of Natural History, series 2, 2, 293.
British Mineralogy. Volume III. Richard Taylor, London.
Famous mineral localities, Prenteg, Tremadog, Gwynedd, Wales. Mineralogical Record, 23, 391-399.
Mineralization at Hendre Quarry, Glyn Ceiriog, Clwyd, Wales. U.K. Journal of Mines and Minerals, No. 10, 48-51.
Geology of the country around Rhyl and Denbigh. Memoirs of the British Geological Survey. Explanation of Sheets 95 and 107 and parts of Sheets 94 and 106, 217pp.
The geology of the country between Nant Peris and Nant Ffrancon (Snowdonia). Quarterly Journal of the Geological Society of London, 86, 191-232.