Mineral Database
Connellite
Crystal System:
Hexagonal
Status of Occurrence:
Confirmed Occurrence
Chemical Composition:
Copper chloride sulphate hydroxide hydrate
Method(s) of Verification:
Britannia Mine - XRD & EPMA; Gwaith-yr-afon Mine- XRD (Natural History Museum).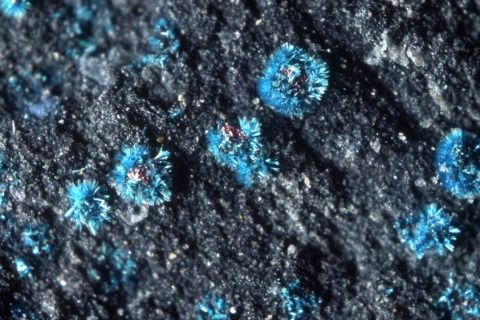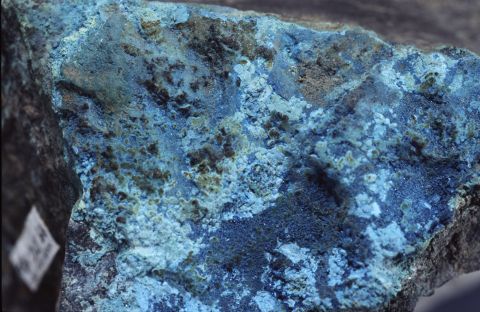 Chemical Group:
Geological Context:
Supergene : in situ natural oxidation & weathering deposits
Introduction:
connellite is a supergene mineral found in the oxidized zones of copper-bearing ore deposits. The Welsh occurrences are largely post-mining in origin. Connellite formation requires the presence of chloride ions during oxidation, conditions that are satisfied when the primary mineralization is situated adjacent to coastal areas, or, even, when salt is made available by human activity, such as the spreading or stockpiling of rock-salt for winter road treatment. It is associated with a wide range of other copper halides, arsenates and sulphates but has a particular tendency to occur in association with cuprite.
Occurrence in Wales:
only in the last 25 years have occurrences of connellite been noted in Wales. In virtually every case these are of an extremely fine grainsize and the finds to an extent reflect the increasing interest in so-called microminerals. Connellite has a distinctive appearance and, with experience, it is easy to identify with high confidence under the binocular microscope.
Key Localities:
Aberavon, South Wales:

connellite occurs on Aberavon beach in cavities in copper-rich slag, where it forms thin coatings and rarer groups of deep-blue spheroidal aggregates. Associated minerals are chiefly atacamite and cuprite (Plant, 2003). According to the latest definition of what constitutes a mineral (Nickel, 1995), such occurrences, on a matrix of manmade (ie. therefore not natural) origin, are not minerals: however, the occurrence is included because so-called 'slag minerals' remain of great interest to many mineral collectors.

Britannia Mine, Snowdonia, Gwynedd:

the variety carbonatian connellite occurs as crusts of flattened blue needles to 3 mm, associated with malachite forming crusts overlying masses of georgeite in underground workings on Sneyd's Level (Pollard et al., 1989).

Central Wales Orefield:

the majority of Welsh connellite occurrences are from Central Wales. The first record from this area was reported by Rust & Mason (1994), who described minute (<0.5 mm) radiating sprays of deep blue acicular crystals aggregated into spherules and local coatings to 10 x 5 mm from Gwaith-yr-Afon Mine near Cwmsymlog in Ceredigion. Further, similar, occurrences have since been noted from Lletty Evan-hen, Eaglebrook and Esgairhir mines, again in Ceredigion, and Geufron Mine near Llanidloes in NW Powys (S.A. Rust, unpublished data). The most notable connellite specimens from Central Wales are, however, those from Lodge Park copper trial near Tre'r-ddol in northern Ceredigion. Here, attractive sprays and spherules of acicular microcrystals to 0.5 mm occur associated with partially corroded cuprite on partings in mudstone. The source of chlorine is postulated to be rock-salt, spread every winter on the A487 trunk road that passes above the workings (Mason & Green, 1996).
References:
Supergene copper mineralisation in situ at Lodge Park Copper trial, Dyfed. UK Journal of Mines and Minerals. 17. 19-23.
Definition of a mineral. Mineralogical Magazine, 59, 767-768.
Secondary minerals from the Cwmavon Valley Copper Smelting Slags, Glamorgan, South Wales. Journal of the Russell Society, 8(1), 9-15.
Carbonatian connellite, a new variety, from the Britannia Mine, North Wales, and from the Botallack Mine, Cornwall. Journal of the Russell Society. 2 (2), 23-27.
An unusual occurrence of arsenate minerals at Gwaith-yr-Afon mine, Dyfed, Wales. Journal of the Russell Society, 5(2), 109-113.