Mineral Database
Galena
Status of Occurrence:
Confirmed Occurrence
Chemical Composition:
Lead sulphide
Method(s) of Verification:
galena is readily identified, both in hand specimen and polished section, by its distinctive physical properties.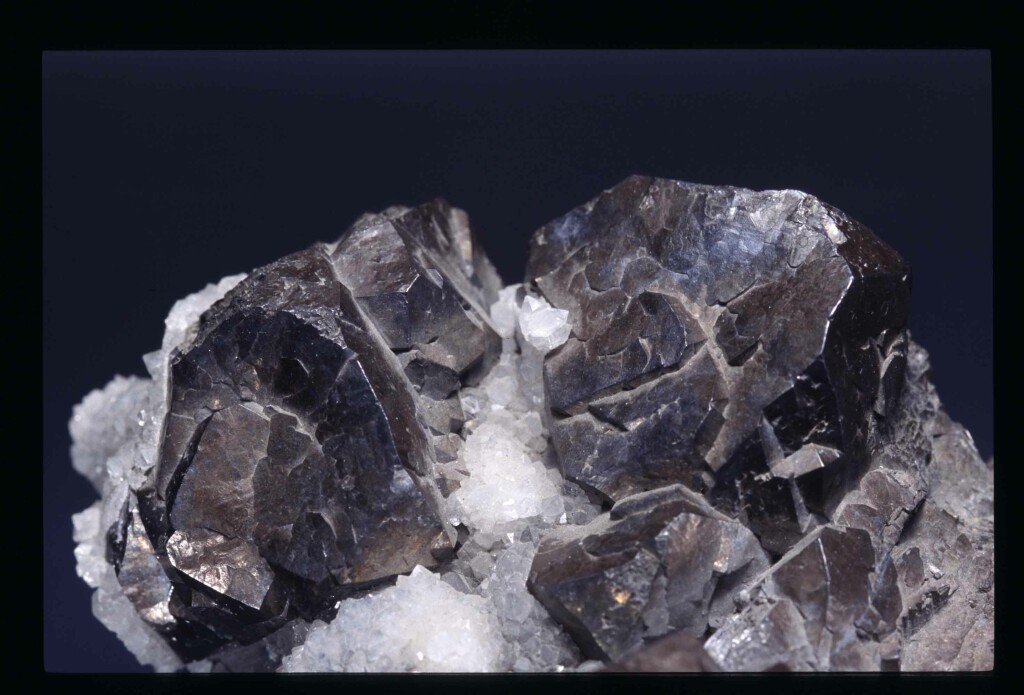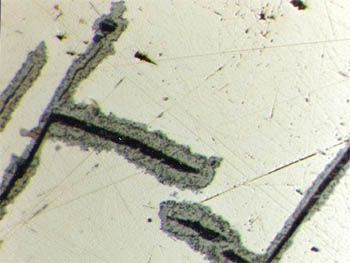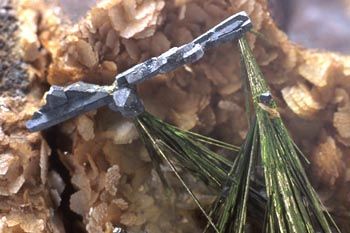 Chemical Group:
Geological Context:
Hydrothermal : alpine type veins
Hydrothermal : Mississippi Valley Type veins
Hydrothermal : mesothermal polymetallic veins
Hydrothermal : epithermal polymetallic veins & pipes
Hydrothermal : volcanogenic massive sulphides
Sedimentary
Hydrothermal : sedimentary exhalative deposits
Introduction:
galena occurs in a wide variety of hydrothermal mineral deposits, from bonanza-type precious metal associations to Pb-Zn-F-Ba Mississippi Valley-type assemblages, and from exhalative ore deposits to druses in diagenetic concretions in sedimentary rocks. It is reasonable to state that there are very few mineral deposit types worldwide in which galena has not been recorded.
Occurrence in Wales:
the most important ore of lead, galena has had a long history as an economically-important mineral in Wales. Exploitation of lead-ore goes back to Roman times with much mining activity during the 16th, 17th and 18th Centuries. The industry peaked in the 19th Century with some of the mines, such as Van in Central Wales, being of international importance at the time. During the 20th Century the lead-mining industry declined sharply, with very little activity taking place after the Second World War. The colour, density and perfect cubic cleavage of galena tend to make it readily identifiable in hand specimen. However, there are two varieties that are less obviously galena: these are 'steel-ore', which looks a little like broken cast iron on fracture-surfaces (hence the name) and foliated galena, which has a streaky, fibrous appearance. These are both common in some areas of Wales and are formed by recrystallization and shearing respectively. Shearing affects galena because of its soft, ductile nature: other more brittle sulphides tend to suffer cataclasis. These textures can be caused simply by renewed movement along mineralized fractures, or may be due to regional compressive deformation.
Key Localities:
Abersoch, Gwynedd:

galena commonly occurs in the mineral veins of the Llanengan area near Abersoch: associated minerals are quartz, baryte, sphalerite and chalcopyrite (Dewey & Smith, 1922).

Central Wales Orefield:

galena occurs in abundance in this formerly important lead-mining area stretching from Machynlleth in the north down to the Llandovery-Carmarthen district in the south and as far east as Caersws, Rhayader and Llanwrtyd Wells. The mineralization occupies a series of mainly ENE-trending fault-fractures which have experienced repeated episodes of movement and mineralization. Galena is present as masses ranging in size from small blebs to thick ribs over 1 m in thickness. In some areas it contains a prolific mineral inclusion assemblage; of particular economic importance in this context was argentian tetrahedrite, as the ore concentrates produced from such mineralization were extremely rich in silver, containing up to 1000 ppm Ag (Hughes, 1990). General details of the mines and their output are given by Jones (1922), Bick (1974; 1976; 1977; 1983; 1991), Hall (1993) and Burt et al. (1985; 1990), while the ore mineralogy is covered by Raybould (1974) and Mason (1994; 1997). Well-crystallized specimens of galena have been recovered from a few mines both historically and recently: notable examples in the National Museum of Wales Collection are from Van, Nantiago, Logaulas, Esgairmwyn, Darren and Pandy mines. 'Steel-ore' and foliated varieties of galena are frequently encountered in Central Wales.

Dolgellau Gold-belt, Gwynedd:

galena is of frequent occurrence in the gold-lodes of this area, but attempts to mine it were generally ill-fated (Hall, 1990), this being largely due to the abundance of other finely-intergrown sulphides, in particular sphalerite. Of note is the frequent association between gold, galena and telluride minerals, exemplified in the high-grade 'bonanza' ores mined at Clogau (Mason et al., 2002). In polished section, galena from this assemblage appears to be an anomalous bluish colour, due to the tellurides with which it is intergrown having much higher reflectivity.

Dolyhir Quarry, Old Radnor, Powys:

massive galena was abundant in a vein exposed in the mid-1990s. Samples reveal, in polished section, complex intergrowths of galena with tennantite, chalcopyrite and a range of minor phases (Bevins & Mason, 1997).

Halkyn-Minera district, NE Wales:

galena has been mined in this district since Roman times; although many of the mines are now overgrown, galena-bearing veins are often encountered during quarrying operations. The orefield was one of the most significant lead-producing areas in the UK, with details of the mines given by Smith (1921) and Burt et al. (1992). The mineralization is of Mississippi Valley-type and associated minerals are variably sphalerite, calcite and baryte with occasional fluorite and chalcopyrite. Some unusual hopper-faced galena crystals are present on old specimens in the National Museum of Wales Collection from the Trelogan Mine in the northern part of the orefield.

Llangynog Orefield, NW Powys:

galena occurs in abundance in this small but productive orefield, in a series of quartz-carbonate-baryte-sulphide lodes cutting Lower Palaeozoic sedimentary and igneous rocks. The sulphide mineralization is dominated by galena, sphalerite and chalcopyrite with accessory pyrite, tetrahedrite and other as yet unidentified sulphosalts and sulpharsenides: it bears many similarities to the Central Wales mineralization. Details of the mines are given by Bick (1978) and Burt et al. (1990).

Llanrwst Orefield, Gwynedd:

this was formerly an important lead-mining district which produced significant tonnages of lead ore concentrates and in addition some fine specimens, particularly from the Trecastell Mine. The paragenesis of the primary mineralization has been described by Haggerty (1995).

Parys Mountain, Anglesey:

galena is an important component of the 'bluestone' ore, where it occurs intimately intergrown with sphalerite, chalcopyrite and numerous minor phases (Greenly, 1919; Pointon & Ixer, 1980).

Snowdonia, Gwynedd:

in the Snowdon caldera galena is common, generally in modest amounts, in the copper-dominated veins of this mining district (Reedman et al., 1985).

South Wales:

the relatively small Mississippi Valley-type orefield in South Wales has produced significant quantities of lead-ore and some of the mines are of considerable antiquity. Perhaps the most important locality within this area, however, is at Ogmore-on-Sea, near Porthcawl. Here, natural exposures reveal vein-type galena-baryte mineralization in the Carboniferous Limestone yet, in the unconformably overlying shelly limestones that represent the basal Lias, there is galena-baryte mineralization of an exhalative nature. Fletcher (1988) interpreted this to indicate an Early Jurassic age for the lead mineralization of this orefield.

South Wales Coalfield:

galena occurs widely as part of the sulphide assemblage occupying siderite-lined voids in septarian ironstone nodules (Firth, 1971). Some excellent specimens showing bright galena cubes encrusting millerite needles have been collected from both coal-tips and modern opencast workings. Other associated sulphide minerals are siegenite, sphalerite and chalcopyrite.
References:
Welsh metallophyte and metallogenic evaluation project: Results of a minesite survey of Dyfed and Powys. CCW Contract Science Report No. 156. National Museums & Galleries of Wales.
The Old Metal Mines Of Wales. Part 1, Cardiganshire - South of Devil's Bridge. Pound House, Newent.
The Old Metal Mines of Mid-Wales. Part 2: The Rheidol to Goginan (Revised Edition). Pound House, Newent, Glos.
The Old Metal Mines Of Wales. Part 3, Cardiganshire - North of Goginan. Pound House, Newent.
The Old Metal Mines Of Wales. Part 4, West Montgomeryshire. Pound House, Newent.
The Old Metal Mines of Mid-Wales. Part 5: Aberdovey, Dinas Mawddwy and Llangynog. Pound House, Newent.
The Old Metal Mines Of Wales. Part 6, A Miscellany. Pound House, Newent.
The Mineral Statistics of the United Kingdom 1845-1913, he Mines of Flintshire and Denbighshire Volume 10, University of Exeter Press, 167pp.
Lead and zinc ores in the pre-Carboniferous rocks of West Shropshire and North Wales. Part II, North Wales. Memoirs of the Geological Survey. Special Report of the Mineral Resources of Great Britain, 23.
The Mineralogy of the South Wales Coalfield. Unpublished Ph.D. thesis, University of Bristol.
Tidal erosion, solution cavities and exhalative mineralization associated with the Jurassic unconformity at Ogmore, South Glamorgan. Proceedings of the Geologists' Association, 99, 1-14
The Geology of Anglesey. Memoirs of the Geological Survey of Great Britain, 980pp (2 volumes).
The Mineralization of the Llanrwst Orefield, North Wales. UK Journal of Mines and Minerals, 15, 5-10.
Metal Mines of Southern Wales. 2nd Ed. Griffin Pubs., Herefordshire.
Gold Mines of Merioneth. The 2nd ed. 99pp. Griffin Publications, Kington.
The Darren Mines. British Mining No. 40. Northern Mine Research Society, 131-141.
Lead and zinc. The mining district of North Cardiganshire and West Montgomeryshire. Memoirs of the Geological Survey. Special Report of the Mineral Resources of Great Britain, 20.
A Regional Paragenesis for the Central Wales Orefield. Unpublished M.Phil thesis, University of Wales (Aberystwyth).
Regional polyphase and polymetallic vein mineralisation in the Caledonides of the Central Wales Orefield. Transactions of the Institution of Mining and Metallurgy (Section B: Applied Earth Science), 106, B135-B144.
Ore Mineralogy of the mesothermal gold lodes of the Dolgellau Gold Belt, North Wales. Transactions of the Institution of Mining and Metallurgy (Section B, Applied earth science), 111, B203-B214.
Parys Mountain mineral deposit, Anglesey, Wales: geology and ore mineralogy. Transactions of the Institution of Mining and Metallurgy (Section B: Applied earth science), 89, B143-B155.
Ore textures, paragenesis and zoning in the lead-zinc veins of mid-Wales. Transactions of the Institution of Mining and Metallurgy (Section B: Applied earth science), 83, B112-B119.
Volcanogenic mineralization related to the Snowdon Volcanic Group (Ordovician), Gwynedd, North Wales. Journal of the Geological Society, London, 142, 875-888.
Lead and zinc ores in the Carboniferous rocks of North Wales. Memoirs of the Geological Survey. Special Report of the Mineral Resources of Great Britain, 19.
The Lead Mines of Glamorgan and Gwent. Journal of the Glamorgan Historical Society, 20, 37-51.