Press Releases
Two Amgueddfa Cymru – National Museum Wales sites win top travel-trade tourism awards
Date:
2019-05-15
The National Slate Museum Llanberis and St Fagans National History Museum have both received top tourism accolades for group travel and visitor service.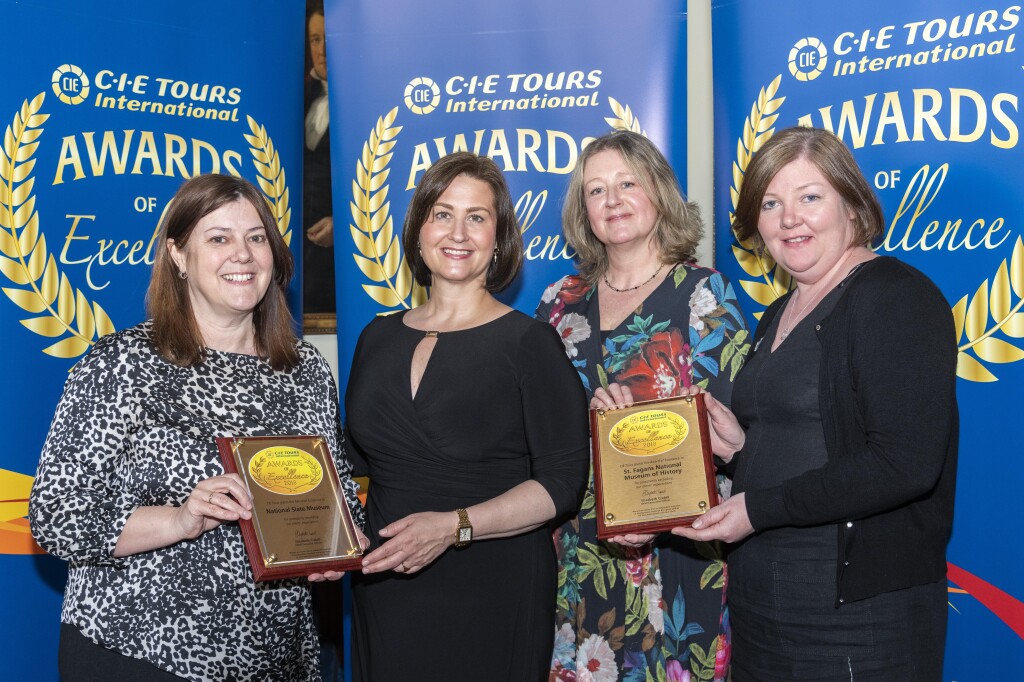 The Awards - given in April at a prestigious ceremony in Glasgow by Irish coach tour operator, CIE Tours International, which bring visitors to the museums every week - recognises the quality of the UK's hotels and visitor attractions. The company gives special recognition to quality tourism providers judged best in the UK by the 15,000 visitors CIE brought to the UK in 2018 and which achieve a greater than 90% customer satisfaction rating.
The National Slate Museum Llanberis received the award for the sixth year running whilst newly redeveloped St Fagans gained the award for the first time.
In 2018, CIE tours visited 184 visitor attractions and 73 hotels across the UK, paying a total of £13 million to its UK suppliers and other attractions receiving the awards included the Tower of London, Shakespeare's birthplace and Cardiff Castle.
Elizabeth Crabill, Chief Executive, CIE Tours International commented: "The level of customer satisfaction achieved by our suppliers plays a vital role in our success and the aim of our Awards is to encourage them to focus on the clients' experience and improving standards of service, so it is gratifying to see the increase in suppliers being given 90% plus ratings. All of the recipients play a key role in our success by welcoming our visitors and ensuring that they have a memorable experience. Our Awards are well recognised and hugely respected in Ireland, and it's great to see that the awards have been embraced so quickly in the UK.
"Travellers from North America are accustomed to very high levels of service, so we run the awards to encourage our partners to focus on continuously increasing the quality of our visitors' experience. To achieve a rating above 90% from these travellers is very meaningful and the fact that the number of our suppliers in the UK achieving this is rapidly increasing year on year, is a great sign for UK tourism."
CIE Tours International is Ireland's leading inbound tour operator, having brought more than four million visitors from North America to tour Ireland over the course of its 86-year history.
For more information, please contact Julie Williams on 02920 573707/ Julie.williams@museumwales.ac.uk ( National Slate Museum ) or Ellen Davies 02920 573487 ellen.davies@museumwales.ac.uk ( St Fagans) or Ilya Scott of Real PR. Tel: 07799 416476 / ilya@real-pr.co.uk. (CIE tours)
Notes to Editors
The National Slate Museum is open daily between April – October and Sunday – Friday from November – March 10am – 4pm. For further details please visit the website at www.museumwales.ac.uk or contact the museum on 02920 573707 slate@museumwales.ac.uk. Entry to the museum is free, thanks to the support of the Welsh Government.
Photo caption 2: Julie Williams, Marketing Officer at National Slate Museum Llanberis, Janet Wilding Head of Historic Buildings at St Fagans and Carys Davies, Administraion Officer at St Fagans receive the CIE award from Elizabeth Crabill, Chief Executive of CIE tours International Ltd.
The National Slate Museum is one of seven Amgueddfa Cymru – National Museum Wales sites across Wales.
National Waterfront Museum, Swansea
National Wool Museum, Dre-fach Felindre
Big Pit: National Coal Museum, Blaenafon
National Roman Legion Museum, Caerleon
St Fagans: National History Museum
National Museum Cardiff
National Slate Museum Llanberis
Website – museum.wales
CIE Tours International is Ireland's leading inbound tour operator, having brought more than three million visitors from North America to tour Ireland over the course of its 86-year history. In recent years, CIE has expanded its offering to include Scotland and the rest of the UK as a highlighted destination. Several new tours are being introduced in 2018, including one featuring the Outer Hebrides and Gaelic West, a new UK family tour and a new luxury Scotland tour. www.cietours.com