Press Releases
Local pupils prepare to takeover Museum
Date:
2013-11-15
On Monday 18 November, local pupils from Clwyd Primary School in Swansea will prepare to swap their text books for historical objects as they prepare to take over the National Waterfront Museum.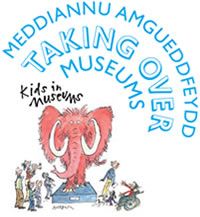 The activities are being organised as part of a UK-wide Kids in Museums initiative which gives children and young people the chance to shadow jobs, get involved in decision-making and offer their opinions on key issues.
More than 29 pupils, aged between 9 and 10, will have a unique opportunity to work alongside local author and illustrator, Thomas Docherty to identify 10 key objects before turning them into a trail and/or activity others can participate in.
"We're delighted to be once again joining in this year's Taking Over Day," said Formal Education Officer Mandy Westcott. "It'll be a perfect chance for pupils to really delve into the hidden treasures at the Museum and further develop their literacy skills outside the classroom."
Speaking about the day, Jonathan Kidwell, Wellbeing Officer at Clwyd Primary School said: "The children are excited to be involved in his special opportunity to explore the Museum. While they have visited before, it is a chance for them to identify what interests them and work together to share this with others who visit."
Dea Birkett, Director, Kids in Museums said: "We're delighted the National Waterfront Museum is part of Taking Over Day in museums in Wales, giving children a powerful and meaningful role in a museum.
"Of course, the museum was shortlisted for the Family Friendly Museum Award, so it's hardly surprising that they do such good work with kids. Taking Over is yet another example of this."
ENDS
Notes to editor
For more information about Taking Over Day and who is taking part go to www.kidsinmuseums.org.uk/takingover and follow on Twitter @takeovermuseums