Press Releases
New exhibition places Dylan Thomas at the National Waterfront Museum
Date:
2014-10-13
Placing Dylan - a brand new exhibition is soon to arrive at the National Waterfront Museum in Swansea.
Curated by London-born artist and art historian Ceri Thomas, Placing Dylan presents a selection of images created and interpreted by Ceri over the past 20 years.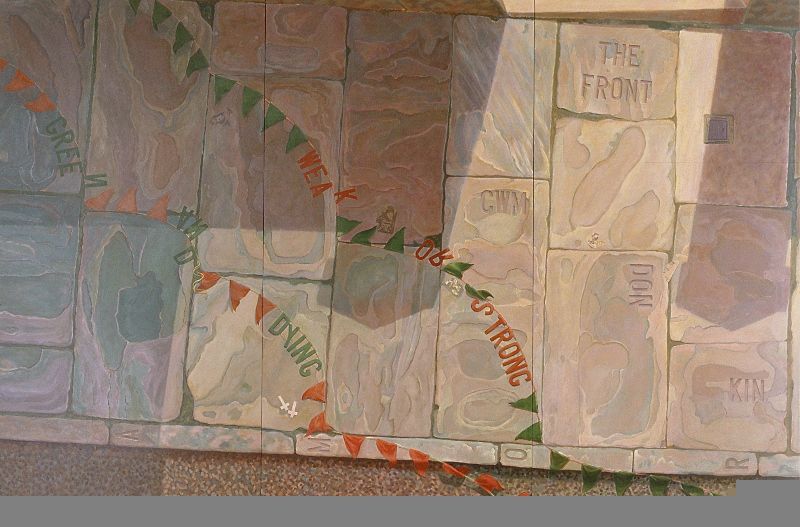 Ceri's interest in the Swansea-born poet began in 1994, when, by accident, he came to be living in 5 Cwmdonkin Drive – Dylan's home. It was during that time, a notice dropped through the letter box which gave Ceri the inspiration to produce a series of Dylan-related artworks and it is these artworks that will feature on the Red Wall Gallery from this Saturday, 11 October to Sunday 30 November.
Ceri's passion for the visual culture of modern and contemporary in south Wales has led him to curate many exhibitions as well as publish books and articles on individual artists, artist groups and the south Wales art scene.
He is particularly interested in the relationship between art and place, representations of the individual and the employment of memory and imagination. It is therefore understandable that Dylan's home patch became a rich source of inspiration.
The main exhibit is Mo(u)rning over Cwmdonkin (1997-98), a life-size interpretation of the original stone pavement in front of Dylan's home which the 1994 council notice stated was to be replaced with tarmac. The pavement was saved following a campaign led by Ceri and it helped set the dramatic mood for the painting which contains references to the First World War and subsequent war.
Other exhibits in the display include photographs taken in 1994 and 2005 and two portraits Tŷ-tea, Guard-gardd (Weak or Strong?) (1996-98) and Tillerman (Green and Dying) (2010-11). The first, which has a punning title, was produced concurrently with Mo(u)rning over Cwmdonkin, hence its subtitle. The second also has a subtitle that relates to Dylan. In addition, Ceri's clever use of watercolours are showcased which reference four key Dylan years and reprise the letter face derived from the original Cwmdonkin Drive cast iron street sign.
Speaking about the forthcoming exhibition, Andrew Deathe, Exhibitions and Programmes Officer at the Museum said: "We are thrilled we have been able to welcome Ceri's work which timely coincides with this year's Dylan Thomas Festival celebrations (27 October to 9 November - the dates of Dylan's birth and death).
"It is yet another excellent opportunity to offer visitors an different insight into the famous poet's life and his writing processes."
Speaking about his work, Ceri said: "As a former resident at 5 Cwmdonkin Drive, I'm delighted to be showing a range of my Dylan Thomas-inspired artworks in the poet's home town and my adoptive city. During my 21 years in Swansea I met two of his exceptional Kardomah Group contemporaries, Fred Janes and Charlie Fisher, and hopefully something of their spirit (and Dylan's) has informed my work."
Placing Dylan will officially open to visitors on Saturday 11 October with a special address by Professor Peter Stead, President of the Dylan Thomas Prize at 3pm.
Notes
On Saturday 22 November, Ceri will host an artist-in-conversation about Placing Dylan joined by Dylan biographer, Hilly Janes. This talk is free and starts at 11am.
Following Ceri's address, Hilly will then take the floor as she delivers a talk about her artist-father Alfred Janes, whose 1934 portrait of his friend the poet will also be on display. This talk is free and starts at 2pm. No booking is required.
ENDS
Placing Dylan will feature on the Red Wall Gallery from Sat 11 Oct to Sun 30 Nov.
Images are available on request. Ceri is also available for interview, please contact Marie Szymonski on (029) 2057 3616 to arrange.
Other Dylan Thomas-related exhibitions on display at the National Waterfront Museum include:
Dylan's Words: A Waterfront Literary Trail – featuring a series of famous quotations from Dylan's works selected by poet and Dylan-scholar Peter Thabit Jones (until March 2015).
Dylan Thomas by Alfred Janes – a special chance to see a portrait of Dylan Thomas painted by his friend Alfred Janes (on display from Sat 11 Oct to 1 Feb 2015).