Staff Profile
Dr Jana Horak
Co-Acting Head of Natural Sciences, Head of Mineralogy & Petrology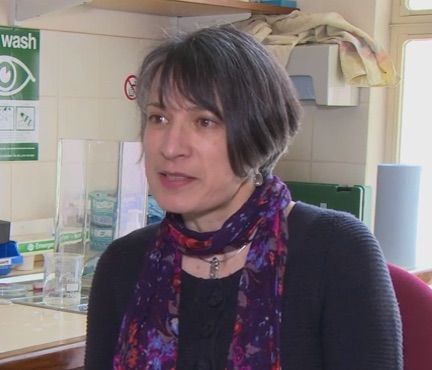 Contact Details
Dr Jana Horak
Mineralogy & Petrology
National Museum Cardiff
Cathays Park
Cardiff
CF10 3NP
Phone: +44 (0)29 2057 3353
Staff Name
Dr Jana Horak
Job Title
Co-Acting Head of Natural Sciences, Head of Mineralogy & Petrology
Areas of Responsibility:
Management, development of, and access to mineralogy and petrology collections, including building stones and meteorites. Petrological research, public engagement of science.
Qualifications, memberships and relevant positions
PhD (University of Wales), B.Sc.(Hons) Geology (University of Wales), Certificate in Management (Open University), Certificate in Gemmology (Gemmological Associaion), Honorary Lecturer Cardiff University, Chartered Geologist, Chartered Scientist (Science Council), Secretary of the Welsh Stone Forum, Chair of the Chartership Validation Committee (Mineralogical Society of GB & Ireland), Member of the Professional Committee (Geological Society of London).
Research Interests
My current research interests have a common theme of provenance. Continued research into the early geological evolution of Wales is includes the affinity of the Avalonian basement below Southern Britain, and source of Late Precambrian to Cambrian sediments in North West Wales. The later project is based on LA-ICPMS dating of detrital zircons (see Research Projects). Other projects include investigation of the trace element chemistry of Welsh gold, with application to both mineralogical and archaeology research. A range of other projects and contract research links to the provenencing of stone in the built environment from medieval times, provenancing stone in archaeological contexts and variations in lapis lazuli as a provnancing tool, and a synthesis on the ornamental stones of the British Isles. My musicological studies focus on effective collection management, in particular hazardous minerals and the accountability for specimens used in research.
Amgueddfa Cymru Research Projects
Provenancing Monian supergroup ( with Prof U. Linneman, Natural History Museum, Dresden, Dr D.Schofield, British Geological Survey). Provenancing and dating of sandstone in the Gwna Melange to constrain the age of deposition.
Lapis Lazuli, a potential provenancing tool through non-destructive analysis. (with Cotterell. Compilation of data set of lapis lazuli mineralogy from various collections to establish differences in mineralogy between different sources. To test findings as a tool to province lapis lazuli in archaeological context.
Trace element analysis of Welsh gold as a provenancing tool. (with Prof N Pearce, Aberystwyth University and Dr R.E. Bevins).
Keywords
Neoproterozoic, Welsh geology, provenance, isotopic analysis, LA-ICPMS, archeopetrology, building stone, hazardous minerals, Collection Management
Links