News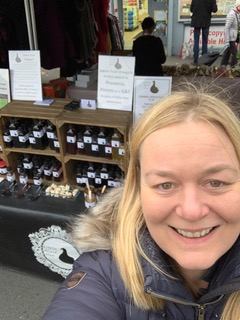 Spotlight on the Producers: Alison, Little Black Hen
28 August 2020
We have asked some of the traders who were due to take part in this year's live event to answer our burning foodie questions, so that we can get to know the faces and stories behind these fantastic Welsh food and drink businesses.
The next company under the Spotlight is Little Black Hen, a home run business based in Llangennech...
1) Describe your company in one sentence.
I've a passion for making jams, curds, chutneys, fruit vinegars and other goodies with ingredients sourced as locally as possible, delighting in making jams that taste like they should and as you remember your granny making.
2) What inspired you to start your own food business?
The business started off making celebration cakes after I'd rediscovered my love of baking, using eggs from our own garden reared chickens. I couldn't find jams I felt were nice enough to put in my cakes, so started making my own and then started making chutneys soon after that. It all happened by accident really. As soon as I started getting requests to make cakes for people I didn't know, I got the kitchen registered and set the business up properly. The local produce and other markets happened soon after and now I balance making cakes and the production of jams, vinegars, chutneys and curds. The business is called Little Black Hen as she was the first chicken we had.
3) What is the best piece of advice you've received?
The best advice was to just be ourselves, not over promise and under deliver, and not to compromise on the quality of the products we make.
4) How have you had to adapt your business during this time?
I'd been meaning to set up an online shop for years, but just needed a global pandemic to focus my mind. We have a fabulous and very loyal customer base who have supported us over the years and through the crisis so far, buying through the online shop to stock up on our goodies over the last few months.
5) Who else on the food producer scene excites or inspires you currently?
That's really difficult to answer as there are so many people who inspire me. Every market or event we attend has many examples of great Welsh food and drink producers. Many, like me, run their businesses from home. I love seeing the diversity of products available and hearing the stories behind them. Their enthusiasm is both exciting and inspiring, and the breadth of produce outstanding. I love bringing something new back home to try.
6) What was your favourite childhood meal, and is it still the same?
I know it's a cliché but my mum's Sunday roast and yes it's still the same. You can't beat it!
7) Who would you invite to your private dinner party?
I think I'm supposed to say someone famous but to be honest I've missed my friends and family during this strange period, particularly as we're all spread to the winds. I think you can't beat sitting down with close friends and family, with good food, good wine and happy chatter.
8) What has been your go-to recipe during lockdown?
Ok, at this point I guess I'd be expected to wax lyrical about one of my own products, but to be honest the greatest thing I've found recipe wise during lock down is the recipe for ice magic. You know, the liquid chocolate that you pour on icecream which then sets hard and cracks. I admit I'm the biggest kid and I think when people were turning to comforting things during the uncertain times, I just found a recipe that put a smile on my face!