Richard Wilson (1713-1782)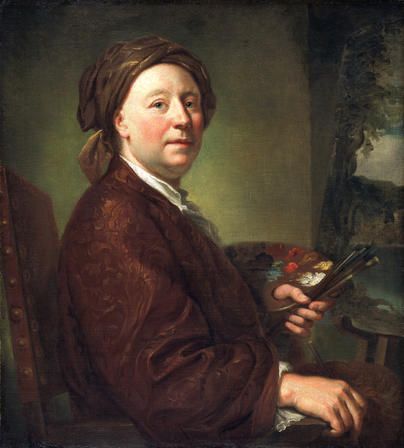 Richard Wilson sits at his easel, painting a landscape. His turban-style hat was a comfortable alternative to the wigs usually worn at that time. The pose, deceptively like that of a self-portrait, creates an air of professional pride and affluence. Painting was slowly becoming more socially accepted as a career for British men, and Wilson's pose suggests an air of professional pride and affluence. For a time in Italy, and on his return to Britain, Wilson's career prospered. This portrait was painted in Rome by Anton Mengs in return for one of Wilson's landscapes - a gesture of friendship and mutual admiration.
Wilson, originally from Montgomeryshire, is often called 'the Father of British landscapes' for the key role he played in the development of the tradition, though he initially trained as a portrait painter. He became the first major artist to popularize images of Wales that went beyond topographical accuracy. He later sold this painting to Sir Watkin Williams-Wynn, who also purchased 4 landscapes from him in 1770. Mengs was a great rival of Batoni in Rome, and a promoter of neo-classicism.