Health, Wellbeing and Amgueddfa Cymru
Museums can play a part in improving both our mental and physical health, through general visits or targeted programmes. Across our seven museums, we work with a range of health and wellbeing partners to develop meaningful and stimulating activities for those with a variety of needs.
Our museum also offer safe spaces for quiet contemplation or providing inspiration. Take a look at some of our resources and work to date.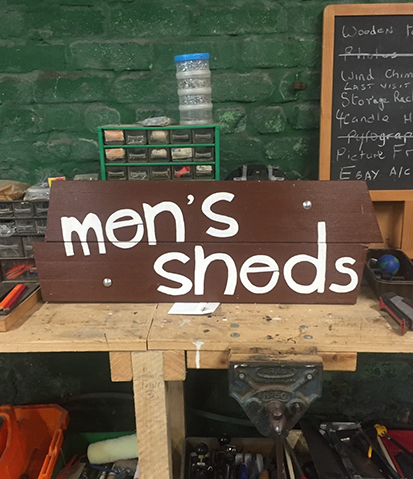 Men's Sheds at Big Pit National Coal Museum
The Coal Shed at Big Pit was launched in May 2019 and was the first Men's Shed to be launched in Torfaen. Located in the museum's old fitting shop the group have brought an historic building back to life in the spirits of its original purpose, previously the pick sharpening shop for the mine, where miner's mandrels were repaired. Each individual shed's activities depend entirely on the skills and interests of its members.
The Men's Shed idea originated in Australia 12 years ago and was developed by the health board to tackle growing concerns of social isolation amongst their male population. They identified that high numbers of men had too much time on their hands (due to retirement, unemployment, illness etc.) and these things often manifested themselves in boredom, men suffering in silence with declining mental health and in the worst cases of suicide. The Men's Sheds movement is based on the understanding that men are more likely to help themselves and attend something they have set up or have some control over.
Men's Sheds Cymru, a Big Lottery funded project, has been created to help communities across the country set-up their own Men's Sheds
The Coal Shed has been supported by Blaenavon Town Council and funding has been received from Western Power Distribution and People's Postcode Lottery. For more information on the Coal Shed, please email Sharon Ford. For more Men's Shed information visit www.mensshedscymru.co.uk
Whitchurch Hospital Tablecloth
The mental health benefits of making are well-known, with studies showing that craft can help to alleviate symptoms of anxiety and stress. Take a look at this blog which explores the Whitchurch Hospital tablecloth made by a group of convalescing soldiers in 1917: Comfort in Creativity - Mental Health Awareness Week
More From Our Blogs:
Runner Beans, Cabbages and Coleslaw: Family cooking and gardening courses at St Fagans National Museum of History
St Fagans Self-guided Mindful Walk
The National Wool Museum's Exhibition of Hope
Young Onset Dementia Walking Group at St Fagans
Dementia Friendly Underground Tour at Big Pit National Coal Museum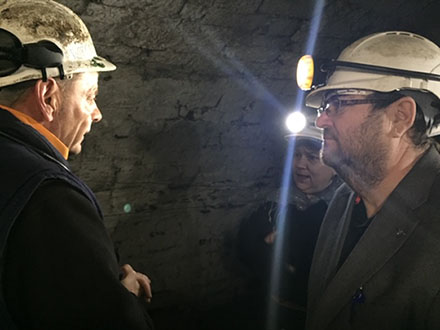 In May 2017 we launched a new underground tour developed with and designed for people living with dementia and their carers. The Dementia Friendly Underground Tour follows the same principles of our other tours, but with a few adjustments. Before going underground participants meet with their guide for a cup of tea and a chat and the tour is slightly shorter than normal with less figures and numbers and more history. The tours are conducted by our miner guides who have been specifically trained and many have first-hand experience of knowing people who are living with dementia. To date, over 200 people living with dementia and their carers have taken part in the tours. Our plan is to schedule more of these free, bespoke tours once the museum re-opens. Here are some quotes from our miner guides and people living with dementia and their carers, who have taken part in our Dementia Friendly Underground Tours:
"It is fantastic when you see someone with dementia talking and remembering from their past."
"I didn't know that he had been a miner for 23 years and his companion said it was the first time they had heard so much from him in ages."
"The tour brought back all the memories of mining."
"The conversation I was having with the gentleman was quite detailed...it's great to think that we are able to help someone in this way"
Big Pit Miner Guide
"I was amazed to hear him having a conversation with the miner...he was remembering all the terms"
Staff member from a dementia care setting
"This gentleman has started reminiscing and even started talking about his school days. This has done him the world of good"
Staff member from a dementia care setting