Art Collections Online
Elizabeth (Warren), Viscountess Bulkeley (1757-1826) as Hebe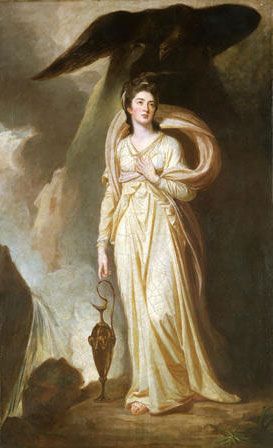 Date: 1775-76
Media: oil on canvas
Size: 238.5 x 148.0 cm
Acquired: 2000; Purchase; with assistance of the Art Fund
Accession Number: NMW A 14940
Elizabeth Harriet Warren (1759-1826) was the daughter of Sir George Warren of Poynton, Cheshire, whom Romney had painted in 1769 as part of a family group. He went to Italy in March 1773, returning to London in July 1775, when he rapidly established himself as the chief competitor of Reynolds and Gainsborough.
This portrait was presumably commissioned to mark her forthcoming wedding, which took place in April 1777, to Thomas, 7th Viscount Bulkeley of Beaumaris (1752-1822). The principal landowner in Anglesey, he was MP for the county from 1774 to 1784, when he was made a British peer. She sat to Romney on five occasions during May 1776. The artist then fell ill, and the final sitting took place in December. He worked extensively on the composition, and there are sketches for it in several collections.
The sitter is depicted as Hebe, cupbearer of the gods and goddess of youthful beauty. Her traditional attributes are a cup or ewer and the eagle, symbolic of her father Zeus. She was a popular allegorical persona for eighteenth century portraits of young women. This work exemplifies the 'sublime and terrible' aspect of Romney's style, which Flaxman compared with the 'fire and severity of a Greek bas-relief'. The mountain cascade and the austere, almost monochrome colour scheme also invite comparison with the works of Henry Fuseli.