Art Collections Online
Landscape with Arched Gateway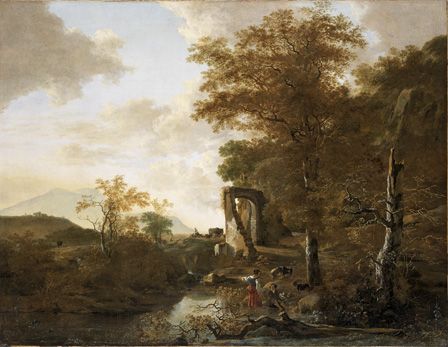 Date: 1654 c.
Media: oil on canvas
Size: 99 x 129.5 cm
Acquired: 2002; Purchase; jointly with the National Trust, with assistance of Art Fund
Accession Number: NMW A 23191
Adam Pynacker was one of a group of Dutch landscape artists who visited Italy in the mid-17th century where, like Richard Wilson a century later, they were inspired by the warm light of the Roman Campagna. Collectively they are known as the Dutch Italianates. Pynacker was one of the principal exponents of this style. The National Museum & Gallery has few examples of the work of the Dutch Italianates, a large painting by Jan Asselijin in this gallery being an exception.
Pynacker travelled in Italy from c.1645, returning to Holland by 1652. This work dates from shortly after his return and is probably a pair to Sunny Landscape with River and High Mountains, now in the Nationalmuseum, Stockholm. The composition includes some of his favourite motifs, such as the broken tree trunk in the foreground. Technical examination has revealed that Pynacker originally intended to show cattle emerging through the archway and one cow is still faintly visible. Conservation has removed discoloured layers of varnish to reveal fully the warm tones of his Italianate light.
The picture formed part of the collection of Old Master paintings assembled by the slate magnate Edward Douglas-Pennant, 1st Lord Penrhyn (1800-1886). Many of his paintings remain at Penrhyn Castle, near Bangor, now a property of the National Trust. Its joint acquisition with the Trust enables the National Museum & Gallery to display a fine Dutch Italianate painting on a regular basis, and to highlight the most important art collection formed in Wales during the 19th century. It will be shown here for five years and will then alternate between Penrhyn and Cardiff. It will also be included in the loan exhibition 'Great Landscapes from the National Museum & Gallery' at the Victoria Art Gallery, Bath from 3 May until 8 July and subsequently at the Royal Cambrian Academy, Conwy.