Art Collections Online
Sur un table, deux huitres, deux moules et un....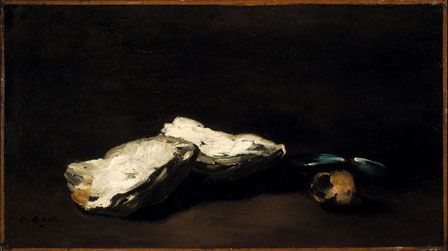 Media: oil on canvas
Size: 34.4x53.3x3cm
Acquired: 2006 Bequest, Sir Kyffin Williams OBE RA
Accession Number: NMW A 28345
Food was often set against a dark background in this way to highlight the effects of colour, light and texture. Still lifes were intended to appeal to the viewers senses of taste and touch, not just sight. This work is typical of a tradition in French still life painting which dated back to the eighteenth century and became increasingly popular during the nineteenth century.