Art Collections Online
Welsh Landscape with Two Women Knitting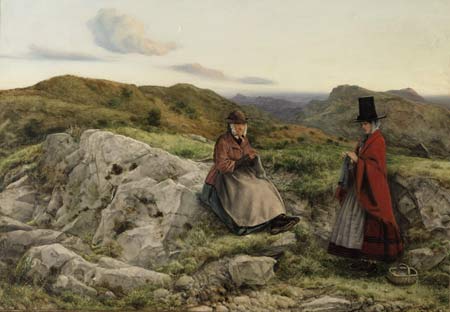 Date: 1860
Media: oil on board
Acquired: 2010
Accession Number: NMW A 29527
Purchased with the assistance of the National Heritage Memorial Fund, the Art Fund, the estate of Alan Thomas, and many private donors, 2010.
The painting is a romanticised Victorian view of 'wild Wales' and its 'unspoilt' people. It is a scene that the artist has composed, not observed. The younger woman is dressed in the recently revived Welsh national costume, in reality worn only on special occasions. Both are knitting stockings from scavenged scraps of wool, even though this was an occupation for the home, and one that had largely disappeared by 1860. It is full of contrived contrasts - between age and beauty, and between transitory humans and ancient geological formations - while the sickle moon suggests the cyclical progression of the universe.
However the different elements within the painting were based on careful observation. William Dyce was an important supporter of the Pre-Raphaelites' aim to renew English art through truth to nature. His best-known work, Pegwell Bay (1858, Tate) is Pre-Raphaelite in its recording of the chalk cliffs near Ramsgate. Dyce stayed in the Conwy valley for six weeks in the autumn of 1860, where he admired and sketched 'every variety of Welsh scenery.' Welsh Landscape with Two Women Knitting, which was painted on his return to London, draws on this experience.