Art Collections Online
The Rialto Bridge and the Palazzo dei Camerlenghi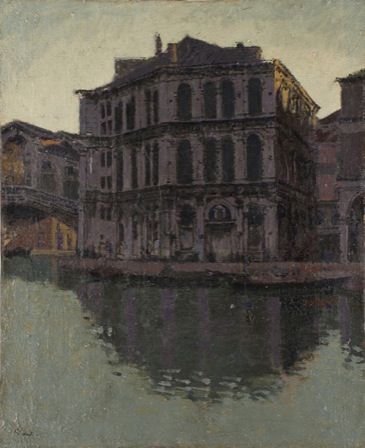 Date: c. 1902-04
Media: oil on canvas
Size: 61.2 x 50 cm
Acquired: 2011; Purchase; with the assistance of the Art Fund and the Derek Williams Trust.
Accession Number: NMW A 29811
Sickert first visited Venice in 1895 and called it 'the loveliest city in the world'. This view of a Renaissance palace and the famous Rialto Bridge demonstrates his innovative painting techniques, particularly in colour and perspective. Just visible is the red grid he used to copy the image onto the canvas from a drawing, etching, or possibly a photograph. This composition was taken from a wider panorama including the entire bridge.
The subtle tones and dark outlines suggest the influence of the Venetian Nocturnes and etchings of Sickert's early mentor James McNeill Whistler. He was also close to the French Impressionists. This work compares in many ways to Claude Monet's Palazzo Dario (in the neighbouring gallery), which was painted later in 1908.
This work appeared in Sickert's important solo exhibition at the Galerie Bernheim Jeune in Parisin 1904. It belonged first to the French art critic Adolphe Tavernier and later was owned by the important British collector Hugo Pitman.