Art Collections Online
View of Margam House, Glamorgan, looking North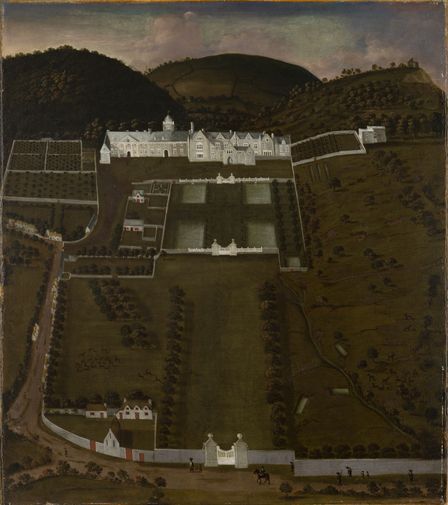 Date: c.1700
Media: oil on canvas
Size: 113.1 x 100 cm
Acquired: 2012; Purchase; with the assistance of the Heritage Lottery Fund and the Art Fund
Accession Number: NMW A 29925
The South side of Margam House was the entrance or show front of the 16th and 17th century mansion.
At the bottom of the painting, travellers make their way past its gates. An avenue of trees runs up to a second gateway with a formal water garden beyond.
When Sir Rice Mansel converted the monks' living quarters into a house in the 1550s he kept the mediaeval gatehouse. Most of the gabled range to the right and the central tower probably date from about 1600. However the Mansel family continued to adapt and improve the house, and the wing on the left had been modernised and extended about thirty years before.
People are playing bowls in front of the banqueting house on the upper right. Deer graze in the park, which also contains walled orchards and farm buildings. The artist has adapted the outline of the three hills in the background to frame the house in the landscape.