Art Collections Online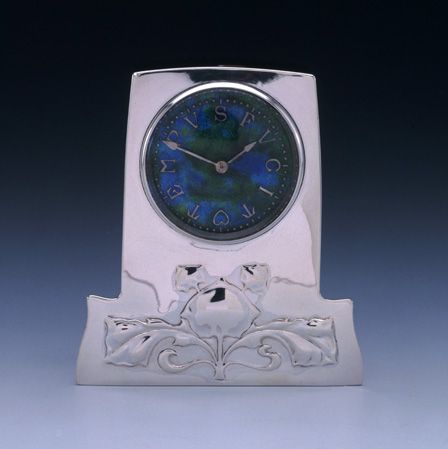 Media: glass, silver, sterling standard, enamel
Size: h(cm) : 10.4 x w(cm) : 9.4 x d(cm) : 5,h(cm) : 10.
Acquired: 2004; Funded in memory of Jack and Dolci Josephson by their daughter Rita Plowman through the Derek Williams Trust, 2004
Accession Number: NMW A 51559
Archibald Knox (1864-1933) drew on his interest in Celtic art when designing this clock. The shape echoes the base of a Celtic cross, while the enamelling of the dial alludes to the use of enamels in ancient Celtic metalwork. Knox was a leading British exponent of the Art Nouveau style. The clock's gently curved outline and the stamped floral motif are typical of his Celtic-inspired designs for Liberty, thanks to which British Art Nouveau has become known worldwide as the 'Liberty Style'.