Art Collections Online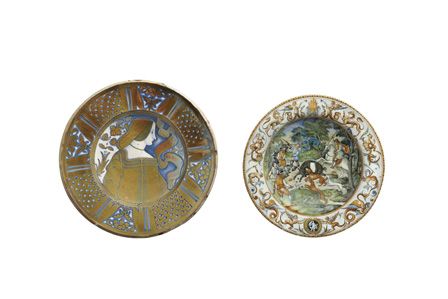 Date: 1510-25
Media: tin-glazed earthenware, maiolica
Size: h(cm) : 8.6 x d(cm) : 40.6 x h(in) : 3 3/8,h(cm) :
Acquired: 1969; Purchase
Accession Number: NMW A 30141
The portrait of a fashionable woman with her hair in a snood is an idealised image of feminine beauty, probably based on workshop drawings and influenced by the style of local artists like Pintoricchio (died 1513) and Perugino (died 1523). This is a typical piatto da pompa (display dish) from Deruta in Umbria, a small but important pottery town which specialised in golden lustre decoration applied to blue-painted pottery. The inscription on the scroll reads in Italian TU SOLA SE CHOLEI CHE POIE AITARME ('you are the only one who can help me'). This despairing statement of love suggests that the dish was a betrothal gift, possibly once matched by a second dish showing the young woman's betrothed. The line may have been taken from a poem such as a sonnet by Petrarch but, if so, its source has not yet been identified.