Art Collections Online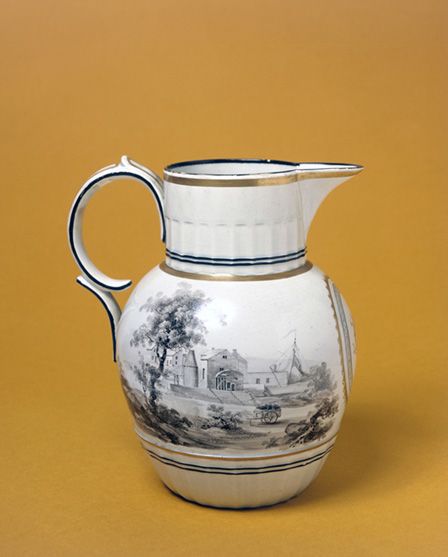 Date: 1800 ca
Media: pearlware
Size: h(cm) : 21.8 x l(cm) : 18 x w(cm) : 14,h(cm) : 21.
Acquired: 1953; Bequest; Ernest Morton Nance
Accession Number: NMW A 30215
On one side of the jug is a finely painted view of the Ferrybridge Pottery, showing Ferrybridge House, a row of workers cottages and the kilns of the pottery itself, established in 1793. In the background are the bridges of the Brotherton Causeway crossing Brotherton marshes. On the reverse is a view of the Old Flint Mill, built in 1792, featuring a barge and a hardcart full of coal. On the front is the monogram 'CS'. Recent research has shown that Ernest Morton Nance, the former owner of jug, was mistaken in his belief that the views were of the Cambrian Pottery in Swansea.