Art Collections Online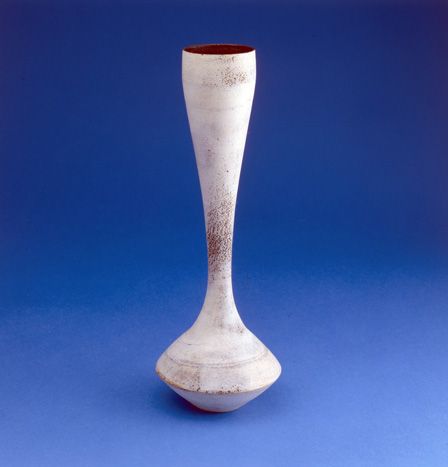 © Crafts Study Centre, University for the Creative Arts
Date: 1973
Media: stoneware
Size: h(cm) : 38.5 x w(cm) : 31.6 x d(cm) : 10.5,h(cm) :
Acquired: 1974; Purchase
Accession Number: NMW A 32080
The hourglass vase is one of Coper's most characteristic forms, one which from the mid 1950s he explored and refined for over twenty years. Like much of his best work, it is a composite form, wheel-thrown in two pieces and joined at the narrowest point. The graceful form combines beautifully with subtle surface effects, achieved by applying and abrading matt black and creamy white slips. Coper never considered his work to be 'sculpture', but the sculptural power of his wheel-thrown ceramic forms made him one of the 20th century's outstanding potters.