Art Collections Online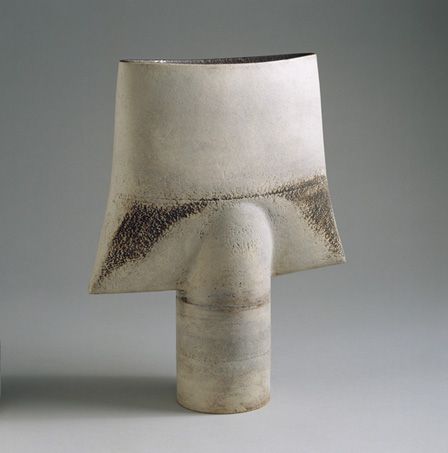 © Crafts Study Centre, University for the Creative Arts
Date: 1973
Media: stoneware
Size: h(cm) : 38.2 x w(cm) : 32.2 x d(cm) : 10.1,h(cm) :
Acquired: 1974; Purchase
Accession Number: NMW A 32082
The abstract, spade-shaped vase, assembled from different wheel-thrown parts, is one of Coper's most powerful composite forms. Coper began to create spade forms in 1966 and would continue to develop the idea for another decade. The deceptive simplicity of the form reveals the influence of Coper's passion for ancient Egyptian, Mycenean and Cycladic sculpture. The form is enhanced by subtle surface effects produced by brushed and abraded matt black and creamy white slips. Coper never considered his work to be 'sculpture', but the sculptural power of his wheel-thrown ceramic forms made him one of the 20th century's outstanding potters.