Art Collections Online
Counterpoint Vase in Twelve Tones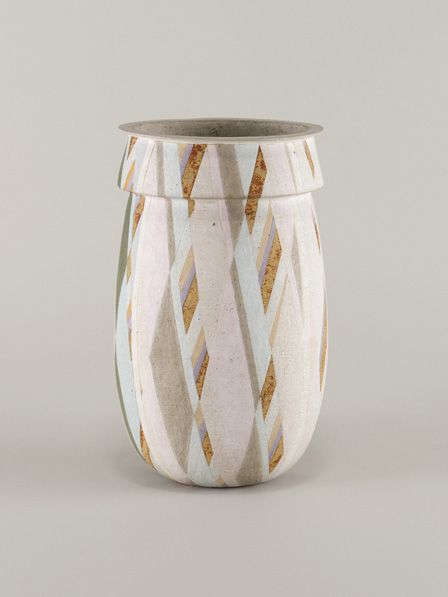 © Elizabeth Fritsch
Date: 1975
Media: stoneware, slip
Size: h(cm) : 25.5 x w(cm) : 14.5 x d(cm) : 12,h(cm) : 2
Acquired: 2011; Purchase; with the assistance of the Art Fund and the Derek Williams Trust.
Accession Number: NMW A 39272
Counterpoint Vase in Twelve Tones is an important early example of the musical inspiration that made Fritsch's work in the early 1970s so distinctive and influential. Music, a passion nurtured at an early age and developed through advanced study of the piano and harp, has been Fritsch's most important and abiding influence. A precise vocabulary of metaphors derived from musical theory underpins her work. In her own words, 'the form of a piece is the equivalent of a melody or theme; the rhythm figures in the painting correspond to tempo and rhythm in music; and colour correlates with harmony and modulation.' Curving grids follow the form of the vessel with mathematical precision and act 'as the equivalent of a time signature in music.' The rhythm figures based on these grids are modified by the vessel's curvature, emphasising its dynamic structure.