Art Collections Online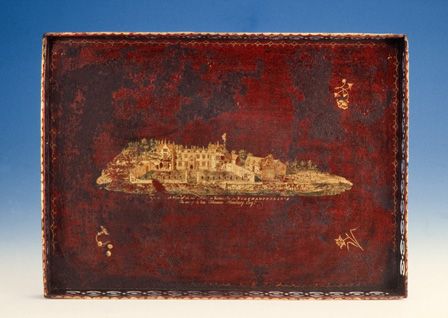 Date: 1732 ca.
Media: iron-plate
Size: h(cm) : 4.1 x l(cm) : 52.5 x w(cm) : 38.3,h(cm) :
Acquired: 1960; Purchase
Accession Number: NMW A 50239
At the centre of this tray is a depiction of the Old Hall at Kelmarsh, painted in gold shaded with brown and green. It is inscribed 'The East View of the Old Hall at Kelmarsh in NORTHAMPTONSHIRE The seat of the late Thomas Hanbury Esq', suggesting that the tray was made for the antiquarian William Hanbury who had the Jacobean Old Hall at Kelmarsh demolished and rebuilt in the fashionable Palladian style to designs by John Gibbs, from 1728-32. The view is closely based on an engraving by J Mynde for John Bridges' History of Northamptonshire, published in 1791 but engraved around 1724. The National Museum's tray has been discovered to be one of a set of three showing different views of the building, the other two of which still survive at Kelmarsh Hall.