Art Collections Online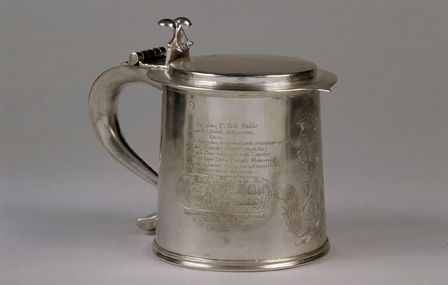 Date: 1675-1676
Media: silver
Size: h(in) : 7.75 x h(cm) : 19.8 x l(in) : 9,h(in) : 7.
Acquired: 1983; Purchase
Accession Number: NMW A 50496
This is one of a number of flagons and tankards given to his friends by Sir Edmund Berry Godfrey (1621-1678). The inscription records how Godfrey, a Westminster magistrate, worked to check the progress of the Great Plague and was rewarded by the King with a large piece of plate. It also describes his knighthood of 1666, given for his services during the Fire of London. Some years later he converted his royal gift into several 'Plague and Fire' tankards. This example was given to Thomas Lamplugh (1618-1691), Archbishop of York.