Art Collections Online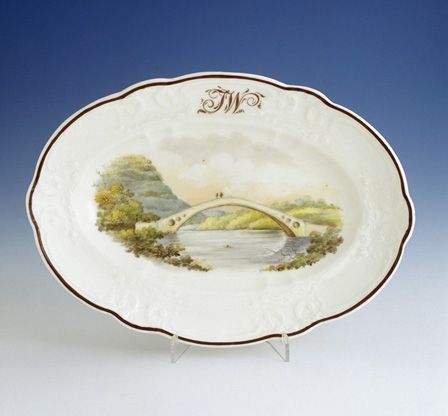 Date: 1818-1823 ca.
Media:
Size: h(cm) : 4.5 x h(in) : 1 3/4 x w(cm) : 30.1,h(cm) :
Acquired: 1893; Purchase
Accession Number: NMW A 31421
This dish is painted with a view of William Edwards's bridge over the River Taff at Pontypridd, with the river in spate. The high arch is about five miles from Nantgarw and the view most likely based on direct observation by Pardoe. It has pierced haunches to reduce its weight and when completed in 1756 was the world's longest single-span bridge. It quickly became one of the sights of South Wales, attracting artists as distinguished as Richard Wilson and J M W Turner. Like the great majority of porcelain decorated at Nantgarw, the dish was doubtless decorated for a local customer. Although the initials appear to read JW rather than TW, there is evidence that they are those of Thomas Williams (Gwilym Morgannwg, 1778-1835), bardic poet and innkeeper of Pontypool who died at Pontypridd.
See Nantgarw Chinaworks Museum for factory details