Art Collections Online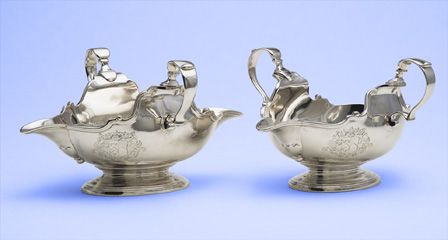 Date: 1731-1732
Media: silver, sterling standard
Size: h(cm) : 11.1 x l(cm) : 20.4 x d(cm) : 18.6,h(cm) :
Acquired: 2006; Gift
Accession Number: NMW A 51572-3
Anne Tanqueray belonged to one of the great Huguenot silversmithing families active in London in the late 17th and early 18th centuries. The double-lipped form of this sauceboat is the earliest used in Britain. A small silver ladle was probably used to serve sauce from the boat.