Art Collections Online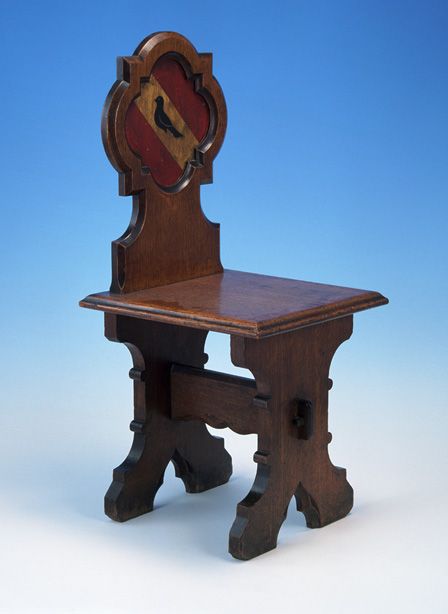 Date: 1835-1840 ca
Media: oak, paint
Size: h(cm) : 95.4 x w(cm) : 40 x d(cm) : 45,h(cm) : 95.
Acquired: 2002; Purchase - ass. of NACF
Accession Number: NMW A 51554
Pugin pioneered the Victorian Gothic Revival style. He believed it was a form of moral honesty to use methods of construction that were appropriate to the material, and that the construction should be clearly visible. In 1850 he used a pair of contrasting sketches to emphasise this point. One sketch showed the tusked tenon joint used in this chair, labelled 'the old joint.' By contrast, he labelled a sketch of a glue pot 'the modern joint.' The chair is painted with Pugin's crest. It is one of a set of four that Pugin designed for use at his own home, The Grange in Ramsgate.