John Constable Salisbury Cathedral from the Meadows 1831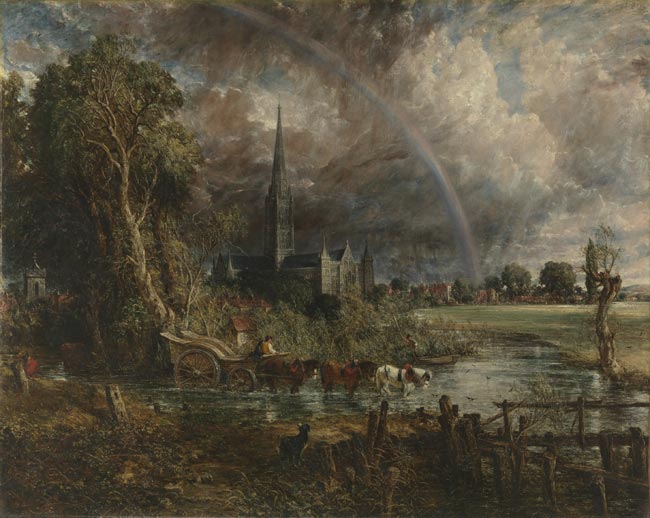 When this painting was exhibited at the Royal Academy, Constable quoted nine lines from The Four Seasons: Summer (1727) by Scottish poet James Thompson to expand on its meaning.
As from the face of heaven the scatter'd clouds
Tumultous rove, th'interminable sky
Sublimer swells, and o'er the world expands
A purer azure. Through the lightened air
A higher lustre and a clearer calm
Diffusive tremble; while, as if in sign
Of danger past, a glittering robe of joy,
Set off abundant by the yellow ray,
Invests the fields, and nature smiles reviv'd
James Thompson,
The Seasons: Summer
(1727)
The poem tells the mythical tale of young lovers Celadon and Amelia. As they walk through the woods in a thunderstorm, the tragic Amelia is struck by lightning, and dies in her lover's arms. The poem has a religious message: it is an exploration of God's power, and man's inability to control his own fate. It is also a poem of hope and redemption. The rainbow appears as a 'sign of danger past'.
The story of Celadon and Amelia has clear resonances with Constable's own tragic loss. His wife Maria died of tuberculosis in 1828, after just twelve years of marriage. It is likely that the poem had special significance for the young couple. When Maria was unsure whether or not she should marry Constable, he quoted lines from the poem to her, to allay her fears.