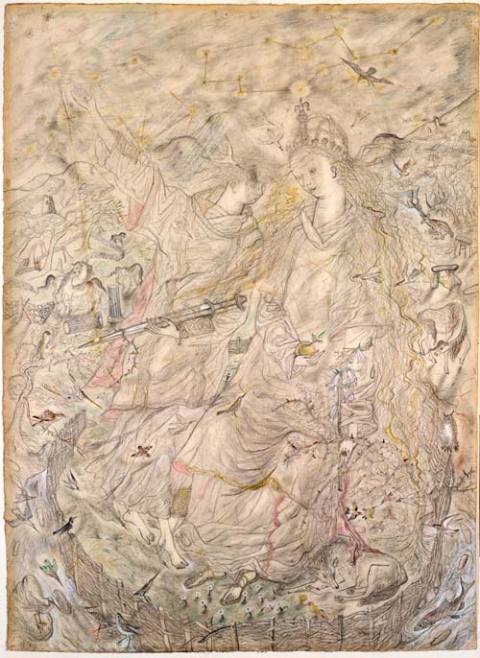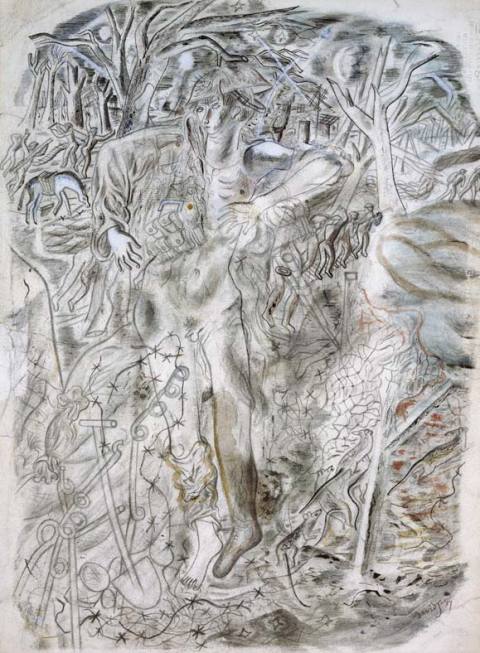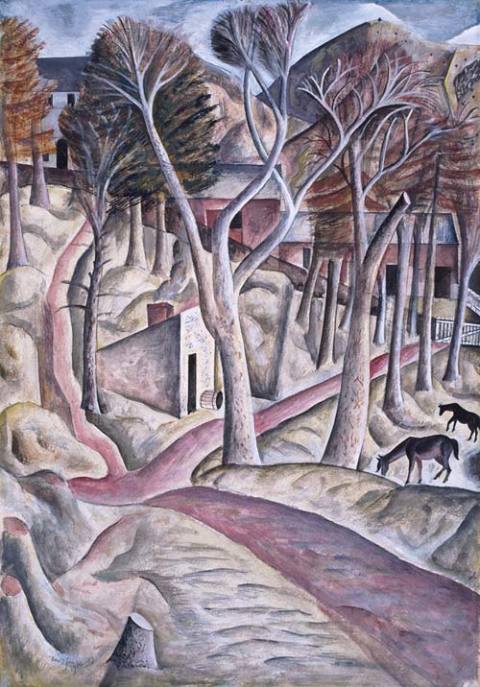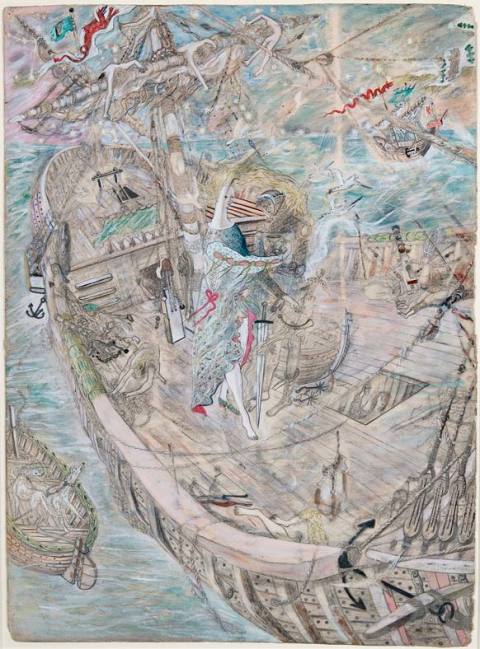 David Jones was more profoundly influenced throughout his life by the landscape, language and myths of Wales than any of his contemporaries. An extraordinary and multi-talented man, he occupies a unique place in twentieth-century British art, and is often called the greatest painter-poet since William Blake.
It may seem a paradox that David Jones was born a Londoner, visited Wales regularly for just four years between 1924 and 1928, and never made his home here. But then until the 1950s almost all Welsh artists were obliged to make their careers largely outside Wales.
Senior Curator, Beth McIntyre explores the visual world of David Jones for Welsh National Opera
Jones's father came from Holywell in Flintshire, and passed on a deep sense of his Welsh identity to his son, who was to devote a lifetime to the study of a Welsh culture that he felt was lost to him. When the First World War broke out in 1914, he was determined to join a Welsh regiment. He was wounded on the Somme in that Welsh epic, the battle of Mametz Wood. After three years at Westminster School of Art he joined a community of Catholic craftsmen at Ditchling in Sussex. One of its leaders was the sculptor, typographer and engraver Eric Gill, who was to have a pronounced influence on how he thought about art. He became engaged to Gill's daughter Petra for a while, and went with him when he moved his family from Ditchling to Capel-y-ffin in the Black Mountains. There Jones found himself as a painter, primarily in watercolour. He developed a personal and modernist vision of the Breconshire landscape that has its roots in the art of Cézanne and Van Gogh. During these years (1924-1928) Jones also spent time with his parents in the London suburb of Brockley, and at the Benedictine monastery on Caldy Island.
In 1927 he was commissioned to make a set of copper engravings to illustrate Coleridge's Rime of the Ancient Mariner, and the following year he was elected a member of the modernist exhibiting group the 7 & 5 Society. Late in 1932, when he had nearly completed his intricate, poetic narrative of his experience of the First World War, In Parenthesis, he had a nervous breakdown, and found it increasingly difficult to paint. He also turned his back on the modernist art world as it moved closer to abstraction, and spent most of the 1930s holed up in a small hotel in Sidmouth.
In Parenthesis was published in 1937, and is now regarded as one of the great achievements of British literary modernism, alongside the works of James Joyce, T. S. Eliot and D. H. Lawrence. More poetry followed, and he was also painting more during the Second World War. His work comprising large watercolours - delicate, highly detailed, scholarly, and representational - which often took months to complete. In 1945 he began to work on lettering and to paint inscriptions, drawing on passages from literary works in a mix of Latin, Welsh and Old English. He had another breakdown after the Second World War, and from 1948 he lived in a single room in boarding houses in Harrow.
His inspirations, in both painting and in poetry, were his Catholicism, and especially the central mystery of the Mass, and the 'matter of Britain' the Arthurian Legends and the history of post-Roman Britain.
His late paintings are uniquely personal, being richly worked and full of allusions to theology, history and legend. His meditation The Anathemata, one of the great long poems of the twentieth century, was published in 1951.
Two of his last great paintings encapsulate his post-war achievement, Y Cyfarchiad i Fair or The Greeting to Mary and Trystan ac Essylt, both dating from 1963. The first shows the angel Gabriel appearing to the Virgin, who is seated in a garden within a landscape based on that around Capel-y-ffin. The second, over which he laboured for three years, depicts the central drama of the legend of Trystan and Essylt, when King Mark's knight and his master's bride drink a fatal love potion on their voyage from Ireland to Cornwall, and is full of richly complex iconographical detail.
Why then was this strange, shy, lonely man one of the greatest and most influential Welsh artists of the twentieth century? It is, I believe, because he identified so passionately with the idea of Wales, and of the importance of its language and culture to the shared experience of Britain over the last two thousand years. Jones was part of Wales's growing political and cultural consciousness during the 1950s and 1960s (a friend and correspondent was Saunders Lewis, a co-founder of Plaid Cymru). His work was seen here, for example in a major touring exhibition organised by the Welsh Arts Council in 1954, and he was awarded a gold medal by the National Eisteddfod in 1964. He shows us how an artist can develop a Welsh voice far beyond mere representation of place.