Welsh Folk Dancing - Almost lost without trace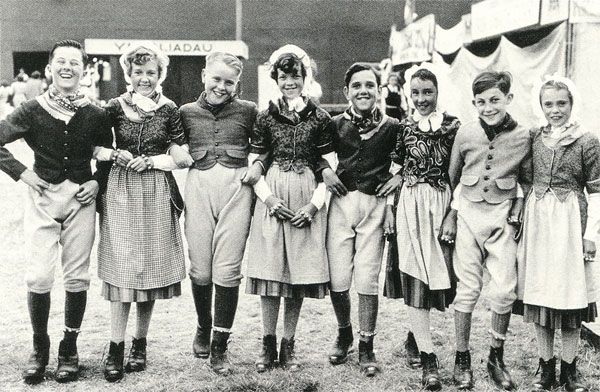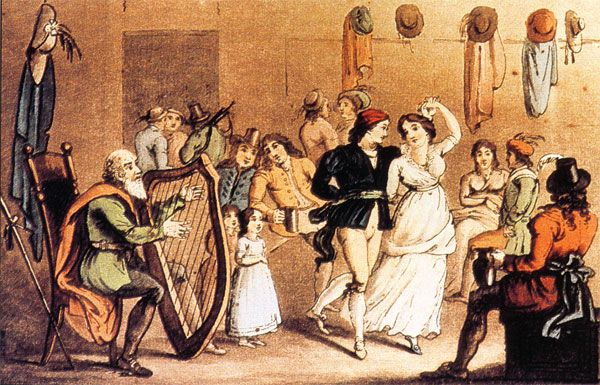 The tradition of Welsh folk dancing was almost wiped out a hundred years ago following years of disapproval by the Nonconformist faith. Today it enjoys a popular following once again, with over 20 groups nationwide and many youngsters enthusiastically taking up what nearly became a forgotten art.
Folk Dancing in Wales
Once, folk dancing was common throughout Wales. 'Common folk' gathered for open-air events and festivals, whilst the upper classes danced at balls and parties. Country dancing, performed outdoors during the warm summer months, was one of the highlights of seasonal festivities, providing a rare opportunity to escape daily routines and join in communal celebration.
Increasing influence by Nonconformists in the 19th century caused attitudes towards traditional folk customs, including dance, to alter. Although not entirely responsible for the decline of Welsh folk dancing it certainly played a major role. Othere factors were the decline of rural life during the Industrial Revolution and the advent of railway travel offering exciting new leisure activities further afield.
The Nonconformists
Emerging in Wales during the 1730s, Nonconformity gradually persuaded its followers to lead a more religious way of life, committed to the Christian message. Activities such as dancing, particularly mixed dancing involving close contact, were considered frivolous and corrupt and were condemned by nonconformist ministers. Small wonder, therefore, that dancing topped a list of twelve sins compiled by Rhys Prydderch in Gemmeu Doethineb [Gems of Wisdom] (1714), ahead of other 'depravities' including marrying children.
As a result of almost 200 years of constant Nonconformist disapproval, by the 20th century folk dancing had almost vanished in Wales. Gone were the traditional fairs and festivals, and in a changing society focused on industrial expansion the rural traditions of Wales and England were slowly being lost.
Folk Dancing almost gone for good
Realising that folk dances were about to disappear without trace, Cecil Sharp (founder of the English Folk Dance Society in 1911), urgently began writing down the movements of dances still remembered and passed from one generation to another.
In Wales, Lois Blake, an Englishwoman who moved to Denbighshire in the 1930s did the same, and almost single-handedly rescued the remaining fragments of a once common Welsh tradition. Many instructive pamphlets were produced containing dance steps and music, allowing long-forgotten dances, such as Lord of Caernarvon's Jig of 1652, the Llangadfan set of 1790 and the Llanover Reel, popular at Llanover Court until the late 19th century, to be at last unearthed and reprinted.
Folk Dancing Revival
Soon a new enthusiasm, strengthened by the introduction of folk dance onto the National Eisteddfod stage, and the local Twmpaths (barn dances) of the 1960s and 70s, secured a firm foundation for the future of Welsh folk dancing.
Since the Welsh Folk Dancing Society was established in 1949, folk dancing has enjoyed tremendous success both at home and abroad. Regular workshops, lectures and courses arranged by the society are always well attended, while dance events at the Eisteddfod continue to attract large audiences. Considering its unsettled past, Welsh folk dancing now seems to have a strong and promising future.