Do you remember Doctor Carrot and Potato Pete?
The Food Rationing Scheme of 1940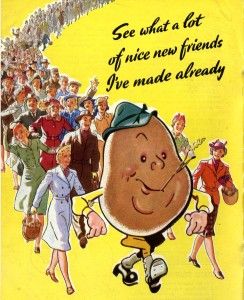 At the beginning of the Second World War, Britain imported 60% of its food. With the shortage of food during the First World War still fresh in the memory, the government introduced the food rationing scheme in January 1940.
Ration books were distributed and every home had to register with a local butcher, grocer and milkman who received enough food for their registered customers. The first foods to be rationed were butter, sugar, bacon and ham. Over a period of time, more food was added to the system, and the rationed amount varied from month to month due to availability of different foods.
From December 1941, all quality foods were included in the 'points' system. Every person had 16 points per month to buy a selection of foods such as biscuits, tinned foods and dried fruit - if available in the shops. This was an effective system as it enabled the government to allocate a higher point value to items when stocks were low and to lower the number of points when items were freely available. Naturally, children were treated differently and they received additional foods essential for their growth and development such as milk, orange juice and cod liver oil.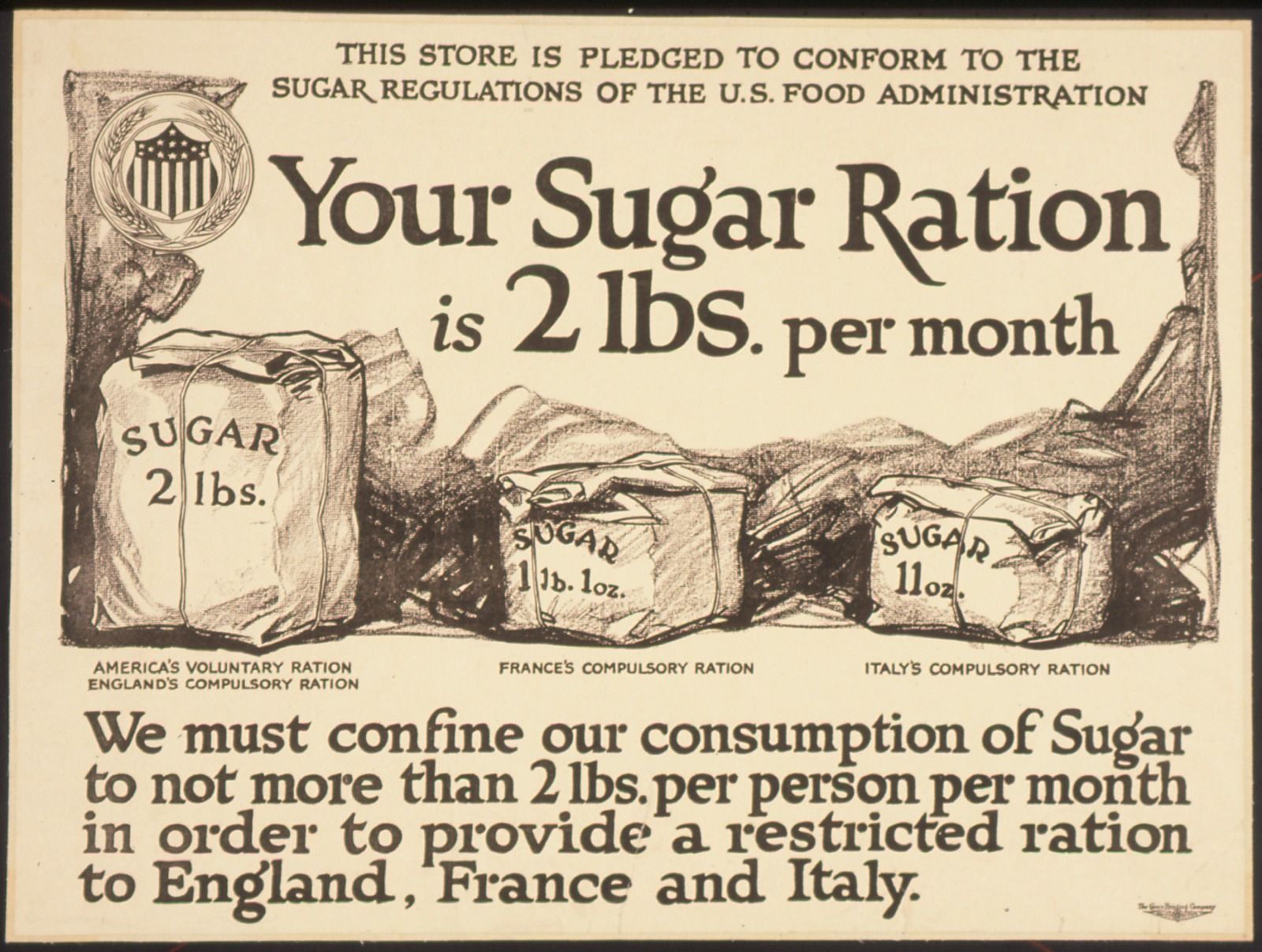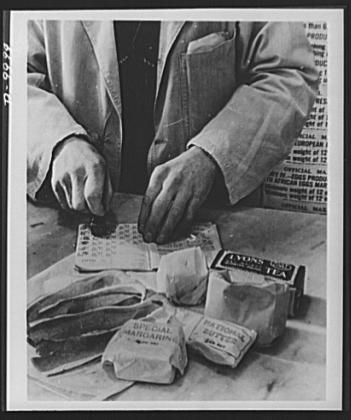 Vegetable Gardens
Ensuring that the family's rations lasted until the end of the week was a big problem so the 'Dig for Victory' campaign was launched in October 1939, encouraging families to prepare their own food. Everyone was encouraged to turn their flower beds and lawns into vegetable gardens. People were urged to keep chickens, rabbits, goats and pigs – a particularly popular animal as it ate any leftovers from the kitchen.
Considerable time and was spent on propaganda promoting ingenuity and economical savings when preparing food. Home economists were employed to travel around Britain sharing tips on how to cook with the scarce resources available. The Ministry of Food started publishing Food Facts pamphlets in 1940, and magazines, newspapers and daily radio programmes such as The Kitchen Front and the Radio Doctor were full of ideas and recipes to enable families to make the most of the weekly rations.
Potato Pete and Doctor Carrot – two characters created to promote vegetable eating appeared in most recipes. The public were encouraged to experiment with new and unusual foods. One fish which proved very unpopular was the modern favourite, tuna, while whale meat was even less popular.
Vitamins
Food shortages worsened at the end of the war, when dry weather and poor harvest of 1945 affected the availability of both potatoes and bread, which were rationed for the first time. By 1948, the food allowance on average was much lower than during the war. Restrictions on tea were lifted in 1952 – a huge relief for a nation of tea drinkers. Eggs, cream, sugar and sweets were removed from the system in 1953 and butter, cheese and cooking oil in 1954. Fourteen years of rationing ended on 4 July 1954 when restrictions were lifted on meat and bacon.
Rationing forced families to change their eating patterns. Rationing enabled the poorest sections of society to eat more protein and vitamins, which led to a substantial upturn in the health of the nation, The general health of children improved, and on average they were taller and heavier than pre-war children. There was a decrease in the number of infant deaths and an increase in the average life span.