The ration years of the Second World War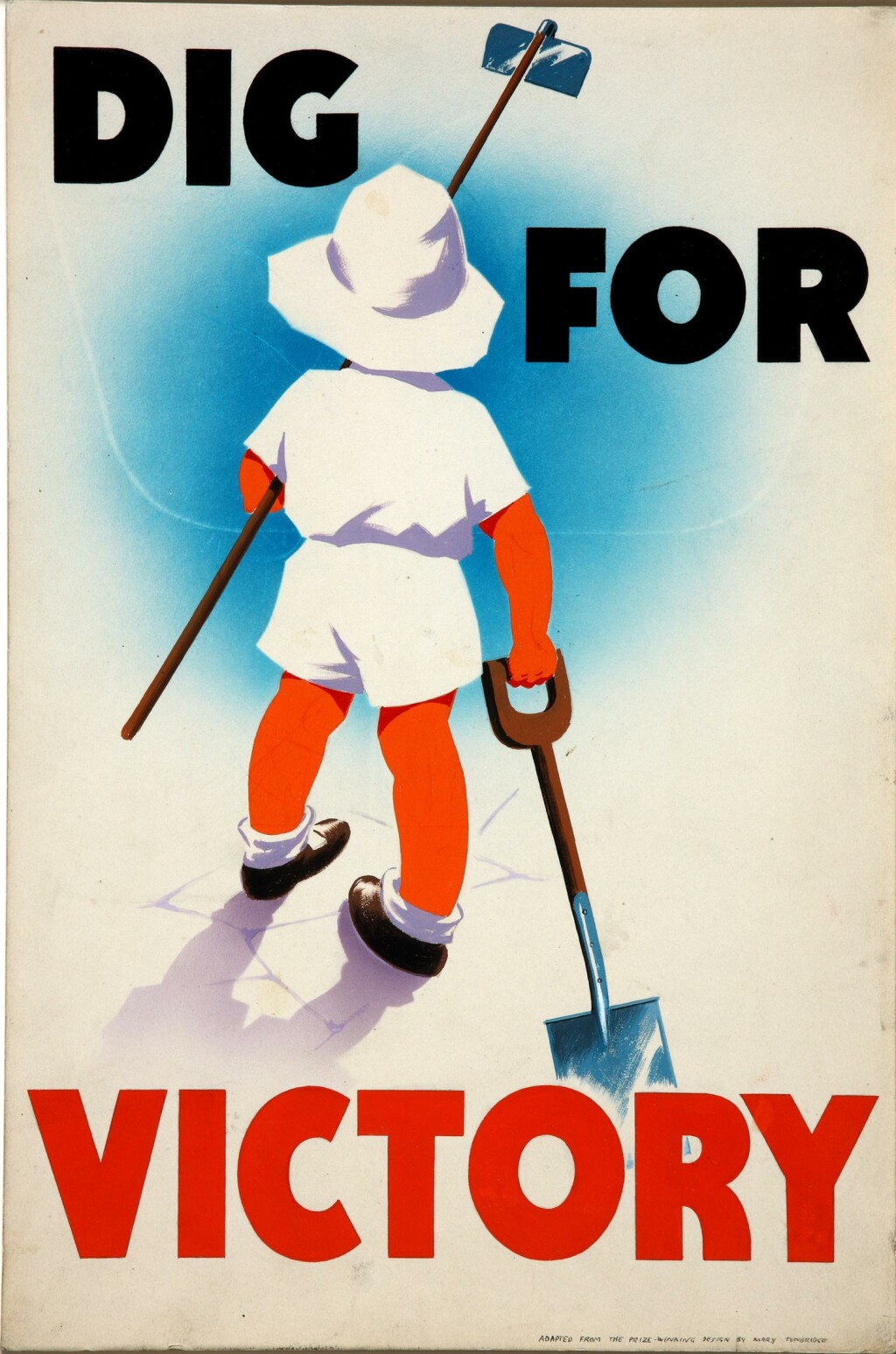 Marguerite Patten
Marguerite Patten OBE has been teaching Britain how to cook since the 1930s. During the Second World War, as a leading Home Economist for the Ministry of Food's Food Advice Division, Marguerite and her colleagues worked tirelessly to make people aware of the importance of keeping their families well fed on the rations available.
The diet, imposed by necessity, was low in fats and sugars and high in fibre and vegetables with Potato Pete and Lord Carrot leading the way in this surprisingly healthy new lifestyle. The Food Advice Division travelled all over Britain and set up demonstrations in markets, shops, factories, canteens and welfare clinics to buoy the nation into getting through the war on the Home Front with the same spirit as the Forces in action. A contributor to the Kitchen Front, broadcast daily by the BBC, Marguerite was able to pass on her favourite recipes to the nation, and these recipes more often or not contained potatoes.
When war broke out in 1939, farmers were told to increase potato production by ploughing up grasslands and the quantity of potatoes produced increased significantly as the war continued. As a result of this careful planning and planting, rationing potatoes was not necessary during the war.
Potato Pete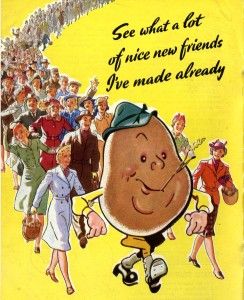 Marguerite and her colleagues at the Ministry of Food Advice Bureau urged the nation to eat potatoes twice a day. Not only are the humble spuds a fantastic source of energy in the form of carbohydrate, but they are also rich in Vitamin C. To encourage consumption, a cartoon character called Potato Pete was invented with his very own song, cookbook and leaflets. Cake and pastry mixes could be bulked out with potatoes to save fat. Marguerite recalls 'Home-grown vegetables were a very important part of our diet. We were encouraged to eat plenty of potatoes in place of bread, which used imported wheat, and for the valuable vitamins they contain. Carrots, parsnips and swedes were also used in a variety of recipes and green vegetables were very important and great emphasis was placed on cooking them correctly'. Cooks were advised to always scrub potatoes, not peel them, as up to a quarter of the potato and essential vitamins could be lost in this way.
Scalloped potatoes, champ, potato fingers and potato Jane were all popular war time recipes, promoted widely by the Ministry of Food's Advice Bureau. Although the food was monotonous with meagre rations of meat, eggs and butter (and the total absence of many foods that we know take for granted), the health of the nation was surprisingly good despite the physical and emotional stresses that so many endured. Infant mortality declined and the average age of death by natural causes increased. For many poorer members of the community, this enforced rationing introduced more protein and vitamins to their daily diet, whilst for others a significant reduction in the consumption of meat, fats and sugar was a major benefit to their health.
Dig for Victory
Home gardeners added to potato production in a response to the 'Dig for Victory' campaign. However, the Ministry of Agriculture urged home growers not to grow too many potatoes at the expense of other vegetables, and to stick to the official cropping plan. Varieties such as Arran Pilot, Duke of York and King Edward were recommended and are still as popular today. Austerity gardening, as it became known, is demonstrated to perfection at St Fagans National Museum of History's B2 prefab garden with vegetables, fruits and herbs all grown using the techniques and cropping plans recommended by the Ministry of Agriculture during the 1940s.