Discovering T. Leigh: in search of a forgotten painter
Researchers in Amgueddfa Cymru in collaboration with Concordia University, Montreal have uncovered new information about the life and work of the elusive 17th-century portrait painter, Thomas Leigh. It is now thought that there were two painters named Thomas Leigh – a father and son – but hopefully more paintings can be discovered helping to shed light on the life of these elusive family painters!
T. Leigh: the enigma
Researching the work of a little-known 17th-century painter can be a difficult task. In some cases all we have left of a painter's life is the work left behind. Such was the case with Thomas Leigh.
In 1941, the art historian Maurice Brockwell sent out a plea for information on the 'obscure' painter T. Leigh. 'It is strange that we still know nothing about his origin, place and date of birth.. marriage, and death,' he wrote.1
At the time Leigh was known by signature alone, which appeared on six portraits including that of Robert Davies of Gwysaney. Even his first name was in doubt.
Since then research has uncovered several additional portraits by Leigh, bringing the total up to thirteen; and new evidence has emerged which gives us a tantalising glimpse into his life.
List of portraits by Thomas Leigh
Robert Davies of Gwysaney, 1643 (Amgueddfa Cymru, fig.1)
Anne Davies of Gwysaney, 1643 (Amgueddfa Cymru, fig.2)
Eleanor Mutton (later Eyton), 1643 (location unknown)
Robert Davies of Gwysaney, 1643 (private collection)
Anne Davies of Gwysaney, 1643 (private collection)
Eleanor Mutton, 1643 (private collection)
Margaret Lloyd of Esclus, 1643 (private collection)
Robert Ashley, c.1656 (Middle Temple Library, London)
Aston Cokayne, c.1635-40 (location unknown)
Unknown Lady called Countess of Derby, 1634 (location unknown)
Thomas Heyton, 1634 (National Trust, Trerice)
Isabel Heyton, 1634 (National Trust, Trerice)
David, 1st Earl Barrymore (location unknown)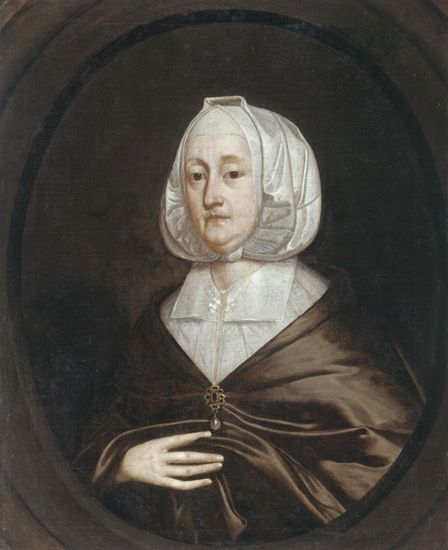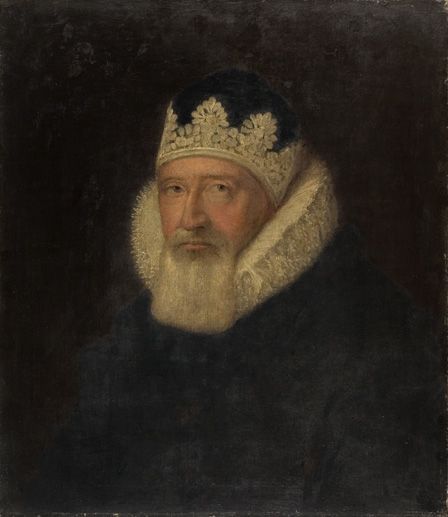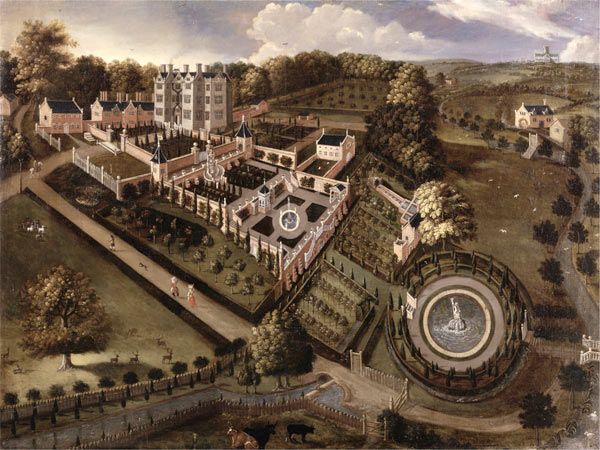 In search of a forgotten painter
The process of rediscovering a 'lost' identity involves much trawling through original documents and inventories in local archives. Such searches can yield surprising results.
The earliest found reference tells us Leigh was in London in 1613/14, where he was twice called to court: firstly for setting a prisoner loose and secondly for getting into a dispute with a boatman! 2 Records indicate he then left London for Chester, where he began to work for established local painters, including John Souch.
A document found in the Cheshire archives produced an unexpected twist. There it is recorded that in 1642 the painter Edward Bellen took on two new journeymen: Thomas Leigh and his son.3 This new piece of evidence suggests that there were in fact two painters called 'T. Leigh', father and son, and that they worked together at one point.
A Cheshire man?
Evidence suggests that the Leighs not only worked in Cheshire, but most likely came from there too. We may never be able to firmly establish their identities however, as almost twenty Thomas Leighs are recorded as living there in the 17th century — and there may have been more!
A large circle of painters were active in 17th-century Chester. Most painted houses, coats of arms and heralds, but the more ambitious tried their hand at portraiture, to meet a growing demand among the gentry for portraits to hang in their country houses.
Many portrait painters active in Britain during this period were foreign-born. They brought with them new styles and advanced painting techniques which influenced British painters. Leigh appears to have been influenced by the quiet naturalism of Cornelius Johnson, who was born to Dutch parents. Some believe he may even have trained under him.4
The Davies family portraits
Amgueddfa Cymru owns two portraits by Thomas Leigh — those of Robert Davies of Gwysaney, and his wife Anne (figs.1-2). Both were painted in 1643 to hang at Llannerch Hall, the home of Anne's parents, Sir Peter Mutton and his wife (figs.3-5). Leigh also painted Anne's sister Eleanor, but the current location of her portrait is unknown.
It was common practice for painters to produce copies of portraits for different members of a family, and Thomas Leigh painted identical versions of these to hang at Gwysaney, the Davies family estate.
We do not know why the Davies family commissioned this group of portraits at this point in time, but it may indicate a sense of family pride and achievement. Just a decade earlier Robert had married Anne - who was just 12 years old at the time - uniting the estates of Gwysaney and Llannerch.
Can you help?
Few painters in the early 17th century signed their work, but two different signatures have been left behind by the Leighs. It is tempting to speculate that one is the signature of the elder Leigh, and the other of his son, but this is difficult to prove.
There are doubtless other portraits by Thomas Leigh waiting to be discovered. Have you seen his signature on a portrait other than those listed? It may provide the missing link which could shed more light on the life of these elusive family painters!


Further Reading
Stephanie Roberts and Robert Tittler, 'Discovering 'T.Leigh': Tracking the elusive portrait painter through Stuart England and Wales', British Art Journal X1:2 (2010/11), pp.24-30
Notes
Maurice Brockwell, 'T.Leigh, Portrait-Painter, 1643', Notes & Queries no.181 (August, 1941), p.119
'Sessions, 1613: 28 and 30 June' and 'Sessions, 1614: 5 and 6 May', County of Middlesex. Calendar to the sessions records: new series, vol.1: 1612-14 (1935), pp. 117-154 and 400-452;
Chester Archive MS G17/2, Minutes of the Company of Painters, Glaziers, Embroiderers and Stationers of Chester 1620-1836, unpagenated vide 1642
J. D. Milner, 'Two English Portrait Painters', Burlington Magazine 29:165 (Dec. 1916), p.374
External links