The Derek Williams Trust Collection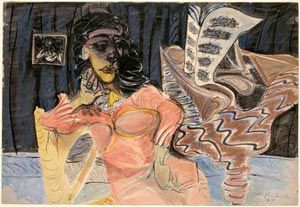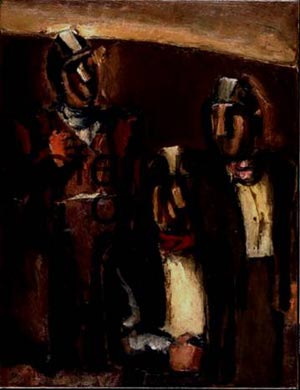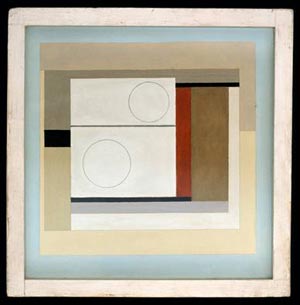 Derek Mathias Tudor Williams F.R.I.C.S. (1929-1984) has been the greatest benefactor to Amgueddfa Cymru – National Museum Wales since Gwendoline and Margaret Davies.
Derek Williams was a modest and private man, based in Cardiff and Pontypridd as a chartered surveyor, who enjoyed many pursuits, including golf, opera, photography, but most of all collecting contemporary art. He gained immense satisfaction from building his collection and displaying it within his numerous residences.
The collection contains a large number of works by the British neo-romantics, including Ceri Richards, John Piper, David Jones and Keith Vaughan. This element is supported by the work of other artists of this period such as Lucian Freud, Josef Herman, Ivon Hitchens, Graham Sutherland, Ben Nicholson and Henry Moore.
In 1984 Derek Williams died, requesting in his Will that his collection and the residue of his estate be held in trust, allowing his trustees to undertake the care and public display of the works of art, in addition to contributing to the enhancement of the collection. The Derek Williams Trust was formed by his executors in 1992, which in the following year made a formal agreement with the Museum to work together in order to fulfil the wishes of Derek Williams.
The Trust's collection has since been on long-term loan to the Museum and there have been over fifty works added and more continue to be acquired every year. A number of pictures by leading painters of the 1970s, '80s and '90s, including Michael Craig-Martin, Craigie Aitchison, Sean Scully and Howard Hodgkin form a strong component of the new additions.
The original Derek Williams collection continues to be strengthened and consolidated by the purchase of major works by artists of the mid-twentieth century, among them Ceri Richards, Henry Moore, John Minton and Edward Burra. Interest in contemporary international art has been expressed through the regular purchase of works by artists featured in Artes Mundi.
Applied arts are not overlooked by the Derek Williams Trust as they possess an active interest in this area and have acquired eleven works of applied art over the last sixteen years, in addition to assisting the Museum with a number of acquisitions, particularly in the field of ceramics.
The Trust also has an interest in work by contemporary Welsh and Wales-based artists, which includes the purchase of work by Eisteddfod Gold Medal-winners.
The great generosity and support of The Derek Williams Trust made possible many acquisitions of post-1900 art for the Museum's own modern art collection, such as David Hockney, Stanley Spencer and Pablo Picasso.