When tea-drinking was a fashionable, expensive habit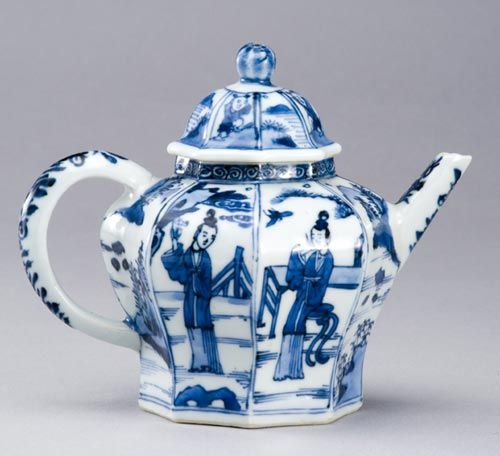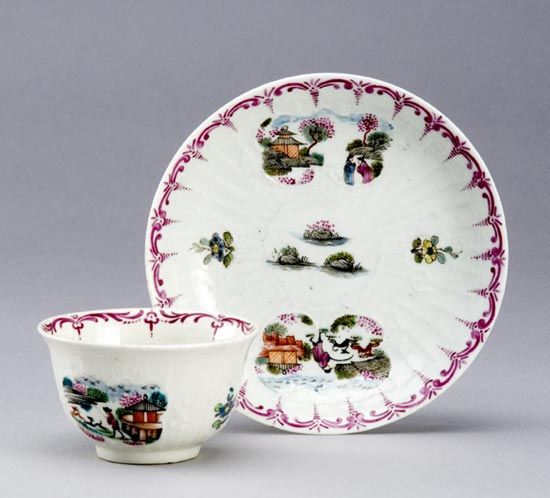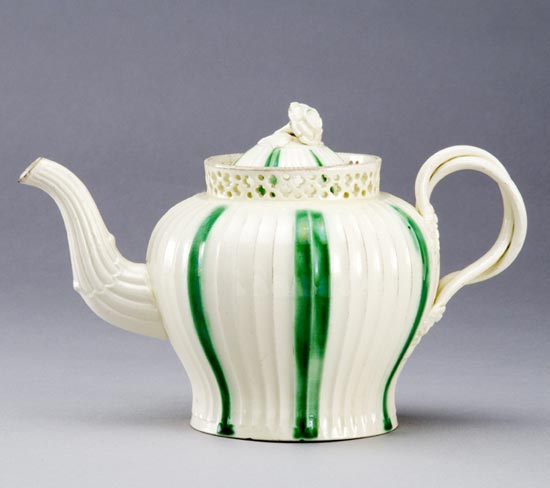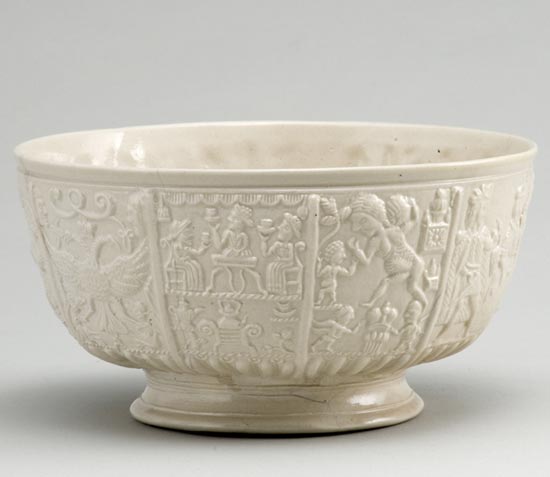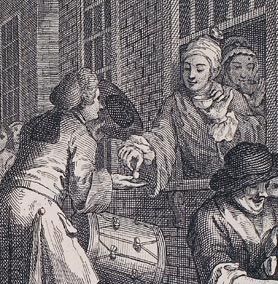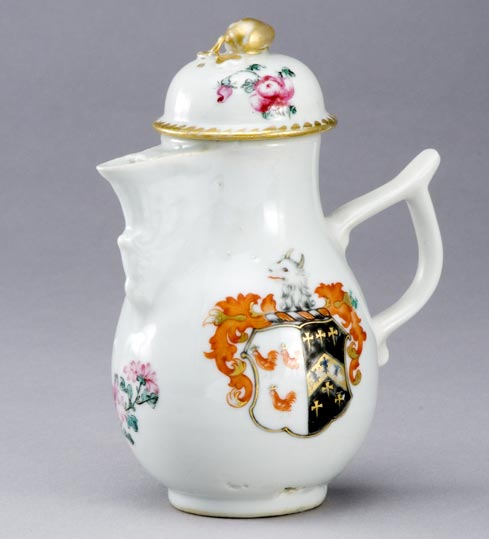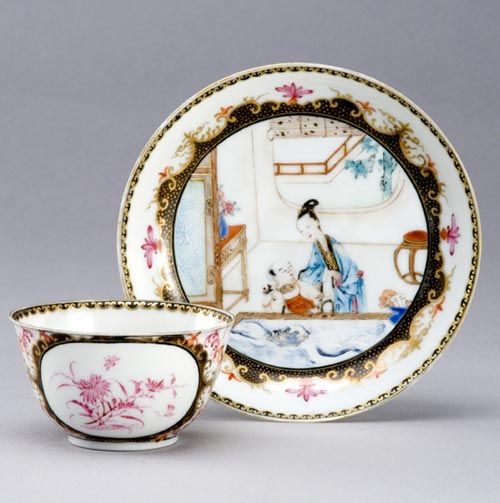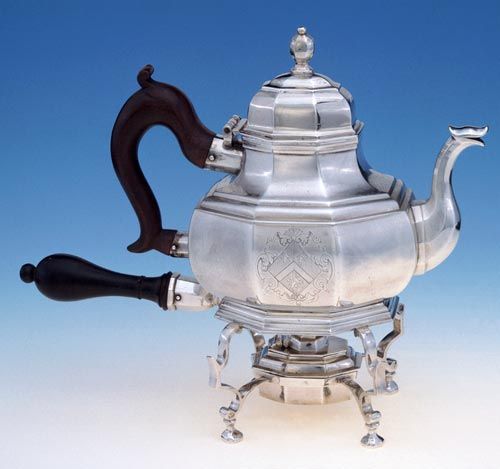 In the eighteenth century tea-drinking was a highly fashionable activity for the wealthy upper classes.
Tea was first imported into Britain from China in the mid-seventeenth century by the East India Company. At first it was considered as something of a novelty and was promoted for its health-giving properties.
Green tea
The most common tea was bohea, a type of black tea, but green tea was also popular. At first it was drunk weak and without milk, after the Chinese tradition. Later, milk or cream and sugar were added.
Teapots and (locked) teachests
Only the wealthy could afford tea. It was kept in locked teachests that were controlled by the lady of the house. Domestic servants received a tea allowance as part of their wages.
The eighteenth century saw an explosion in tea-related consumer goods, and there are many fine examples in the applied art collection at Amgueddfa Cymru. At first these were made from very expensive materials, particularly imported Chinese porcelain and silver (figs 1 & 2). Later, the production of cheaper ceramics and silver plate allowed the middle classes to follow the fashions of the very wealthy (fig. 3).
Drinking tea became more commonplace in the late eighteenth century. The abolition of import duties in 1784 meant it became recognized as an important part of the diet for the poor.
Taking afternoon tea
Entertaining friends by hosting afternoon tea was an important part of women's lives. The selection of objects for the tea table was crucial. Visiting England in 1784, the Duc de Rochefoucauld commented that tea drinking provided "the rich with an opportunity to display their magnificence in the matter of tea-pots, cups and so on" (cited in Clifford 1999: 161).
Guests were expected to conform to certain modes of behaviour and good manners, which included sticking to polite topics of conversation such as the arts, theatre and music.
Tea bowls
For most of the eighteenth century tea was drunk in the Chinese style, from a bowl without a handle. These were also known as "tea dishes" or "basons". A wonderful slop bowl, which was used at the table for rinsing dregs from used tea bowls, depicts three women enjoying tea together (fig. 4). The bowls are usually shown being held with the fingers at the rim and thumb under the base (fig. 5).
Chinese exports
Chinese porcelain teapots and bowls were exported along with the tea. They were prized for their translucency and white surface and were collected fanatically.
Chinese porcelain manufacturers began to make tea-related objects purely for the European market, such as teapot stands, milk jugs, sugar basins, spoon trays and slop bowls (figure 6). Once they had uncovered the secrets of producing porcelain, Chinese teawares were widely reproduced by Continental and English factories (fig. 7).
Kettles and urns
Teapots were filled by hot-water kettles on grand stands or smaller table-top versions, with burners to keep the water hot (fig. 8). The kettles were eventually replaced in about the 1760s by tea urns heated by charcoal burners and, from the 1770s, with heated iron bars that slotted into a "sleeve" inside the urn (fig. 9). These "tea kitchens" or "tea fountains" allowed people to help themselves at less formal gatherings such as breakfast. The most elaborate examples also had additional urns for coffee and hot water.
Moral and physical decline
Eighteenth-century attitudes towards tea-drinking were quite mixed and contradictory. The obsessive collection of teawares was criticised by social commentators, with women being the most frequent target. Furthermore, afternoon tea was often claimed to be no more than an opportunity for women to spread malicious gossip or boast about themselves. A satirical poem, The Tea-Table, by 'Moses Oldfashion' was published in Mist's Weekly Journal in 1722:
"...Chief Seat of Slander! Ever there we see
Thick scandal circulate with right Bohea.
There, source of black'ning Falshoods! Mint of Lies!
Each Dame th'Improvements of her Talent tries,
And at each Sip a Lady's Honour dies".
Although at first tea was thought to have many health benefits, some commentators began to fear its popularity could cause physical decline. In 1753 Mr Andree described the dangers of "intemperate", excessive tea drinking, describing it as "pernicious", worsening epilepsy and causing hysteric fits. He also tells of a young girl who had been eating tea for a number of weeks, causing her to suffer facial palsy and convulsions (fig. 10).
Thankfully, these objections did not diminish the British public's desire for tea and it has remained an important part of daily life. Although tea-drinking today is generally a far less formal affair than during the eighteenth century, it continues to be enjoyed and shared by millions of people everyday.
References
Andree, John. Cases of the epilepsy, Hysteric Fits, and St. Vitus's Dance, with the process of cure: interspersed with practical observations. To which are added, cases of the bite of a mad dog, and a method that has been found successful. The second edition, with emendations and additions in the introduction, and some new cases and Inspections of Dead Bodies (1753). London: printed for W. Meadows and J. Clarke, in Cornhill. Eighteenth Century Collections Online. Web. 12 Jan 2010. http://galenet.galegroup.com/servlet/ECCO
Clifford, Helen. 'A commerce with things: the value of precious metalwork in early modern England', in M. Berg and H. Clifford (eds.) (1999) Consumers and Luxury: Consumer Culture in Europe 1650-1850, pp. 147-169. Manchester: Manchester University Press.
Oldfashion, Moses. 'The Tea-Table', in (author unknown) A collection of miscellany letters, selected out of Mist's Weekly Journal (1722): 224-227. London: printed by N. Mist, in Great Carter-Lane. Eighteenth Century Collections Online. Web. 12 Jan 2010. http://galenet.galegroup.com/servlet/ECCO
Article author: Rachel Conroy. Assistant Curator - Applied Art