Museum records largest earthquake in UK for 25 years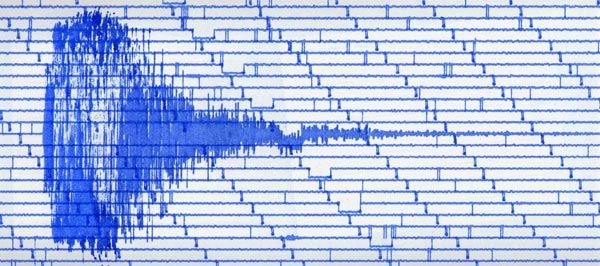 The seismograph at National Museum Cardiff has recorded the largest onshore seismic event in the UK since 1990.
The earthquake was recorded by the Museum's seismograph at 00:57.14 GMT 27 February. This has been identified as the Magnitude 5.2 earthquake detected by the British Geological Survey. The epicentre was initially reported as located just north of Market Rasen, Lincolnshire, at 00:56.47 GMT.
The earthquake waves took just 27 seconds to travel the 158 miles between Market Rasen and the Museum's seismometer near Newport, south Wales. This means that the earthquake's waves were travelling at approximately 5.85 miles per second.
This is the largest onshore event in the UK since the Magnitude 5.1 earthquake at Bishops Castle in the Welsh Borderland on 2 April 1990.
The Market Rasen event was felt by people as far afield as Newcastle, Yorkshire, London, Cumbria, the Midlands, Norfolk and parts of Wales. Damage to roofs, walls and chimneys around the epicentre area were reported and one person was injured in Wombwell near Barnsley, South Yorkshire as a result of falling masonry.
Aftershock
Earthquakes of this size are typically followed by smaller earthquakes or 'aftershocks'. A magnitude 1.8 earthquake was recorded in the region just a few hours after the main event.
A detailed investigation is required to establish the geological structure responsible for the main earthquake. The Geological Survey has already calculated that the quake occurred at a depth of around 18km. This suggests it most likely occurred along an ancient fault in Precambrian rocks, such as those that underlie much of Wales.
The exact fault along which the quake occurred is unlikely to be exposed at the surface as younger Palaeozoic and Mesozoic rocks (Carboniferous, Permian, Triassic and Jurassic, for example) overlie the Precambrian rocks in the Market Rasen area.
The magnitude 5.4 Lleyn Peninsula earthquake of 19 July 1984 remains the largest recorded onshore earthquake in the UK.
Information from: