The unique prints and drawings of T. H. Thomas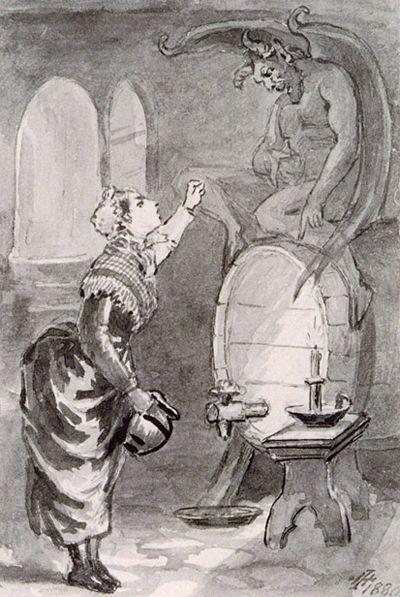 During his lifetime, Thomas Henry Thomas (1839—1915) created a unique catalogue of prints, drawings and watercolours detailing the major concerns of the 19th century. In 1915, the entire catalogue was bequeathed to Amgueddfa Cymru.
Thomas Henry Thomas: the collector
Thomas Henry Thomas, one of the founding fathers of Amgueddfa Cymru, was born in Pontypool in 1839. He studied at the Royal Academy and spent time in both France and Italy.
On his return to London in 1864, he specialised in portraits, design and book illustration. He worked as an artist for The Daily Graphic, from which many illustrations still survive, ranging from work on the Severn tunnel at Portskewett to royal visits.
Thomas in Wales
Between 1866 and 1878, Thomas settled in Cardiff, where he was to remain for the rest of his life. He became involved with the Eisteddfod and the Gorsedd and joined the Royal Cambrian Academy. He was also a key member of the Cardiff Naturalist's Society, becoming president in 1888.
His interest in geology led him to
, new to science, in a large stone slab in the churchyard at Newton Nottage. The fossil was named
Brontozoum thomasii
in tribute.
The collection
Thomas's collection of over 1,000 prints, drawings and watercolours came to Amgueddfa Cymru following his death in 1915.
The main collection comprises three boxes, each containing around seventy folders holding up to ten objects, grouped by subject types. Until recently, it had been assumed that this ordering system was the work of Thomas, but closer inspection of the handwriting revealed it to be that of Isaac Williams, the first Keeper of Art at the Museum. It is not known in what form these works first entered the Museum, although there is reference to a scrapbook which, has not as yet been discovered. As curating methods were rather different at that time, it seems likely that the scrapbook was broken up and its contents reassembled into the folders in which they appear today. Their contents are exceptionally wide-ranging, with topics including rural and industrial life, the natural world, archaeology, book illustration, folklore along with drawings of social and cultural life.
Among the miscellaneous objects of the collection is a particularly intriguing object -a cigarette box filled with drawings by children from a school in Oxfordshire. These appear to be part of an experiment by Thomas to analyse the drawing techniques of children.
Preserving the cultural life and heritage of Wales
Thomas's all-embracing interests somewhat hampered his artistic development. Had he devoted himself solely to art, he could have achieved more widespread recognition. This is not, however, meant as a criticism — the strength of the Thomas material lies not in its artistic quality but in its quirkiness, its breadth, and that it represents an almost complete catalogue of the major concerns of the 19th century. Seen from this perspective, Thomas can be viewed in the tradition of J. W. Goethe and John Ruskin, men whose works spanned many diverse disciplines and wanted to bridge the gap between science and the arts. In addition to this, Thomas was also an avid champion of Welsh art and artists, and worked to support the cultural life and preserve the heritage of Wales wherever he was able. Amgueddfa Cymru is lucky to have received such a comprehensive bequest, especially one that encompasses each of its curatorial departments.