The Library at Amgueddfa Cymru
The library at Amgueddfa Cymru was established many years before the main museum building in Cardiff was formally opened in 1927.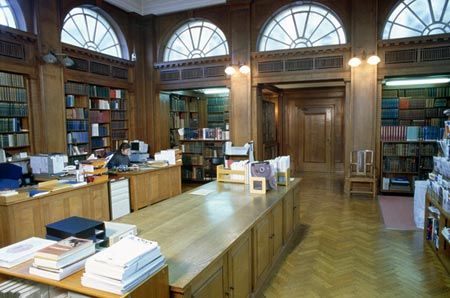 Miss E. M. Breese, a cataloguer from the adjacent University of Wales, was the first Librarian. Although Miss Breese did not arrive until 1913, the accession books run from 1909.
The beginnings of a collection
The first item to be accessioned was a copy of John Ward's Handbook of objects from the Roman fort of Gelligaer (John Ward, Curator of Cardiff's museum, later became Keeper of Archaeology at Amgueddfa Cymru).
Among the first books purchased in 1909/10 were the Yearbook to learned and scientific societies, Esther Crawford's Cataloguing: suggestions for the small public library and a guide to the House of Commons.
The main Library of the Museum, located in National Museum Cardiff, consists of a central, shelved room with accommodation for staff and readers, along with two wings of heavy 1920s mobile racking that are still in use today.
The only other known example of such racking, suspended from iron girders, is from old library stacks in the British Museum.
The Museum expands
As the Library outgrew its original premises, departmental libraries were created. As well as the libraries at National Museum Cardiff, there is a substantial collection at St Fagans National History Museum.
The library covering industrial history and archaeology is now in the National Waterfront Museum in Swansea, and there are small collections at the National Slate Museum in Llanberis and the National Roman Legion Museum in Caerleon. All three libraries are administered from National Museum Cardiff.
Important and significant collections
The Library has attracted some major donations. The most important is the Tomlin library of 17th-century and later books on Mollusca, with several volumes of the finest hand-coloured natural history engravings ever produced.
In 1953 the Willoughby Gardner collection arrived, with a number of early printed books on the natural sciences, including herbals and the Museum's only two incunables (books published before 1501) - two editions of Pliny's writings on natural history from 1481 and 1487.
As well as Museum staff, the Main Library is often used by external students and the Library can be used by the public by appointment.
Special collections
As well as general museological and conservation books, special collections are housed in the Main library at National Museum Cardiff. For example, there is a fine collection of Welsh topographical books - mainly published tours of Wales from the 18th and early 19th century, together with some manuscripts.
On loan to the library is a set of Gwendoline Davies's own copies of the Gregynog Press books in special bindings. The Library has been acquiring examples of other private press books contemporary with the Gregynog Press, as well as modern private presses in Wales, including Gwasg Gregynog, Old Stile Press and Red Hen Press.
The Library continues to actively collect.