English silks worn in Tredegar House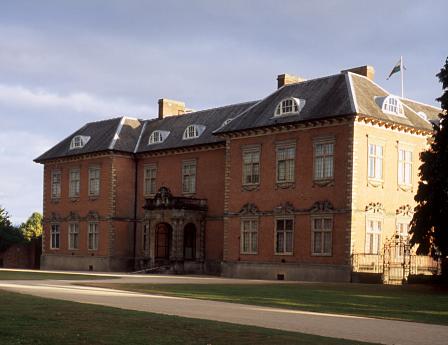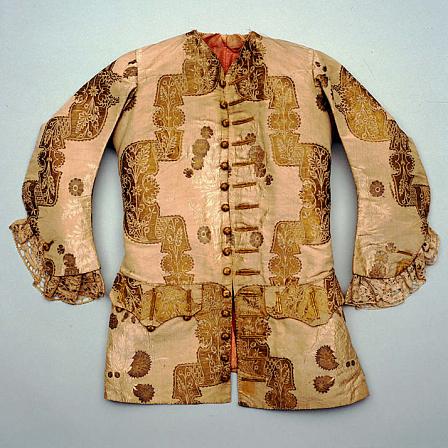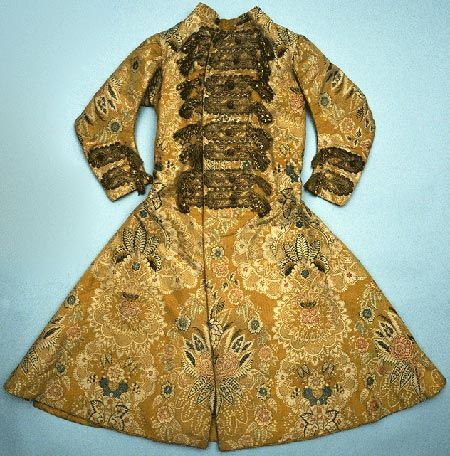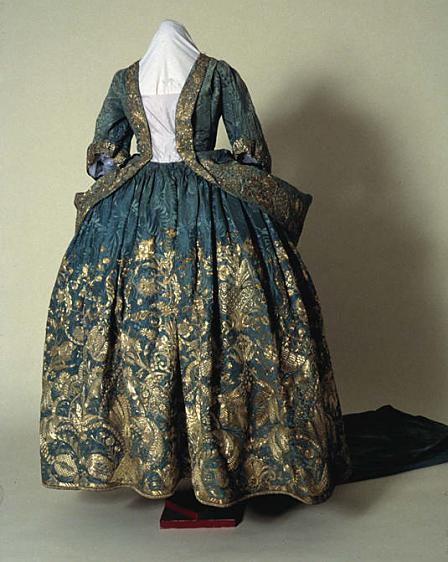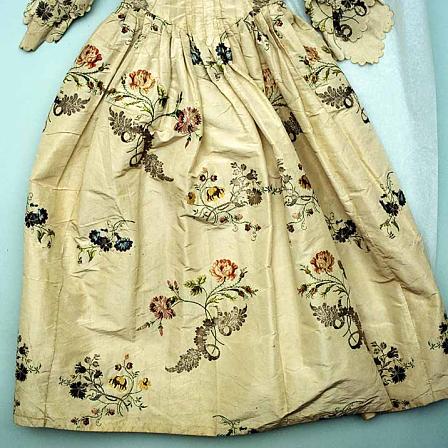 In the 18th century a gentleman's rank in society could be discerned from the quality of his house or his clothing - status was declared by the wearing of costly silks, lace or gold thread. Silks woven in the flourishing silk industry of Spitalfields in London and elsewhere were bought by Welsh families and brought to Wales to furnish their homes, dress themselves, and impress their neighbours.
The Morgans of Tredegar House, later Lords Tredegar, were one of the wealthiest families in Wales. They used rich silk furnishings in their home, as described in the inventory of 1698:
"4 green Silke Damask chequer curtains flowred with gold colour and lined with white chequer silke with double valiance, foot valiance, teaster and quilte imbroidred with Silke frings."
In the same bedroom there were four window curtains of white damask and seven silk cushions matching the bed hangings, all protected by a suite of orange dust covers.
In addition, the Morgans dressed themselves in the finest and most fashionable woven damasks and brocaded silks, some of which are now housed at St Fagans National History Museum, donated in 1923 by Lord Tredegar. Most date to the middle of the 18th century.
One robe and petticoat of French origin may have belonged to Martha Morgan, wife of Thomas Morgan, part of the Mansel family of Margam (and later of Penrice), one of the wealthiest families in the county. Thomas Morgan was succeeded by his brother, who considerably added to the estates. When his son, Sir William Morgan, inherited in 1719, he was able to embark upon a very flamboyant way of life.
In 1724 Sir William married Lady Rachel Cavendish, daughter of the Duke of Devonshire, who brought with her a dowry of £20,000. A number of items from Tredegar House date from between 1720 and 1731, when Sir William died. All of these garments match Sir William's reputation for extravagance - his annual expenditure in 1725 amounted to £37,418 (over £3.8 million or .9 million in today's terms) - and all would almost certainly have been bought in London.
Lady Rachel survived her husband for fifty years, and when her only son died unmarried in 1763, she lost a battle in the courts and her brother-in-law Thomas Morgan succeeded to the estate. Most of the remaining Tredegar garments belong to this period and were probably worn by Lady Rachel or Jane, the grand-daughter of John Morgan (born 1731), who had married in 1758 and was later to inherit the estate.
Since none of the Tredegar silks post-date Lady Rachel's life it is tempting to conclude that they all belonged to her and were packed away after her time, only being rediscovered by the family for their fancy dress possibilities during the following century.
A court mantua
This pictured garment had been remade and worn as fancy dress, probably during the 19th century. In 1971 it was returned to its original form, with the help of the late Janet Arnold. The later stitching was removed, which involved unpicking bust darts and the removal of stitching where the train had been caught up in several places, presumably in order to hide the fact that part of it had been cut away. The petticoat itself had not been altered.
This is a very grand robe which would have been worn for presentation at court. Lady Rachel Morgan was certainly sufficiently important to have worn it.
Background Reading
Social conditions at Tredegar House Newport in the 17th and 18th centuries, by M. R. Apted. In Monmouthshire Antiquarian, vol. 3:2, p124-54 (1972-3).
Tredegar House by David Freeman. Published by Newport Leisure Services Department (1982, revised edition published 1998).
Silk designs of the 18th century in the collection of the Victoria & Albert Museum by Natalie Rothstein. Published by the Victoria and Albert Museum (1990).
Woven Textile Design in Britain to 1750 by Natalie Rothstein. Published by the Victoria and Albert Museum (1994).
A court mantua of c. 1740 by Janet Arnold. In Costume (Journal of the Costume Society), vol. 6, p48-52 (1972).