Prehistoric feasting in south Wales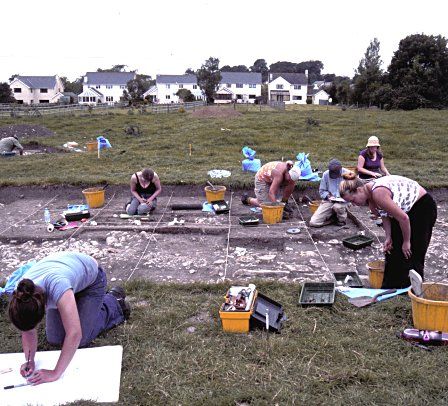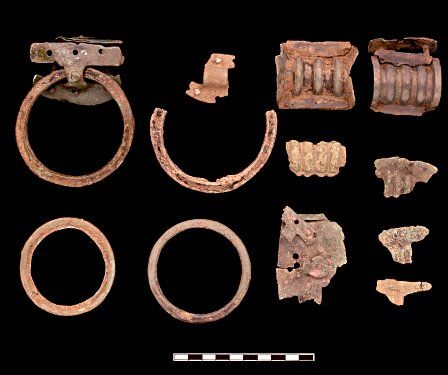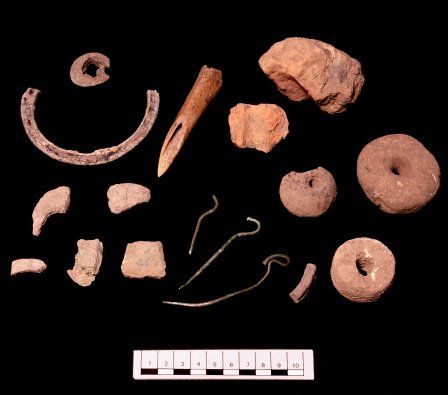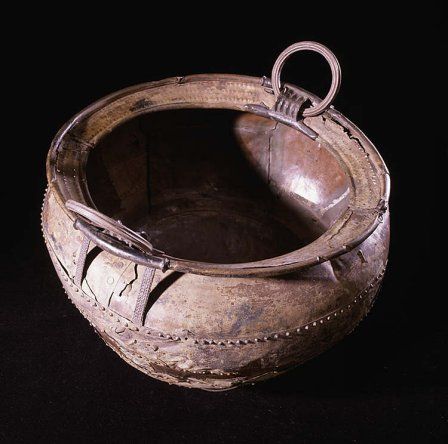 The discovery of a three-thousand-year-old settlement sheds new light on life in prehistoric Glamorgan.
In February 2003 a number of unusual metalwork items were unearthed at Llanmaes in the Vale of Glamorgan. The finds included bronze axes, horse harness fittings and fragments from bowls and cauldrons. Some of the bowls were of a previously unknown type.
Following the finds, the site was subject to excavations by Amgueddfa Cymru revealing a previously unknown prehistoric settlement, including a roundhouse and oval-shaped pits. One pit contained large broken pots of a style known to have been used between 1150 and 700BC. A large red deer antler had been placed over the pit - perhaps in a religious act, or possibly to mark the spot where the pits had once been.
Prehistoric wastepit
Above the roundhouse was a midden made of discarded domestic waste, now rotted down to form a dark soil. The midden also contained pottery from the Roman period, which began many hundreds of years later. This curious mixture of prehistoric and Roman finds makes it difficult to be sure how the settlement and midden were related.
Llanmaes as a feasting site
Apart from metalwork and pottery, the midden also contained many thousands of animal bone fragments, mostly of pigs. This is a very unusual discovery in Britain, where sheep and cattle tend to be more common. Perhaps Llanmaes was once a feasting site - pig was a favourite high-status meat at this time. More surprising still, human bones were also found in the midden, although no complete skeletons were recovered.
Items uncovered at the site are wide ranging. From bowls and cauldrons to dozens of fragments of bronze axes. Five swan's neck pins, elegant dress fasteners, spindle whorls and loom-weights used to make woollen garments, were also discovered. In addition, over 1,500 pieces of prehistoric pottery was collected - the largest collection of this date from south Wales.
Dating the settlement
All this suggests the site was probably settled between 800-500BC, with the possibility that settlement began as early as 1300BC. At a later date, it is likely that there was a Romanised farmstead nearby, although its precise location has not been determined.
These exciting discoveries are helping archaeologists to understand life at the very end of the Bronze Age when iron working had just been introduced into Britain.