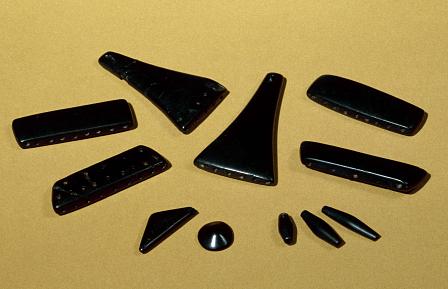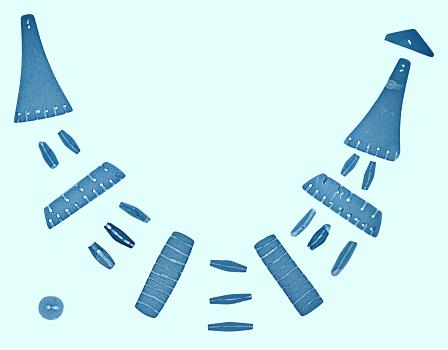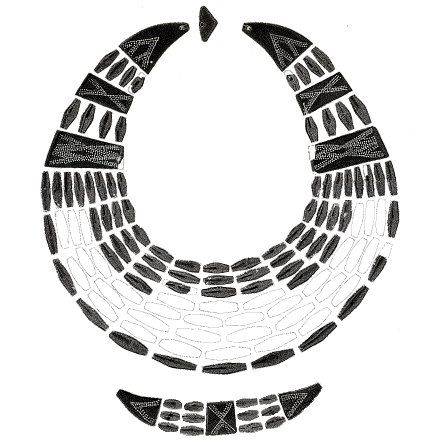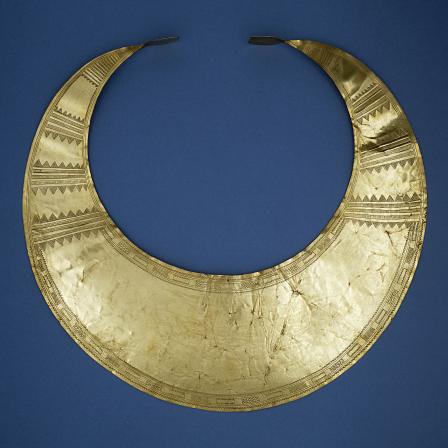 Queen Victoria had a fascination with the black semi precious stone 'Jet' following the death of her husband, Prince Albert in 1861. The use of this stone has a much longer history as this 4,000 year old necklace from Anglesey shows.
Important burial
In 1828 a grave was discovered at Pen y Bonc, near Holyhead on Anglesey. Accounts of this discovery are incomplete, but the grave was dated to around 4,000 years. The person who was buried must have been important as the grave was cut into bare rock. A number of black beads and buttons were discovered in the grave.
Unfortunately, most of the items were lost soon after the discovery, but some surviving pieces are now in the collections of the British Museum. These pieces form a crescent-shaped necklace of beads and spacer plates. Objects such as these are usually found with female burials. Jet necklace from East Kinwhirrie, Angus (pictured) shows the shape of a complete spacer plate necklace, and illustrates how some of the finest examples were decorated.
A necklace made of coal
Most of the beads and plates in the Pen y Bonc necklace are made of 'lignite' (fossilised wood). However, one bead and the surviving button are made of jet, a material found 300km (186 miles) away to the north-east, at Whitby (North Yorkshire). Jet is a dense black variety of lignite only found in a few parts of Europe.
Only parts of this necklace survive. It is possible that this was all that was buried since Bronze Age jet necklaces are often found incomplete. Alternatively, parts of the necklace may have been made of materials which have since rotted away, or possibly pieces were lost when it was excavated.
Manufacturing jet necklaces was a skilled job. The many strands of the necklace were suspended using spacer plates through which holes were bored to carry the strings. This delicate work was probably carried out using a bow-drill and a piece of bronze wire. In the case of the Pen y Bonc necklace some of the holes have been bored lengthways through the plates. But in order to increase the number of strands on one side of the plate, holes have been drilled at one end to allow new strings to be tied in.
Unlike many types of gem, jet is warm to the touch and is relatively easy to shape; it also takes a very high polish. Today it looks rather like shiny plastic, but during the Bronze Age it must have appeared strange and unusual. Jet also has unusual electrostatic properties (when rubbed it can attract hair and other light materials) that might have been seen as magical in prehistoric Britain.
Treasured jewellery
The jet pieces in the Pen y Bonc necklace were heavily worn suggesting that they were treasured items that had been kept for many years. In contrast, the parts of the necklace that were made from local materials were less worn - suggesting that they were newer replacements for broken or damaged pieces of jet.
Objects made of jet were popular throughout Britain during the Early Bronze Age (2300-1500BC), however, after this period its use declined.
When the jet necklace from Pen y Bonc was discovered in the 19th century, the jet being mined at Whitby was just beginning a revival, thanks in large part to Queen Victoria's obsession with black mourning garments after the death of Prince Albert in 1861.
Gold Lunula
Gold lunula also date to the Early Bronze Age and are often decorated in a similar way to jet necklaces. However, whereas jet necklaces are usually found with burials, lunula are not found with the dead. Perhaps jet suggested death and gold represented life in the minds of people 4,000 years ago.
Background Reading
'The Welsh 'jet set' in prehistory' by Alison Sheridan and Mary Davis. In Prehistoric ritual and religion by Alex Gibson and Derek Simpson, p148-62. Sutton Publishing (1998).
'Investigating jet and jet-like artefacts from prehistoric Scotland: the National Museums of Scotland project' by Alison Sheridan and Mary Davis. In Antiquity (2002) vol. 26, p812-25.