Wales and the World Wars: Kate Rowlands' Diaries
The twitter account @DyddiadurKate shares entries from the diaries of Kate Rowlands, Sarnau. Over a century later, her entries from 1915 tell a story about life in Wales during the First World War.
The diary was donated to the Museum in 1969, during a period when archive staff travelled to communities across Wales to record people telling their stories, in their own words.
Kate Rowlands' 1915 diary is a rich and nuanced account of life in rural Wales during the Great War. It gives us glimpses into everyday tasks, the names of fields and farms, local characters, dialects, as well chapel and farm life.
The diary is reproduced in Welsh, exactly as it was written, on twitter. You can read more about the personal stories we've uncovered about the First World War on the museum blog.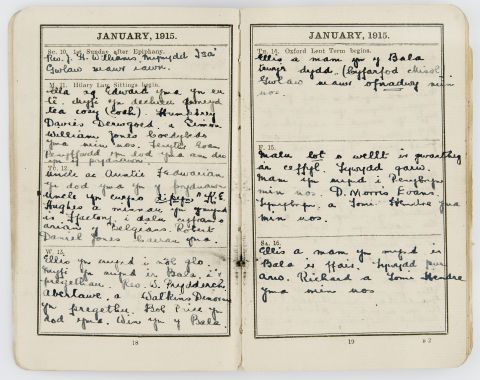 More about the Diary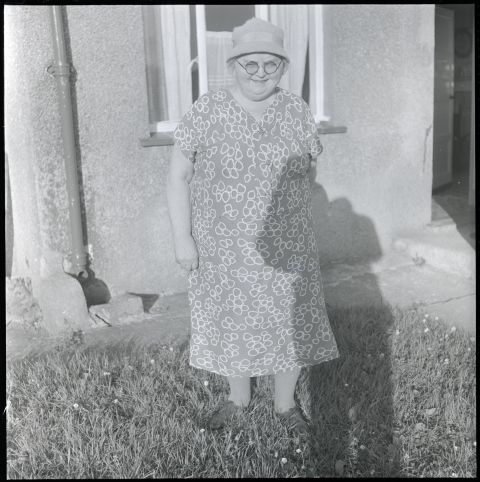 The Author
Kate Rowlands' diary from 1915 was donated to the Museum in 1969. She also recorded a number of Oral History recordings with curators from the Museum, all of which add to our understanding of her life in rural North Wales, in the early to mid twentieth-century.
She was born in Brymbo, near Wrexham, in 1892. Her mother, Alice Jane, was originally from Hendre, Cefnddwysarn, and nine months after Kate was born, both mother and daughter returned to this area, following the sudden death of Kate's father from an illness sustained working in the steel industry. Her mother's family had a great influence on her upbringing - in one oral history interview with the Museum, Kate states that "y nhw oedd y canllawie gathon ni gychwyn arnyn nhw" - "they were the ones who guided us as we got started in life".
Homework to farm work
Kate's mother remarried with Ellis Roberts Ellis, who is also mentioned in the diary. In 1897, when Kate was five years old, the family moved to a small farm near Llantisilio, Llangollen, and then to Tyhen, Sarnau - the location of the diary. An only child, she left school at fourteen to help her parents with work on the farm.
"My parents lost their health to an extent. That really went across my going ahead with my education. I had to be home, you see... A bit of everything, jack of all trade. I had to help a lot with horses and things like that. Heating up the big oven to cook bread, and churning when it was called for, two times a week or so."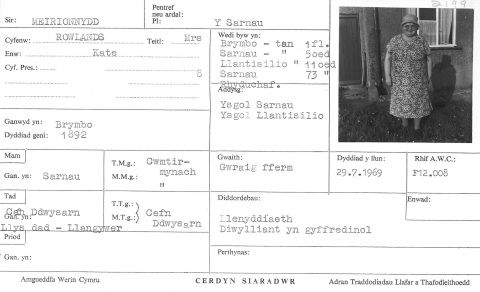 Oral History
Kate Rowlands donated her diary after being interviewed in 1969. Due to the tireless work of St Fagans' early curators, the archive now holds a rich collection of items, documents and recordings relating to women's history, especially women living and working in rural communities.
Kate also donated her 1946 diary to the Museum. This volume is also available online on twitter.
Read more about Welsh Women's History.
Kate Rowlands - Early life (Welsh recording)
Kate Rowlands - Week on the Farm (Welsh recording)
Kate Rowlands - Playing Steddfod and Leaving School (Welsh recording)