16th century books in the Willoughby Gardner Library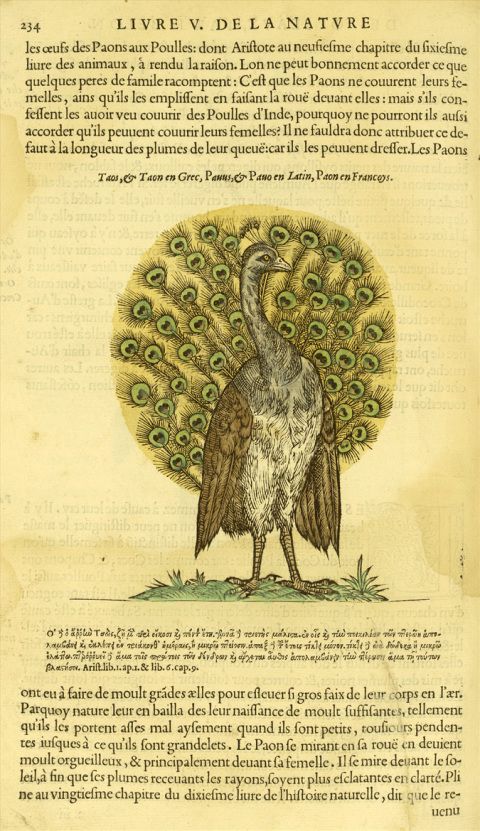 In 1953 Amgueddfa Cymru - National Museum Wales received the donation of a significant collection of over 300 natural history books, early and modern, from Dr Willoughby Gardner of Deganwy, north Wales. Dr Gardner was born in Cheshire in 1860, but ill health forced him to take early retirement. He went to live in Deganwy in the early 1900s, where he was able to dedicate his time to pursuing his interests, which spanned archaeology, entomology and numismatics.
Because of these interests, he had a close relationship with the Museum, for example, he did a great deal of work on surveying hill forts in Wales, and a number of finds from those digs were donated to the Archaeology department. And a few years before his death he donated his collection of British Aculeate Hymenoptera to the Zoology department.
However his donation of a substantial library of early natural history books, ranging from the 15th to the 18th centuries was by far his most generous bequest, and contains a number of rare treasures, especially those from the 16th century.
Books from this period illustrate the widespread and confident use of printing since the invention of the movable type printing press in 1450 by Gutenberg revolutionised the industry. The innovation spread from Germany throughout the rest of Europe, and by 1500 the number of printer's workshops had dramatically increased, and they had refined their processes enough to produce books in ever greater quantities. This allowed for an increased exchange of information and ideas that resulted in significant advances in the fields of natural history during the 16th century.
Herbals
While early subjects for printing tended toward reprints of works from classical antiquity, by the mid-16th century a much wider range of subjects were covered. Very popular at this time were herbals, guides to plants that primarily focused on their properties as medicinal aids. The plants were listed, along with full descriptions and details as to what illnesses they could cure. They were often written by leading physicians and were aimed at the layman rather than the scholar.
The descriptions would often include illustrations of the plants, known as woodcuts. A woodcut is a form of relief printing that takes its name from the method of creation, a block of wood is carved away to reveal a raised design. This is inserted into the printing form alongside the text, inked up and printed as one. Afterwards the illustrations can be coloured by hand if required, although a book with coloured illustrations would have been much more expensive.
The collection of herbals from the 16th century in the Willoughby Gardner collection covers many of the leading publications of the time, including works by Otto Brunfels, Leonhard Fuchs, and Hieronymous Bock, often known as the
'Fathers of German Botany'.
The Herbarum vivae eicones of Otto Brunfels was influential in that its drawings were primarily taken from life rather than copied from existing works, as was the standard practice of the time. They were also rendered as lifelike as possible instead of the more stylised designs which had been more common in German herbals. First published in 1530, the copy held in the Willoughby Gardner collection is a later volume from 1532.
In 1539 Hieronymus Bock published a herbal in his native language, German, which was later translated into Latin and made more widely available. Willoughby Gardner had a copy of the Latin translation, called De stirpium maxime, published in 1552, with hand coloured illustrations. What makes his copy special, is that at some point someone has gone through and written the English names for some of the plants next to the illustrations.
De historia stirpium by Leonhard Fuchs was published in 1542, the copy held in the Willoughby Gardner collection also has coloured illustrations, although sadly is incomplete as a section of pages from the middle of the book are missing.
Also included in the collection is A niewe herball, or historie of plantes by Rembert Dodoens, an English translation of 1578 taken from an earlier French edition. Originally published in Flemish in 1554, with the French version soon after, many of the illustrations were based on those of Fuchs, although the text was original.
Zoology
As well as the herbals, there are a number of other significant books in the collection dating from the mid-16th century, although these focus more on the field of zoology. Works in this area include;
Edward Wotton's De differentiis animalium libri decem from 1552, a bibliography of the work of classical authors, he was considered to be the first naturalist to make a systematic study of natural history.
Guillaume Rondelet's Libri de piscibus marinis, from 1554. Rondelet was a physician and professor based at the University of Montpelier in the south of France. Libri de piscibus marinis is his most famous work, and covers the full range of aquatic animals as scholars of this period made no distinction between fish and sea mammals. The book was a standard reference for students for nearly a century afterwards.
Pierre Belon's L'histoire de la nature des oyseaux from 1555. Belon was a French explorer, naturalist, writer and diplomat who had been in a position to travel extensively throughout Europe and often recorded the wildlife he encountered in situ. Like many others of the Renaissance period, he studied and wrote on a range of topics including ornithology, botany, comparative anatomy, architecture and Egyptology.
And, multiple copies of Conrad Gesner's Historiae animalium a five volume work, the first four volumes covering quadrupeds, birds and fish was produced in 1551–1558, while the fifth volume on snakes was issued posthumously in 1587. It was Gesner's intention that his great encyclopaedia should record all of known life both real and mythological, which is why sea monsters, manticores and unicorns are also covered!
Gesner was a doctor and professor in Zurich, and unlike Belon he was not in a position to travel as much, relying instead on submissions from friends and colleagues across Europe. First hand observation was not always possible, and because Gesner had decided to include everything written on the animals he featured, he wasn't always able to guarantee the accuracy of the information. But as he explained himself he:
"[thought] it best to record everything that he has been able to meet with, in order that future specialists in the various branches of natural history should have everything placed before them and draw their own conclusions in each case".
Further reading
Arber, Agnes. Herbals: their origin and evolution, 3rd edition. Cambridge University Press, 1986
Kenyon, John R. The Willoughby Gardner Library: a collection of early printed books on natural history. National museum of Wales, 1982
A version of this article was first featured in the Friends newsletter.